The Water Bucket Clutch is one of the most impressive techniques in Minecraft (when it's done right). A Water Bucket Clutch is when you place a water block from a Water Bucket just before you hit the ground, preventing you from taking any amount of fall damage.
How to Water Bucket Clutch
To do a Water Bucket Clutch, first make sure you have a Water Bucket equipped in your hot bar. When falling from a high place, switch quickly to the Water Bucket and aim for a specific block by looking down. Spam-click the Use button to place the water. You're aiming to place the water before you hit the ground.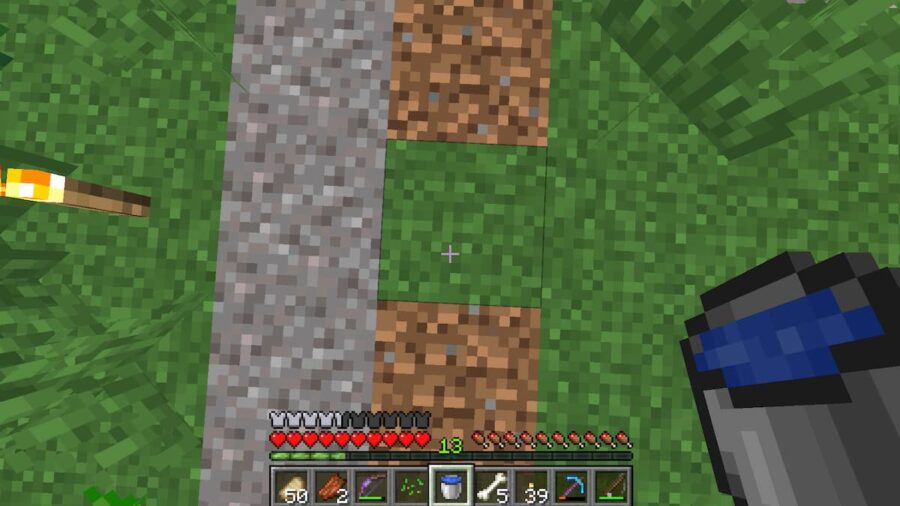 Since you can place items up to four blocks away, and players count as two blocks high, you'll have one block leeway to land in the water. Water completely negates fall damage. So landing in this 1x1 block of source water that you just created will negate any and all fall damage you're likely to take.
This is a great technique for speed running, where you may not always have time to be completely aware of your surroundings. Alternatively, falling is always the quickest way to descend in Minecraft, so jumping off a cliff and landing safely using a Water Bucket Clutch is just a faster way to travel!
Related: How to do a Minecraft speed run
When it won't work
There are a few circumstances where a Water Bucket Clutching won't work, though. Be aware that if you're landing on Slabs, Water Bucket Clutches won't work. Because Slabs create empty blocks, the water will be spawned either above or below the Slab, so you'll hit the Slab and take full damage. Additionally, this will not work in the Nether, so be aware that you'll need to use another method for preventing fall damage there.
While you're looking into going up and down using water, check out Pro Game Guides article on How to Make a Minecraft Water Elevator.