If you're hoping to build a base while playing Survival in Minecraft, consider some of these base build ideas we've compiled. Choose between underwater mega constructions, cottages, and even super-secret underground bunkers. Whatever you choose, you'll be better off in Survival with these inspiring builds and tutorials.
Best Underground Base Ideas
If you need a base that is hard to access, hard to spot, and has plenty of space, going underground is the way to go. You can have a mansion that's barely visible or even a small bunker to visit whenever you need it. Underground builds are ideal for survival mode.
Secret Underground Base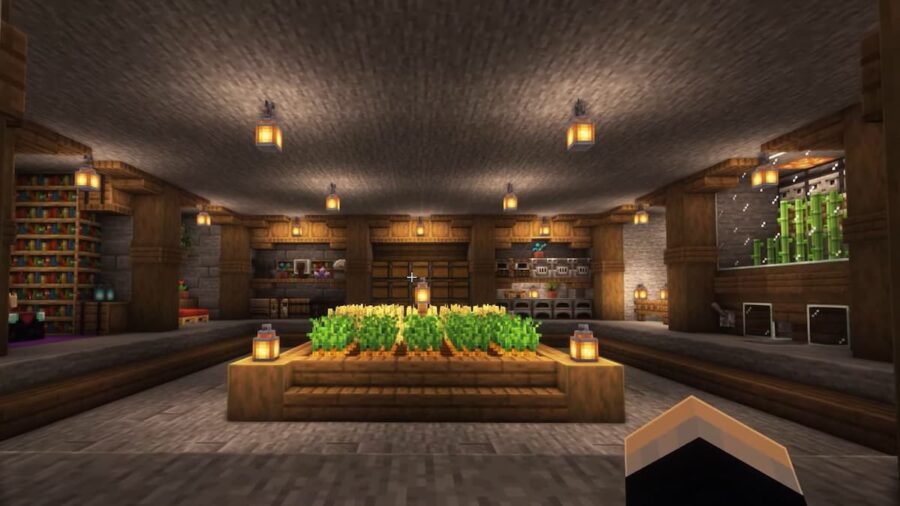 This secret underground base provides all the privacy a player in Minecraft could ask for while also giving you plenty to do inside. Enjoy the library, kitchen, bedroom, or even the farming space in the center of the main room. It also features optional but fashionable decor like a bamboo partition and a rustic entryway.
Underground Survival Base Bunker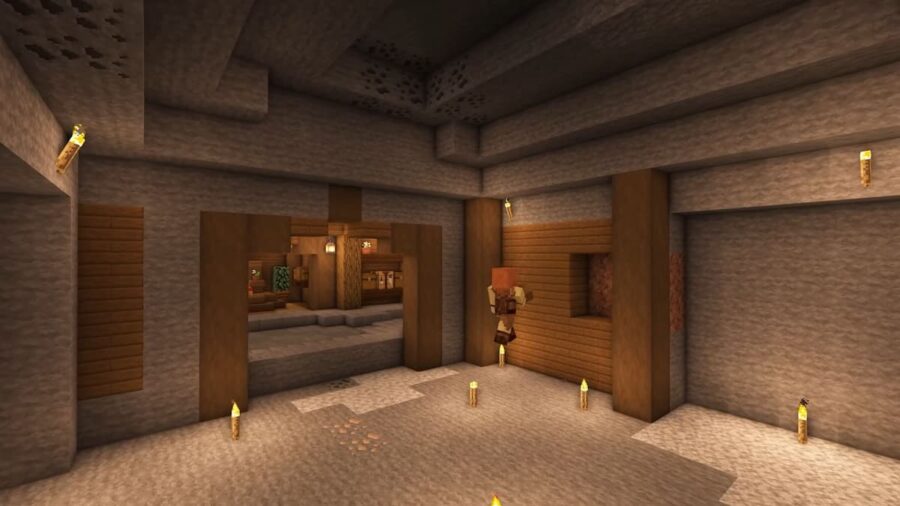 If you're looking for a tutorial that focuses more heavily on the structure of the base and less on the decor inside, this minimalist underground survival base bunker is an ideal choice. You can follow this tutorial exactly if you wanted and still have the room to add your own personal touches. Thanks to the stripped-down design, it's pretty quick to build compared to its big size. The materials required are also much more attainable than some other extensive underground bases.
Ultimate Underground Base
For the more experienced builder, you may be looking for something more detailed and architecturally impressive. That's why we've listed this ultimate underground base tutorial. This build is basically an underground dungeon and castle combined, so it's ideal for players who are a bit more experienced and looking for something that will give them a building challenge. Keep in mind that this build will take quite a few materials and a bit of time.
Related: How to craft Mud Bricks in Minecraft
Minecraft Nature Themed Base Ideas
Looking for some style with your survival base? If so, consider adding some of the local Minecraft flora to your build. You might even make your base part of nature by building it within a tree. Whether you want to be one with the forest or part of a fairytale, nature-themed bases will help add practical flair to your build.
Fairy Underground Base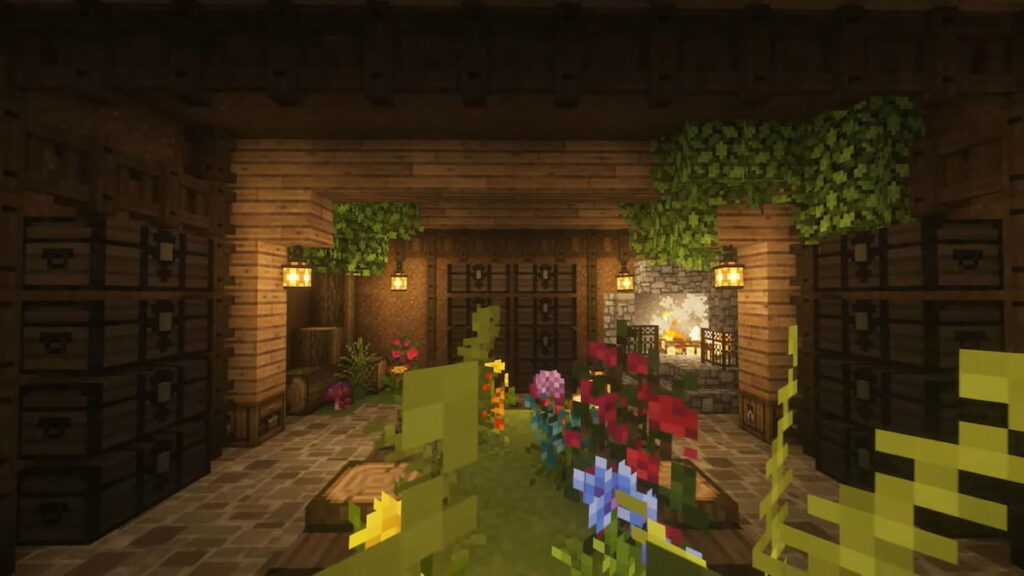 If you're looking for something majestic that is still hidden away and provides much-needed protection, take some inspiration from this fairy underground base. It requires a wide array of materials, but this is decently balanced out by the fact that the underground base follows simple lines and block configurations for its overall layout. This build mixes both elements of security and beauty to create one ideal survival location.
Cottage Survival Base
This cottage survival base provides a quaint dwelling with all the essentials needed for survival. It may look like a simple cottage, but it also has strategic window sizes, hilly land nearby, and other touches that make it an ideal fortress to hide away in while you recuperate from the day. It combines all of the security necessary for survival while also giving players a beautiful base to return to after a hard day in the harsh world.
Giant Tree Base
You can't get much more natural than a tree, which is why we've added this giant tree base to this list. It is a relatively time-consuming build, but it's not too hard as far as building skills are concerned. This build just takes patience to make this arboreal base come to life. It's also perfect for players that want to have less of a suburban or industrial aesthetic to their world.
Related: Best Minecraft Building Ideas
Minecraft Underwater Base Ideas
If you need a place to be safe and survive, consider taking your home base under the sea (or lake, depending on where you start out). Underwater builds can add another layer of security. It doesn't hurt that the views are beautiful, as well.
Safest Secret Underwater Base
This build might not look like anything impressive, but that's kind of the point with this base. The safest secret underwater base looks like a blocky pyramid on the outside due to its ironclad protection. Unless someone knew the exact entrance to this base, they would have extreme trouble finding their way in. And the protection does not come at the cost of style, which is heightened on the inside with both practical and decorative items. This build gives both the luxuries of home life and the utmost security needed for survival. It is a moderately challenging build, but even beginners can tackle it if they have some time and patience.
Ultimate Underwater Base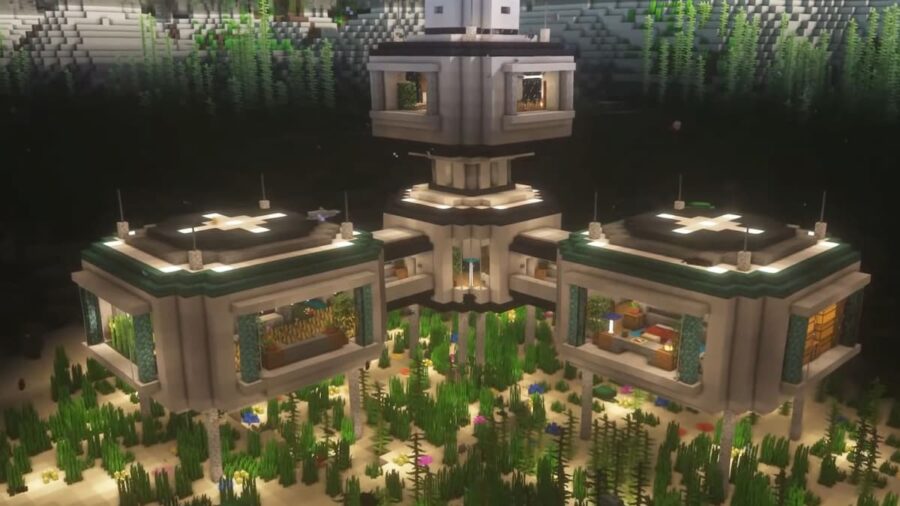 While this build is a bit challenging and needs someone more familiar with building in Minecraft, it's called the ultimate underwater base because of how much it is the epitome of protection and survival. The segmented design of this base gives it extra security since you can block off entire areas with the extensive corridor system. You also can do just about anything you need to in this base. For example, there is an entire space for farming in one of the wings of the building. You rarely have to leave this place, if you don't want to.
Open-View Underwater Base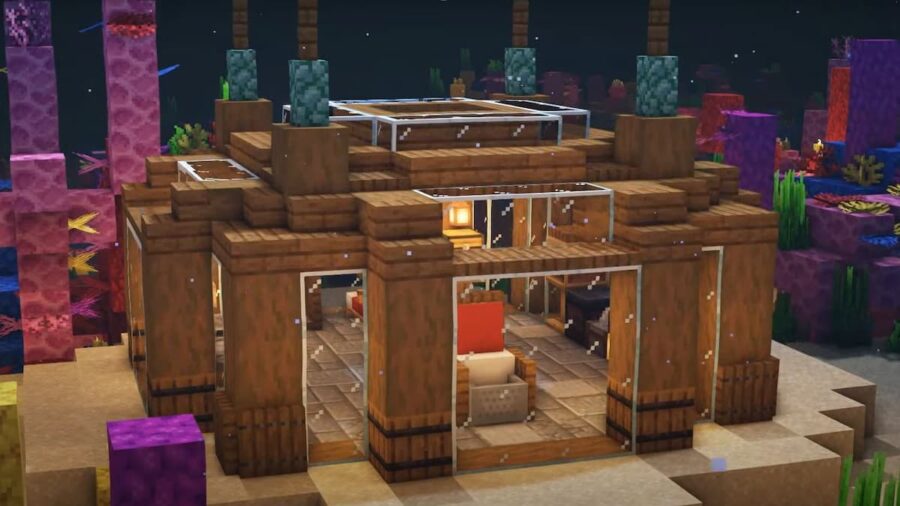 If you feel that being underwater is enough protection against the elements, consider making an open-view underwater base to take advantage of the secure location. This base is simple and straightforward, making for a relatively short build if you're pressed for time. The views make for both a cozy and practical experience. While windows are all throughout this base, there are very few entries to increase the fortitude of the build.
Want to read more about Minecraft build ideas? If so, hop on over to Cool Minecraft Houses – Ideas for your next Build! on Pro Game Guides.