In Minecraft, the modern or modernist style of housing is one of the more popular, partially thanks to the incredible effects you can achieve with only a small amount of work. Creating a modern house is incredibly easy, thanks to materials such as Concrete and the naturally block style of Minecraft helping you create simple geometric shapes. Here's how to build your own Modern House in Minecraft.
Stick to Rectangular Geometric Shapes
Modern-style houses are often made up of very distinct geometric shapes like large squares and rectangles stacked on top of each other. Think of your modern house as a pile of irregularly shaped cubes and put them together.
Use Modern Materials
White and Black Concrete, lighter-colored woods, Quartz, and other materials like them are your best friend when building a modern house. But this doesn't just go for the main building blocks. When it comes to lighting, accessories, and anything else you put into the house, you need to consider how it'll look in a modern setting. Don't use Torches and Lanterns for light; instead, use Glowstone Lamps and Sea Lanterns.
Don't be Uniform and Symmetrical
Windows and shapes don't have to match or be symmetrical. Rarely are modern houses, or really any houses symmetrical. By mixing up the shapes of windows (horizontal and vertical) and the positioning, you can create something very modern looking.
Balconies and Pools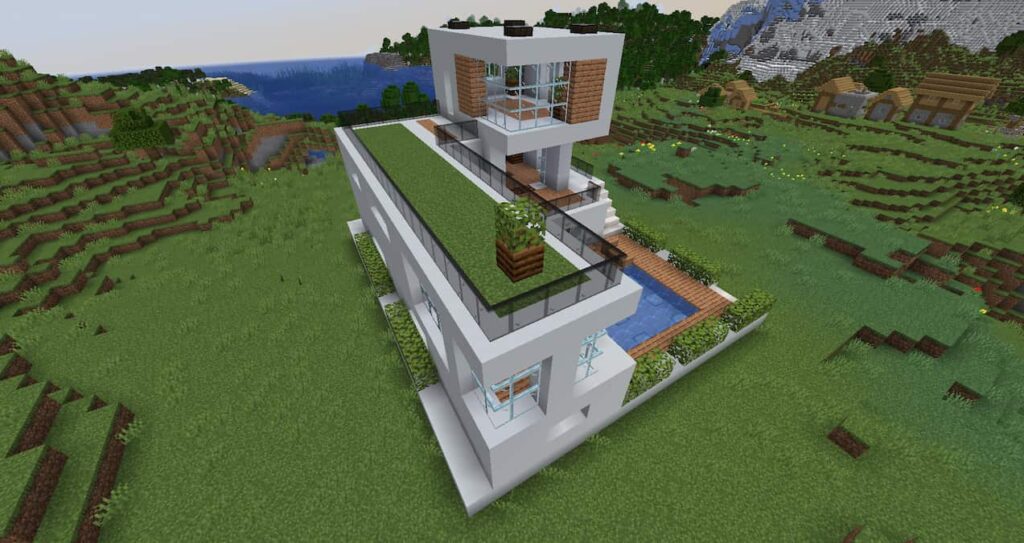 Add features like balconies and swimming pools to make the modern house look more unique. These features aren't often found in older houses, so they make it really stand out. Using dark tinted glass panes, such as gray and black, you can make really modern-looking fences for your balconies.
Use lots of Glass
By using lots of glass panes and blocks, you can create something very unique and modern. Modern buildings use lots of glass because modern glass-making techniques make it a more usable option. Reflect this in your build.
Be Unique!
While in some styles of building, it's important to follow instructions to the letter, but with modern housing, you can make changes and alterations to add your own spin. While all of the steps above are good guidelines, if you want to break a few rules to make your building unique, go ahead and do it. You'll sometimes find modern houses will incorporate something like an old stone wall or the natural landscape. This is your chance to incorporate that into your Minecraft build!
For more Minecraft ideas and guides, check out 15 Easy Minecraft House Ideas on Pro Game Guides.