The latest Monthly Awards program has been released in MLB The Show 22 Diamond Dynasty mode. The June Monthly Awards program features Astros LF Yordan Alvarez, who put up amazing performances in June. Here's how you can get him on your team.
To get Yordan Alvarez, you must earn 175 stars in the June Monthly Awards Program. You must unlock all three stages of the program to earn enough stars to get him. Here is how you can unlock all three stages and earn stars.
How to earn stars in the MLB The Show 22 June Monthly Program
Stage One requires you to complete four weeks of Topps Now Moments. Each week has six to eight moments to complete, but they can be completed fairly quickly. Completing all Moments will rack up 57 stars, but you will have to complete the June Topps Now Collection to unlock Stage Two. Make sure to not sell any Topps Now players you earn in the program since you need to add them to the Collection.
Stage Two has another set of Award Moments that need to be completed, but it also features a Parallel XP challenge for players unlocked in the program. To complete these, you must add these players to your lineup and earn XP with them. This can be done by completing games in the main Sizzlin' Summer program, Conquest, Mini-Seasons, or multiplayer. After completing all PXP challenges, you will be able to complete the Monthly Award Collection for Stage Two.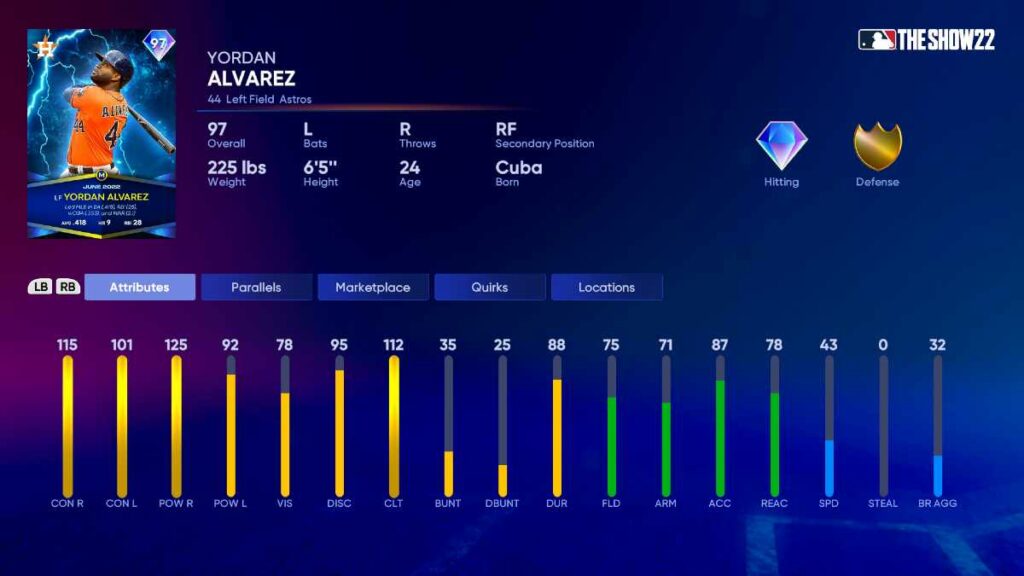 This will unlock Yordan Alvarez, who is a great addition to any Diamond Dynasty lineup with his phenomenal hitting stats. Alvarez can only play left and right field, so he is a little limited in positional play, but his hitting is what is important. Alvarez has 115 Contact R and 101 Contact L, matched with a ridiculous 124 Power R and 92 Power L.
For more MLB The Show guides, check out Does MLB: The Show 22 have 120hz support? on Pro Game Guides.