Want to try a fresh take on the classic game Snake? You can, with SSSnaker. Available on iOS and Android, this addictive little game will have you sliding around, attempting to both dodge and ensnare enemies. To survive higher levels, you'll need to upgrade your snake, spending Gold and—at times—Gems, a premium currency.
Gold is the common currency used to unlock abilities or upgrade equipment. Gems, on the other hand, can be spent in the shop for chances at high rarity equipment, or they can be used to purchase more Gold and Energy. If you want some quick Gold and Gems, we have some codes that you can redeem for free, as we do for other similar games, like Surviror.io. Enter the codes below exactly how they are written, or the codes may not work.
All SSSnaker Codes list
SSSnaker Codes (Working)
These are all the working SSSnaker codes.
sssdt—Redeem for 100 Gems and 5000 Gold.
sssstan—Redeem for 100 Gems and 5000 Gold.
sssrg—Redeem for 100 Gems and 5000 Gold.
sssorange—Redeem for 100 Gems and 5000 Gold.
sss666—Redeem for 100 Gems.
snaker2023—Redeem for 100 Gems.
SSSnaker Codes (Expired)
There are currently no expired SSSnaker codes that we know of. If a code has expired from our Working Codes section, please let us know so we can place it here!
How to redeem codes in SSSnaker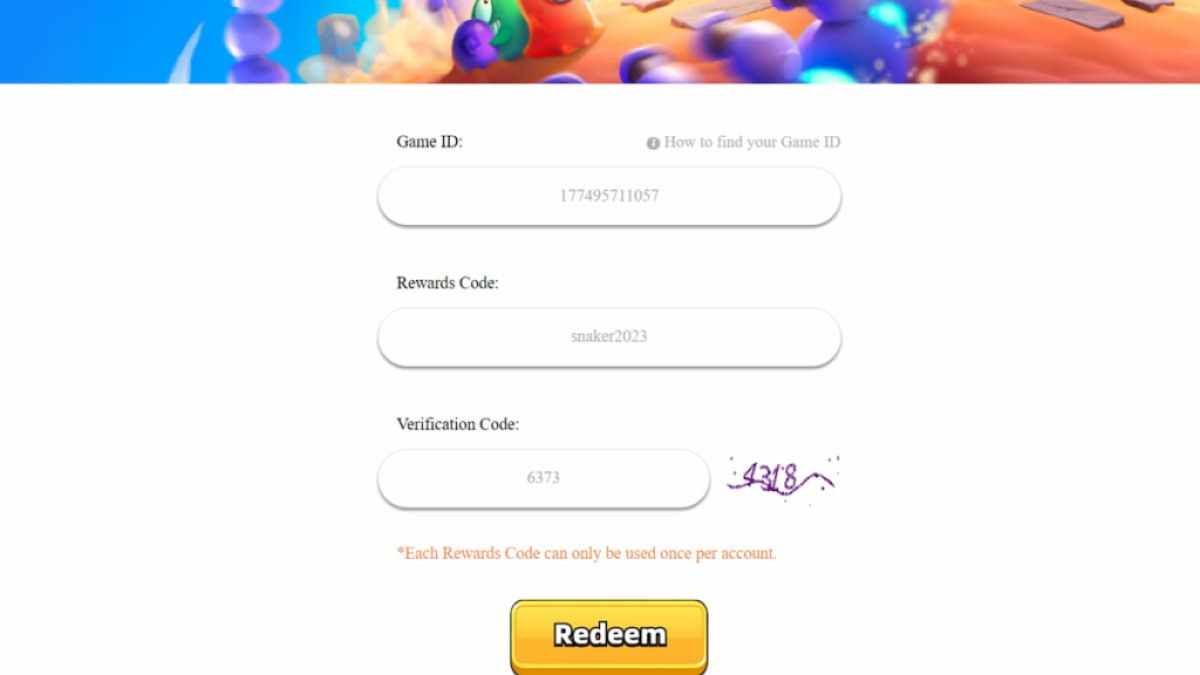 Follow these easy steps to redeem SSSnaker codes:
Your Game ID is the same as your Player ID. It can be found from the main game screen by clicking your profile icon in the top left had corner of the screen. Your Player ID is listed above your level.
Type in the SSSnaker codes listed above in the Rewards Code box.
Complete the Verification test by typing in the Captcha numbers next to the Verification Code Box.
Click on the Yellow Redeem Button to claim your reward.
All rewards will be delivered to you via your in-game mailbox.
How can you get more XGAME codes?
The best way to hear about new codes is to follow the official SSSnaker Facebook Page. They will also occasionally host simple giveaways that you can enter by interacting with their social posts.
Why aren't my SSSnaker Codes working?
Codes frequently do not last forever. Some codes may last for the lifetime of the game, while others may only last days or weeks. The lifespan of a code is up to the developer. If a code isn't working, you may want to double check for spelling errors. You'll also want to make sure that you haven't already redeemed these codes in the past. You can always bookmark this page, to check and see if SSSnaker has a new codes.
Other ways to get free rewards in SSSnaker
The best way to build up a pile of Gold and Gems is to simply play the game. Otherwise, you do have more free Gems and Gold available to you Shop that you can obtain by watching ads. We recommend that you save save your Gems for Rare Equipment Boxes, as Gems are the only currency that can be used for this. Energy and more Gold can be earned through gameplay and occasionally waiting an hour or two to play again.
What is SSSnaker?
SSSnaker is a simple but addictive mobile game available on Android and iOS. In it, you'll use a touch pad to direct your snake, avoiding enemies while cannons attached to your body fire at them to destroy them. You'll fight through as many levels as you can until you are defeated. You'll then have a chance to upgrade your snake's abilities and equipment to power up, then try taking on more challenging levels again and again.
Looking for more free things in fun, fast mobile games? Check out Coin Master Free Spins & Coin Links – Claim Daily Spins! here at Pro Game Guides!