Capcom has many plans for Monster Hunter Rise, but we only know a select few things they will be adding to the game in the future. Though from the other Monster Hunter titles Capcom has released, you will not be left wanting!
Monster Hunter Rise Roadmap
On April 1, Capcom announced the first two major updates coming to Monster Hunter Rise. The first of these is scheduled for Late April, and the second update has not been given a time frame as of yet. We know that MHR will be coming to PC in about a year's time with all content that the Switch version received.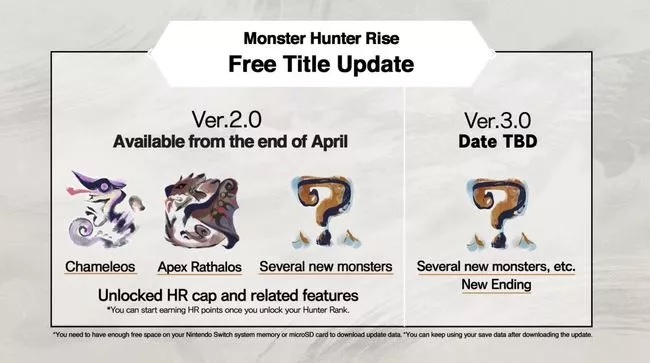 What's Coming in the First Major Update
Capcom has revealed some information about the first update coming in late April. Two new monsters are coming, along with several others that we do not know— Elder Chameleos and Apex Ratholas will be some of the first to arrive.
At this moment, the multiplayer Hunter Rank is capped to HR 7. This cap is being removed, and players will have access to an unlocked Hunter Rank, presumably to HR 999, as this is the norm for the Monster Hunter series.
Related: Monster Hunter Rise Updates and Patch Notes (April 2021)
What's Coming in the Second Major Update
Not much is known about the second upcoming update. Capcom has only revealed that new monsters are coming, along with a new ending to the single-player story.
We think it's safe to assume that along with a new ending, and new single-player quests will also appear due to the story being pretty short compared to other Monster Hunter titles. During the final cutscene before the credits roll, a new Elder Dragon is seen, and then that's it, story quests are over, and you need to head to multiplayer High Rank to get better gear and tougher monsters.
We'll have to wait for more information, but we will continue to update this article when new details emerge. Until then, happy hunting!
Here's a guide on Where to find the King Rhino in Monster Hunter Rise and How to Get the Dragonbone Relic in Monster Hunter Rise