With each of the five on-court positions offering five base archetype builds, there are nearly limitless options when it comes to developing your MyPlayer or MyCareer build in NBA 2K22. You have the ability to build up a shifty sharpshooter who thrives on creating space and sinking jump-shots at a rapid clip, or a rock-solid two-way finisher that can lock down the rim on defense while pummeling inside the paint on offense. Regardless of what kind of player you are, here are some suggestions on the best builds and their positions in 2K22.
Offensive Builds
Power Foward — 2-Way 3-Level Scorer
This PF build will offer you the ability to dominate on offense and the versatility to be effective on defense. You will begin with the base abilities of Playmaking and Slashing—in the early levels of this build, stick to these strengths and focus on feeding your offense with assists and taking your opportunities for finishes in the paint, as this will net you the most to spend on upgrades.
As this is a well-balanced build, you can spend your points in many different categories to become a solid all-around player, but it is recommended that you funnel early points into your already established offensive strengths, and then build out from there. In high levels of this build, you will find yourself consistently dropping triple-doubles on your opponents.
Small Forward — Offensive Threat
Highly effective on offense, this build will give you the Sharpshooting and Playmaking base skills to frustrate any opponent with a flurry of jump shots from any range, along with deadly accurate passing skills that can pick apart an overreacting defense. In early levels, look for high-percentage shots and always go for the assist if it's there—this will net you the most points. While you may not be dominant on offense immediately, persevere, because with each level you gain, you will find yourself sinking more difficult shots.
At high levels, utilize your weaponized jump shot often. When defenses begin to key on you, start using your precision passing skills to feed the open guys around the zone. Before long, you will command respect as one of the league's best.
Point Guard — Offensive Threat 2
This build will see you as one of the fastest players on the court that can paralyze a defense with shifty ball handling. An OT 2 could be the most effective build in its early levels, as you don't have to rely on your jump shot to be effective. You will be able to post scoring and assist numbers in the low double-digits, which will help you level up much quicker—focus on using your speed and Slashing Shot skill-set to slice between defenders for the finish.
To make full use of your Creating abilities, practice dribble moves as often as possible. There's a learning curve, but when once you're used to it you can break ankles and create wide-open spaces in the defense to exploit. At high levels, this build is an offensive weapon that will make defenses look silly in the blink of an eye and take over any game on the inside.
Point Guard — Offensive Threat 1
Speed, finishing ability, lethal jump shooting. These are only a few of the strengths that you will wield with the PG build of an OT 1. With base abilities of Sharpshooting and Slashing it could be tempting to post up beyond the arc and go for threes all game but try to curb that temptation in the early levels of this build. Instead, make full use of your Slashing skills and score in the paint early on to grab the most skill points, then use them to bolster your shooting categories.
At high levels, this build is a near-unstoppable force on offense. You will be able to use your speed to create space and finish down low in tandem with a jump shot that will rival the league's best from any range. An OT 1 is a true threat from any spot in the offensive zone, at any given moment.
Related: How to level up fast in NBA 2K22
Defensive Builds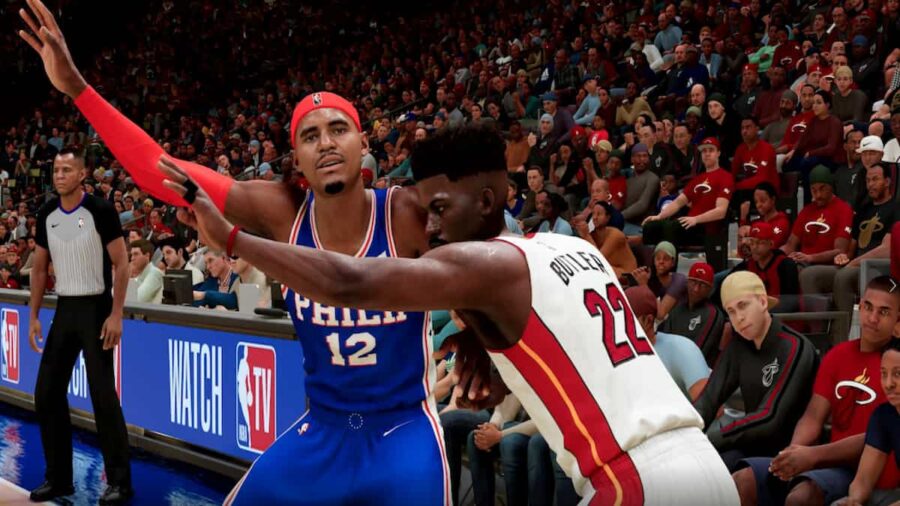 Power Forward — Mid-Range Facilitator
An effective and versatile build. You will spend a lot of time down low on both offense and defense, but your Defending base ability will give you the most advantages on D, and as such, you should attempt steals and blocks often. Early levels of this build may see you letting a few get past you but stick with it—your secondary ability of Sharpshooting can help you get more skill points in the offensive zone. Pull up from mid-range when you see an opportunity and get some points on the board.
Center — Paint Beast 2
This build will find your big-man in the middle as a threat on offense with a secondary ability of Slashing, but what will make this build dominant is the primary Rim Protector ability. You will find success in early levels with defense at the rim when the offense is driving to the net, but try to get most of your skill points with crushing finishes on offense.
High levels of this build will afford you a player that can lock down the middle of your defense and will be an asset on any team.
Power Forward — Glass Cleaning Lockdown
This monster defensive build could be the best in 2K22. With base abilities fueling skills in Glass Cleaning and Defending, you will dominate the paint on both ends of the court. Use the skills from your Glass Cleaning at early levels and focus on rebounding. On defense, it will shut down any second chance opportunities at the rim, on offense your presence in the middle will extend offensive possessions or allow you to finish for the layup or dunk.
You're better off bolstering your skills as a rebounder before anything else, as it will net you the most skill points early on. Eventually, this build will see you as one of the league's elite at defending and rebounding and will retain the skills to single-handedly shut down any offensive possession that dares to try you at the rim.
For more recommendations on builds for specific positions, check out Best Point Guard builds in NBA 2K22, Best Power Forward Builds in NBA 2K22, and be sure to stay tuned to Pro Game Guides for updates!