Neural Cloud is a roguelike strategy game where you can collect Neural Clouds of Dolls, playable characters that can be deployed to battle in the war against Sanctifiers. Upon starting the game, your top priority is to assemble a team of Dolls that can carry you through the early stages, which can sometimes be more difficult than late-game content due to the lack of resources.
Whether or not you choose to go through the cumbersome reroll process, every player is granted an opportunity to pick one 3-star character for only x980 Quartz Sand. We recommend picking a character you love. But if you prefer function over waifu, then here are the best Dolls you can get from the selector.
Which 3-star Doll should you pick from the Designated Neural Acquisition in Neural Cloud?
You have eight choices: Florence, Evelyn, Banxsy, Gin, Vee, Chanzhi, Nanaka, and Centaureissi. The best picks have been narrowed below, but make sure to check your existing units before making a selection. For example, if you already have Aki and Nanaka, you might not need Vee despite her being second on our list, as she fulfills the same role as Aki.
With that said, we highly recommend doing this step after rerolling to choose a Doll with a kit you're lacking in your team. The Quartz Sand can easily be farmed in early game modes.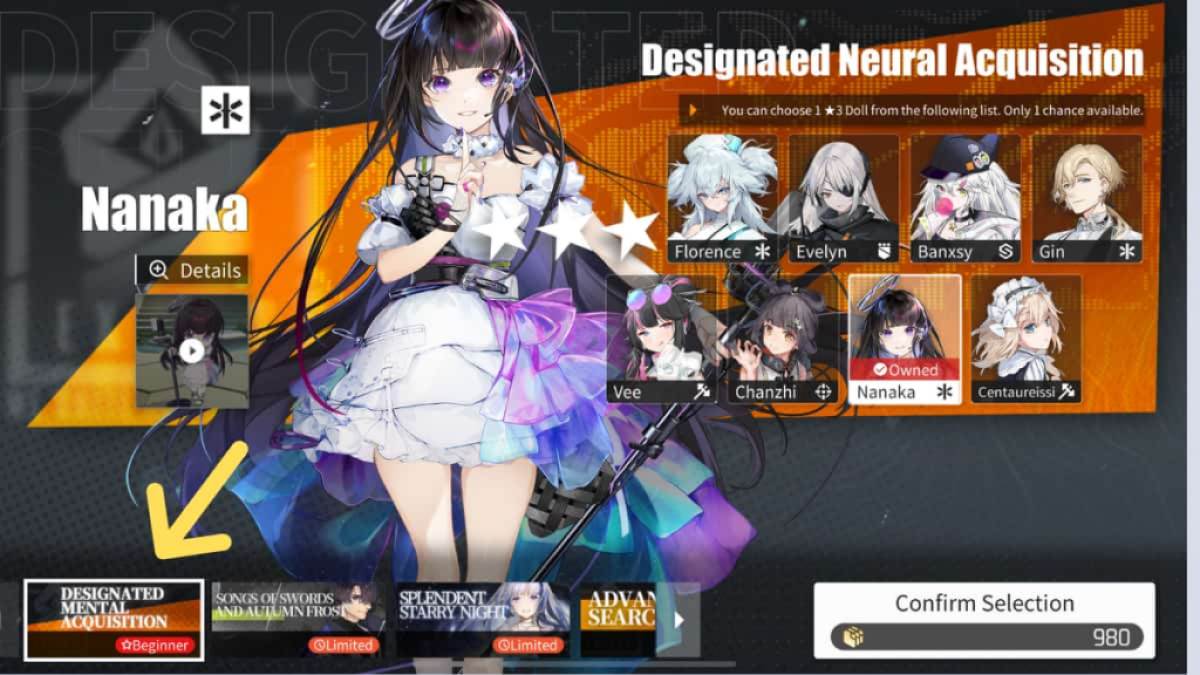 Related: Neural Cloud Codes
Top pick: Nanaka
Nanaka is an AoE Healer who can also buff the team's ATK and Hashrate. She's regarded as the best AoE Healer even in late-game, so she'll be extremely valuable to your team for a long time. While you can get Persicaria for free, later stages may require double-Healer teams, hence why Nanaka is a no-brainer choice. If you didn't get her in your initial pulls, we recommend picking Nanaka from the selector.
Vee
You may want to pick a Warrior to dish out DPS. A great choice would be Vee, a single-target attacker with infinite range and an extremely powerful ultimate. However, she can be quite hard to build as her Operand Damage scales off Hashrate. If you don't have a reliable Warrior and already have Nanaka, Vee would be the optimal pick from the selector.
Florence
Florence is a single-target burst Healer who can save teammates when they're in a pinch. Due to the situational use of her kit, she's usually only viable in double Healer teams, so she isn't the best choice for beginners. Her overall kit is also lackluster compared to Nanaka's, as the latter has more useful buffs. However, Florence isn't a bad pick and can be very useful in the right team comp.
Honorable Mentions
These are your next options if you already have all of the above units.
Evelyn: a tanky Guard who's great but falls short of Croque, who everyone gets for free.
Banxsy: a Specialist whose debuffs can reduce the enemy's Hit and Dodge Rates, but is usually more useful as a ranged DPS.
Gin: a Healer who specializes in healing over time and scales off Attack Speed. His HP ceiling is super high, but his usage can be quite situational and requires a lot of investment to be a good unit. In short, he isn't beginner-friendly.
Check out our guide on How does the Neural Search banner & pity system work in Neural Cloud here on Pro Game Guides to help you plan your future summons.