Popular Fortnite streamer and pro player Tfue has filed a lawsuit again FaZe Clan that alleges that the "Gamer Agreement" contract he signed is "grossly oppressive, onerous, and one-sided" according to the lawsuit that was filed.
Update: FaZe Clan has issues the following statement on the situation: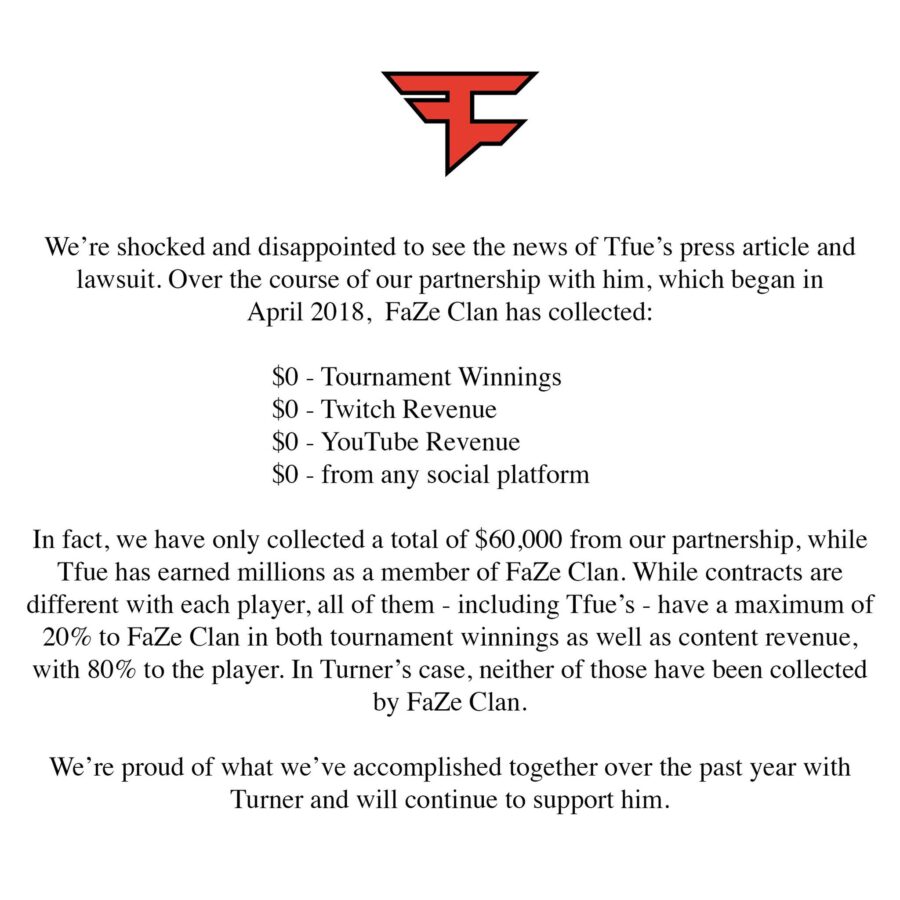 We're shocked an disappointed to see the news of Tfue's press article and lawsuit. Over the course of our partnership with him, which begain in April 2018, FaZe Clan has collected:

$0 - Tournament Winnings
$0 - Twitch Revenue
$0 - YouTube Revenue
$0 - from any social platform

In fact, we have collected a total of $60,000 from our partnership, while Tfue has earned millions as a member of FaZe Clan. While contracts are different with each player, all of them - including Tfue's - have a maximum of 20% to FaZe Clan in both tournament winnings as well as content revenue, with 80% to the player. In Turner's case, neither of those have been collected by FaZe Clan.

We're proud of what we've accomplished together over the past year with Turner and will continue to support him.
The lawsuit also alleges that the contract entitles FaZe Clan to a finder's fee of up to 80% of the revenue paid by third-parties. FaZe Banks, Owner of FaZe Clan, has commented on the situation with the following Tweet:
Yo this whole thing with @TTfue is pretty unbelievable. The first thing I'd like to say is we do NOT and have never taken 80% of anyones prize money. Not sure where that came from, but a contract like that has NEVER existed. We've collected $0 from Turners prize money. ZERO.
There are also a couple of other alarming parts of the lawsuit that insinuate that FaZe Clan encourages both underage drinking and gambling at their team house. Also, that dangerous stunts are encouraged and that TFue himself experienced an injury that resulted in permanent disfigurement.
Read the full lawsuit on the Hollywood Reporter's post.
Nadeshot, Founder and CEO of the 100 Thieves esports organization, made comment that he hopes the news doesn't affect the image of other organizations. FaZe Banks took offense to this and posted a response. Nadeshot has since removed the Tweet, and apologized for "jumping in unnecessarily." Here's the deleted Tweet and response: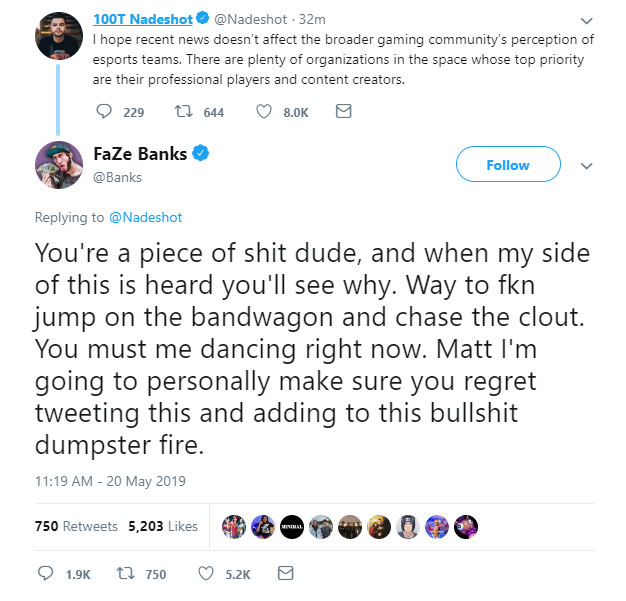 You're a piece of shit dude, and when my side of this is heard you'll see why. Way to fkn jump on the bandwagon and chase the clout. You must me dancing right now. Matt I'm going to personally make sure you regret tweeting this and adding to this bullshit dumpster fire.