You can bring additional characters onto the battlefield for some extra firepower in Octopath Traveler 2, which is especially useful during tricky boss fights where you could use more hits. Here are the best NPCs to recruit in Octopath Traveler 2, including their skill and location.
Best NPCs to recruit in Octopath Traveler 2
hide
How to recruit NPCs in Octopath Traveler 2
There are four Path Actions that allow you to temporarily add a non-playable character to your team in Octopath 2, and each one can be stacked for a total of eight members of your party (four main characters, four NPCs).
You can recruit an NPC using the following Path Actions:
Befriend - Ochette (night)
Hire - Partitio (night)
Allure - Agnea (day)
Guide - Castti (day)
Make sure to save your game before attempting any of the above Path Actions in case you fail; it's much easier to reload than have to pay to restore your reputation at a tavern, especially if the NPC you're attempting to hire has a low recruitment success rate.
Best characters to recruit in Octopath Traveler 2
We recommend recruiting the following NPCs, depending on what you're looking to add to your team. Some have powerful moves, while others give buffs such as additional EXP and the chance to decrease shop item prices.
Related: How to defeat the Devourer of Dreams in Octopath Traveler 2
These are the best NPCs to recruit in Octopath Traveler 2:
Alrond - Wellgrove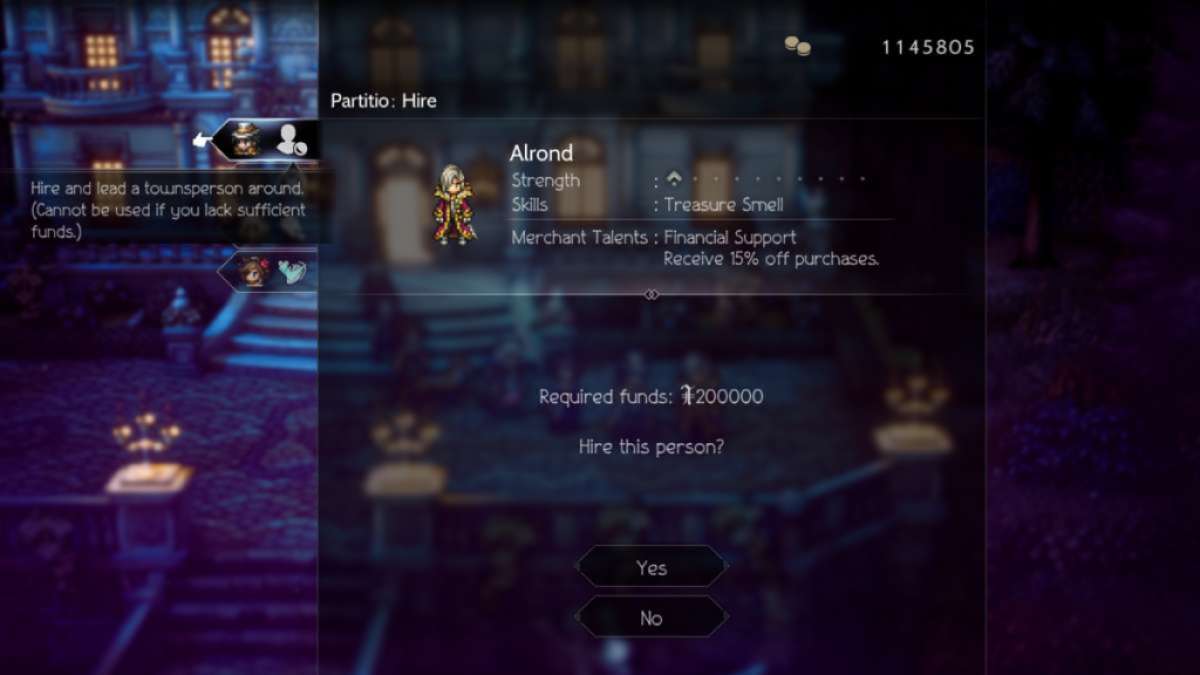 If you're wanting to level up or grind out JP to spend on job skills, Alrond is a must. Though he isn't a strong fighter at all, when used in a battle, his Treasure Smell skill will either give you 100x EXP or 100x JP once you've won, making him the perfect companion to bring along to boss fights or when Cait farming. He also nets you 15% off purchases.
The catch that comes with such an amazing perk is how you recruit him: you can either spend 200,000 leaves to Hire him, level up to 80 to Guide him, Befriend him with three Octopuff Bowls, or Allure him with a 2% success rate - all of which can be challenging and/or hard on the wallet. Alrond can also only be used three times before he returns home and you have to recruit him again.
To recruit him, head to Alrond's Estate in Wellgrove after completing Partitio's main story chapters and the Misha's Next Chapter side quest. You will find the NPC upstairs in his study during the day and outside the front of his mansion at night.
Elderly Man - Flamechurch
The Elderly Man in Flamechurch is the perfect recruit for tricky fights as he has a Strength of 8, making him one of the most powerful NPCs in Octopath Traveler 2.
To find him, head to Flamechurch during the daytime and look to the left of the item shop. Because of his impressive status, the Elderly Man can be difficult to recruit, especially if you're a lower level, so make sure you save first so you can reload if necessary.
What makes him particularly strong is his Thousand Blades skill, which uses a dagger on a random enemy three to five times. If used against a single foe, he can devastate. You can only summon him six times before he leaves your party, though.
Young Man - Tropu'hopu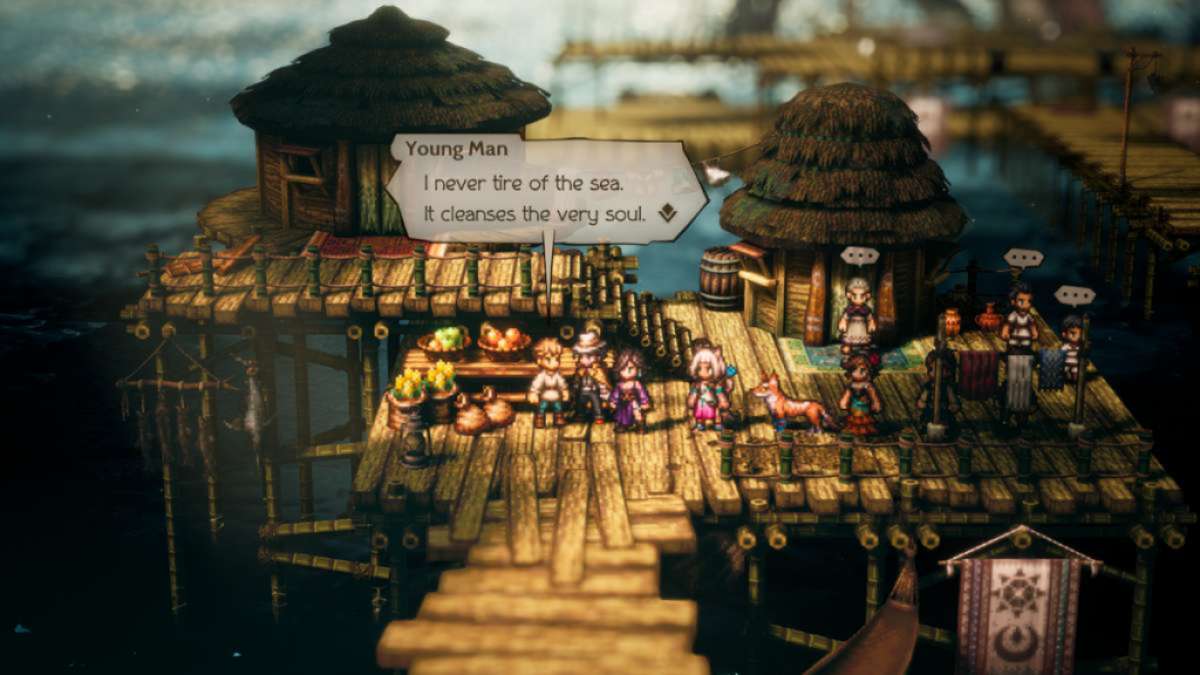 Young Man is another NPC that is primed for battle, with his Merciless Blade skill dealing up to 9,999 damage to every enemy in the fight. If you're struggling to beat a specific boss, he's the guy to bring along, with his Gentle Rhythm Dance Session move also restoring HP when used.
Because Young Man has 10 Strength, you're only able to summon him three times before he says farewell to your group, meaning you'll have to recruit him again if you require his assistance further.
To recruit him, head to Tropu'hopu during the daytime and walk north until you see the Cat Connoisseur standing in front of her house; Young Man is standing by a market stall to the left.
For more information on Octopath Traveler 2, check out Best secondary jobs for every character in Octopath Traveler 2 at Pro Game Guides.