Orbital Bullet is an early access rogue-lite but with a twist. It's essentially a 360 degrees action platformer, where you move on Cylinders in a circular pattern. Of course, this means your bullets and movement curve to this circular nature, creating a peculiar, yet delightful sense of perspective.
Upon starting a run, you are given a gun and sent on your way to make it as far as possible without dying. All enemies must be eradicated on each floor before advancing, with a neat little quality of life feature that zooms you to the entrance of the next level at the press of a button.
Chests and events will appear on each level to net you more weapons and the like, and is it really a rogue-lite without a friendly merchant, whom you can buy weapons and health from? Perks are openly findable on levels, represented by floating cubes, which grant permanent buffs for your current run—increasing the odds of survival.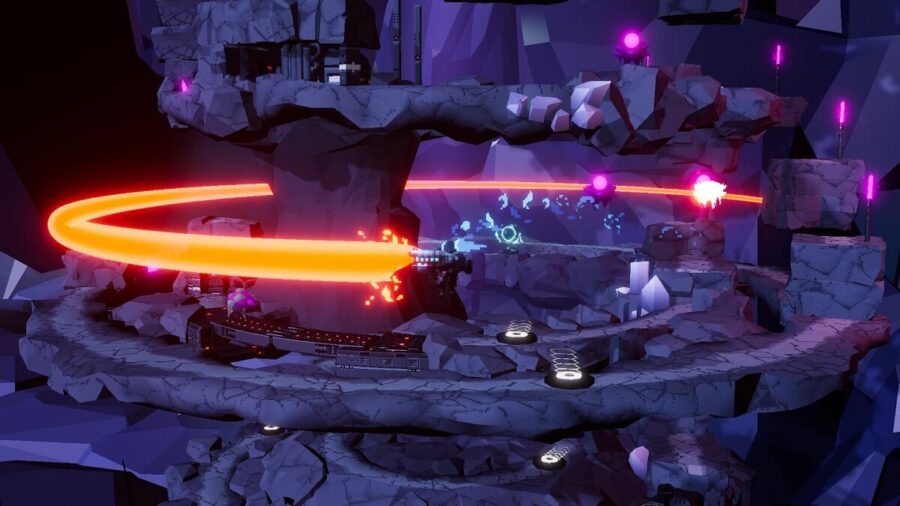 The control scheme for Orbital Bullet is not the best—using the triggers to swap between weapons feels cumbersome, and there is no controller remapping as of yet, to customize to your preference. If you are used to Enter the Gungeon or Hades, the control scheme will feel slightly deter off, but the movement and fluidity more than makes up for it. With the ability to jump and dodge with I-frames (invincibility frames), you'll be quickly dodging charging enemies and enemy projectiles like second nature. But the perspective of the curvature can easily throw you off balance, and a few hits can end a run early.
Guns will be your main sources of damage, like Sniper Rifles or Machine Guns, and each one feels different, mainly due to the projectile being fired and the impact it leaves. The variety is definitely in abundance. Still, if you like, you can channel your inner Mario and bonk enemies on the head to deal damage and even ground some of the various enemies you'll encounter, which is extremely satisfying.
The main premise is to go through all the planets and biomes Orbital Bullet offers and complete the run without dying, then spend all the different types of currencies available to earn on abilities, weapons, etc—all of which ensure the next run plays more smoothly. Bosses will heed your progress and while difficult to defeat, these encounters are few and far between.
Weapons and Skills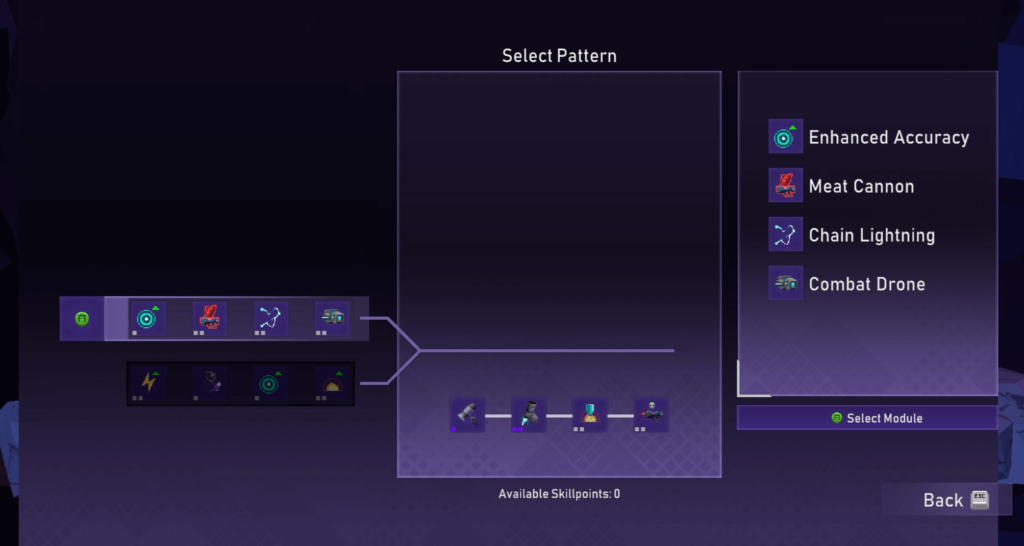 There are four different damage types in Orbital Bullet for weapons—Shell, Energy, Bullet, and Explosive—and success depends on knowing how to use them in your build, as everything revolves around these. You can only carry two guns, but no restrictions on the sizes you can hold. Ammo management is crucial for succession, so carrying two of the same weapons isn't ideal.
Weapons increase in rarity, so the color tiers you know and recognize from other games (white, green, and blue) are present. I didn't see anything higher than that, but this is early access, and no doubt more rarities are planned.
When you kill enemies, you gain experience, which levels you up and nets upgrade points. These can be spent upon finding an Upgrade Station, allowing you to use the Skill Tree System. The four Skills you receive on each run are randomized, so your build will change depending on what you have received. Some Skills only require one Upgrade Point, but some require more improve the Skill's strength. It's completely up to you where you allocate these points.
There are quite many Skills available, some are just pretty basic, like increasing damage types or critical hit chance. But there are some unique ones such as firing a gigantic laser out of your boots when you jump, or releasing a combat drone to aid you against enemies.
On some floors, you'll encounter a Skill Pattern Station, which allows you to choose between two additional slots, each holding four randomized skills. It will connect on top of the four you have, which links them. This is both a good and bad system, as luck plays too heavy a part. If you are using a particular damage type, but all skills are for another, you pretty much have to hope you find another weapon.
Unfortunately, you cannot view the skills before you accept the slot, meaning trial and error is required during the early game. Yet this encourages replay value, but it would be beneficial to know how you can improve your build, regardless. To complete runs, you need a pretty solid understanding of the mechanics and skills that you can acquire, but ultimately, you have no control over your skills you receive.
Death and Rebirth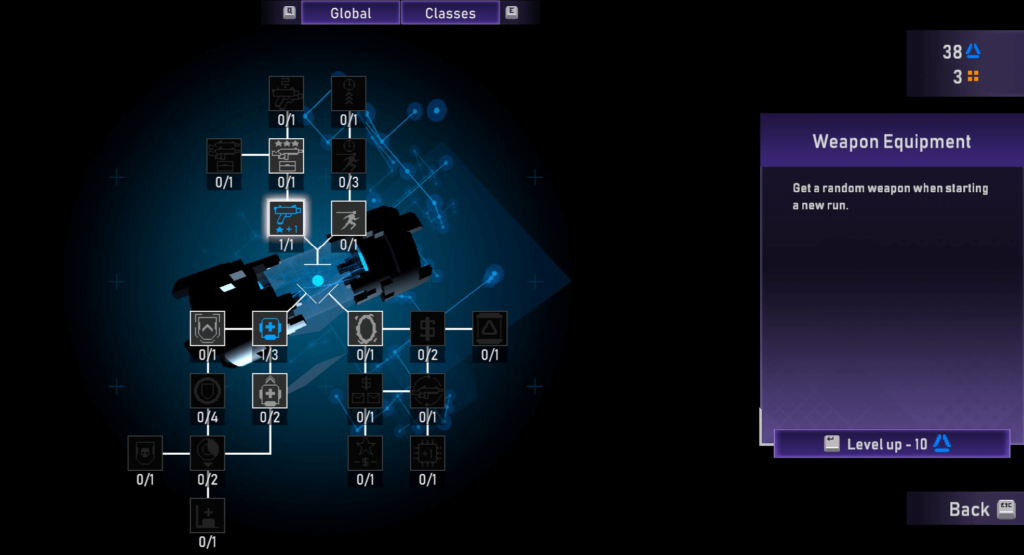 Like most games of this genre, different currencies are dropped from enemies and bosses that can be used upon death to give yourself abilities or unlock new weapons to help survive the next run.
Global Skills are your permanent upgrades, and these are not lost upon death. These work very much like a skill tree, that early cheaper upgrades must be unlocked before you can access the more expensive, better ones. Yet each one will benefit you in some way. There is no downside to acquiring Global Skills. You can get such skills that allow you to heal a few times or start with your run with a random better weapon. Or even spawn an alternate dimension that will hold loot and goodies!
Classes
After the first boss has been killed, a new section appears, which allows you to upgrade four different classes, each with a unique ability that can be used on your runs. Like your starting weapon, you have no control over which ability will appear, so your build will straight away be apparent based on the ability that you get. This makes every run different. Instead of always using the same abilities and weapons, it really is a breath of fresh air to try something new each time.
Early Access and the Future
There are currently three unique Planets with two different biomes a piece in the early access version, but seven Planets are planned for the full release. Many graphical and controller-related options are missing, even the most basic, but these will be included in future updates during the lifespan of early access. Smokestab has already released a future roadmap and is listening to players' feedback upon what to add.
Verdict
Overall, Orbital Bullet is a solid contender to become a hidden gem of rogue-lites. I truly hope it gets the recognition it deserves. It's original and innovative, which is exactly what indie developers bring to the table. It may be a bit rough around the edges, but the polish is impressive considering its early access state. They've even included a few quality of life improvements that I did not expect to be incorporated this early. The control scheme needs tweaking, which can be solved with controller rebinding, but apart from that, the controls are fluid. Runs can last between an hour plus, so if you are after a game to play when you have a short amount of time, Orbital Bullet is perfect. The biomes and enemy types are diverse, and it's extremely engaging to play.