Ah, the Pyromancer. Nearly every game with magic has some variation of the class, but few handle it as well as Outriders has. In the Worldslayer expansion, the Pyromancer is very much a make-or-break class. It was quite the challenge to craft a build that wouldn't wilt under the pressure of mobs. But once we cracked this build, it thrived in the most hostile of environments.
Pyromancer Skills
The three skills for this build form a waltz and, when executed in order, are a beautiful dance of death, fire, and destruction. Start with Thermal Bomb on a weaker enemy to begin a chain reaction of incredibly powerful explosions. Eruption will be the next big damage dealer and is wonderful for taking out those still standing from Thermal Bomb. Overheat, when paired with mods, will significantly reduce the cooldown on Thermal Bomb and is great for locking down enemies as they turn to ash.
Thermal Bomb - Select an enemy to burn, interrupt, and deal damage to. If killed while still afflicted by the skill, the enemy will explode, dealing damage within a large radius.
Eruption - Create a volcanic eruption beneath the selected enemy, dealing damage to all enemies within a small radius of the target. The eruption spews lava, dealing damage over time within a small area.
Overheat - Deal damage to all enemies within a large radius and interrupt their skills. Enemies afflicted with burn receive damage instead (the burn will be consumed).
Pyromancer Mods and Gear
The crux of this build is the Heat Seeker's set. It will enhance the effectiveness of Thermal Bomb and Overheat immensely. It might take a bit of time to farm, but running the Trial of Tarya Gratar is a great way to gather up all five pieces. Once three are collected, you'll get the key component, Heat Seeker. After a successful detonation, Thermal Bomb will travel to the target with the lowest health in a 25 m radius. This makes short work of weakened and "normal" strength mobs.
For weapons, we recommend assault weapons as they work great at a medium range. This build can take a hit or two, but you don't want to stand too close to enemies, so shotguns are out. There are no buffs to long-range weapons, so snipers are also out of the question. Once you've found a weapon that agrees with you, throw a burn mod on it (the higher the better).
Pyromancer Class Points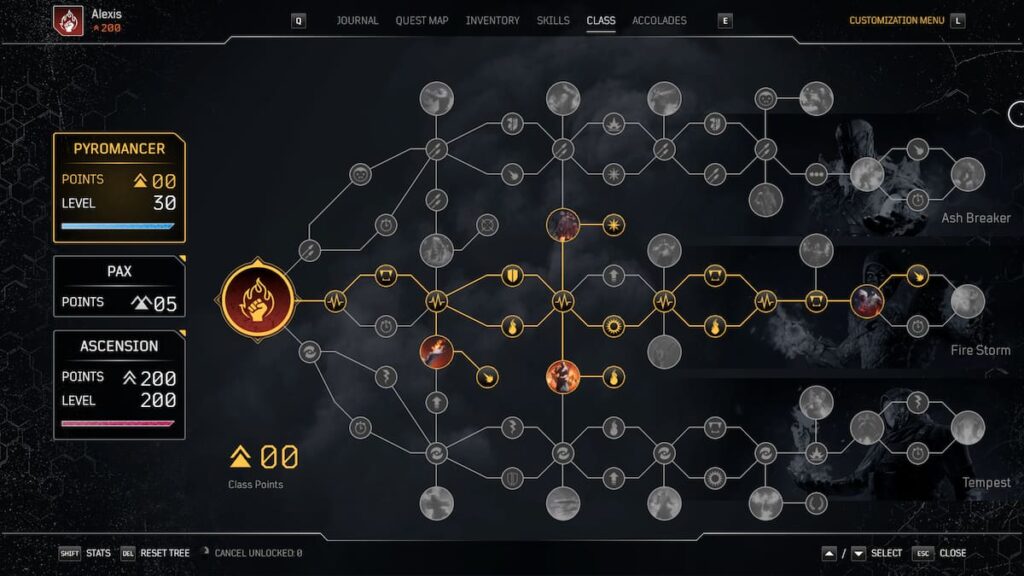 Unlike other classes, the Pyromancer doesn't have a clear-cut path to success. Other classes can focus on one tree with a complimentary set of skills and then find a corresponding set of gear. This build specs heavily into the middle tree and focuses on skill leech, burn, health, armor, and resistance. It's far tankier than the average Pyromancer build without sacrificing damage.
Pyromancer Pax Points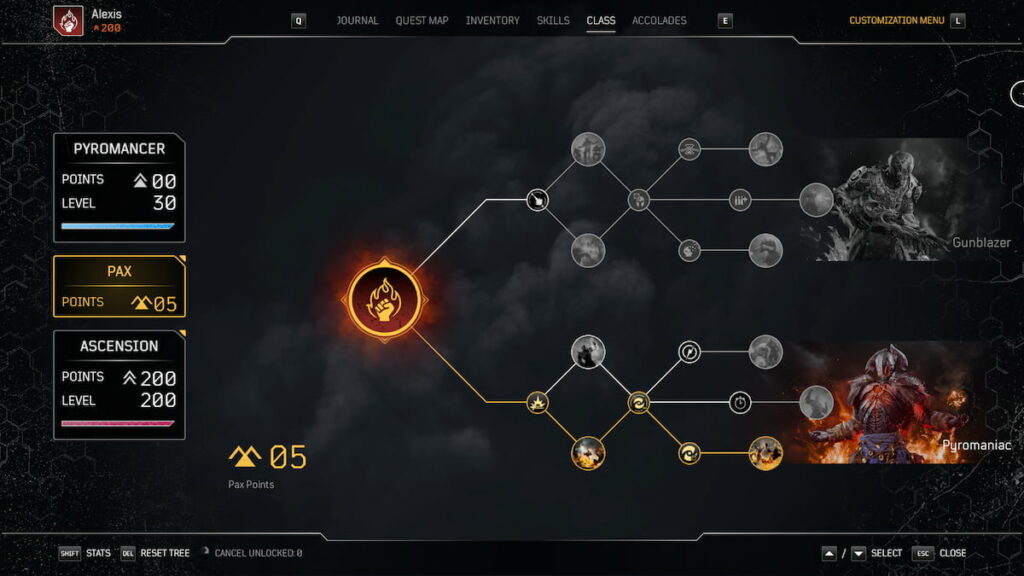 The bottom tree Pyromaniac is the ticket to success. It buffs our trio of explosive skills, reduces cooldowns, and increases the damage of subsequent explosive skills up to three times before resetting. And with how often you'll be throwing out skills, this is almost a constant buff.
Pyronamcer Ascension Points
When starting out, focus heavily on the Anomaly branch. Once this is filled out (50 levels later), feel free to branch into whatever you like.
For more Outriders goodies, check out Best Devastator Build in Outriders Worldslayer on Pro Game Guides.