Outriders Worldslayer adds a new endgame, The Trial of Tarya Gratar. This endgame gauntlet mode contains several trials and arenas and it is a great way to get the new Apocalypse Gear. The final boss of the trial is the Arbiter of Descent, which is a tough encounter even in a group. Here is how to beat the Arbiter.
Defeat in Arbiter General Tips
This encounter is balanced towards groups. Group up if possible.
Avoid the dark hazes on the ground; they will tether you in place.
Destroy the Hives ASAP.
Lower your Apocalypse Tier if you are stuck.
Arbiter of Descent Mechanics
The Arbiter of Descent is the hardest fight in Outriders Worldslayer. This massive boss will swing his axe and leap toward you throughout the fight. These attacks can be safely dodged or avoided by staying at a distance. He will occasionally pull you into him and hit you with the axe; this attack is unavoidable. Always watch your feet for the dark haze fields on the ground as these will slow and tether you, making it very difficult to avoid incoming attacks. He will also summon protections of himself which will walk in a straight line and swing their axe.
Periodically throughout the fight, he will cast Anomaly Drain. This will summon an Umbral Clone that will slowly walk to one of the four pillars. Once a clone reaches the pillar it will spawn a Hive at the pillar which will cast huge waves in a straight line from the hive. The Umbral clones can be killed, however, they have a large health pool and you will need to focus fire one of them.
Related: Best Farm for Apocalypse Gear in Outriders Worldslayer
The Hive should be destroyed as soon as they spawn as having multiple of these alive at the same time will wipe your party very quickly. Dark Armaments will send waves out in a circular pattern from around the Arbiter during this phase it's best to focus on avoiding the red telegraphs on the ground rather than attacking.
The Arbiter does not have a second phase, however, the further in the fight you progress he will start casting these abilities in quick succession. Anomaly Drain will summon additional Umbral Clones, up to four. When this happens it's best to focus on one Clone, then take out the Hives as they spawn.
Arbiter of Descent Rewards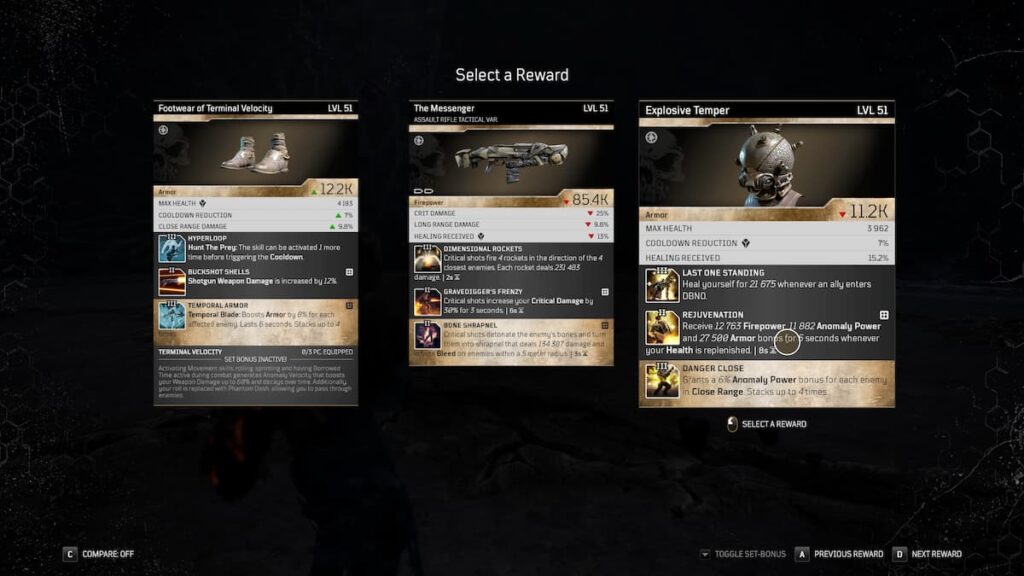 If you defeat Arbiter of Descent he will spill out a large amount of loot for you to collect, however, you also will be able to select one of three Legendary Apocalypse gear. This gear will change depending on your class.
For more on Outriders guides, check out Everything we know about the endgame in Outriders Worldslayer and Can new players start the Outriders Worldslayer campaign right away? here on Pro Game Guides.