One of the things players are able to do in Outriders, is craft items that require various resources, and one way to get these resources is to dismantle weapons and armor in the game.
How to Dismantle Weapons & Armor in Outriders
In short, to dismantle both weapons and armor, you will need to go inside your inventory via the inventory key or button on your controller. After this, you will be able to manually mark your items by clicking on one and holding down the button that says mark on the bottom right of the item tab, as shown above.
Also, along with manually marking your items, you can auto-select items to be dismantled by clicking the option shown in the image below - you will also be able to mark items based on rarity in this tab too.
Related: How to fix lag and stuttering issues in Outriders on PC
Once an item is marked, you should see a recycle icon over it, and when you hit the button on the bottom right of your screen, you will be able to dismantle that said item.
After dismantling your items, you will get various items such as Iron, scrap, and Titanium, depending on what weapons and armor you dismantle. These are resources you will need later down the line when you start crafting, so we recommend scraping anything you don't want to save up for this point.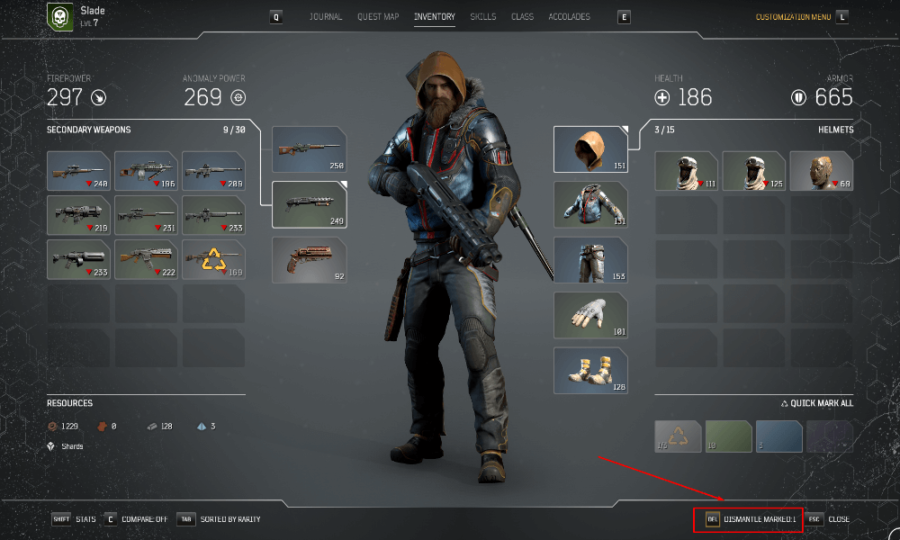 You can also sell any unwanted items via stores using a similar marking system, but overall, dismantling is your best option in the long run.
For more on Outriders, we at PGG have you covered with guides like How to fix Internet Connection Error in Outriders andAre Outriders Servers Down? Here's how to check server status