Overwatch 2 is the long-awaited sequel to the 2016 smash hit Overwatch. The FPS game from Activision Blizzard took the world by storm and revived the hero shooter genre. Now, the devs are looking to once again capture the hearts and minds of gamers when Overwatch 2 hits shelves. Here is everything we know about the game so far.
What is Overwatch 2?
Overwatch 2 is a hero shooter and a direct sequel to the first game, Overwatch. The game will feature a large cast of playable heroes for you to choose from, with even more coming in the future. Working in a team of other heroes, you will try and win multiplayer matches by completing objectives across various game modes. The multiplayer component will be totally free to play. It will also feature a sort of story mode, where you can complete missions by yourself or with a few friends. This story mode will require you to purchase the game.
When does Overwatch 2 begin early access?
As revealed in the Xbox & Bethesda Games Showcase 2022, Overwatch 2 enters Early Access for PC and consoles on Oct. 4, 2022. That means that before the end of the year, you can find yourself in the shoes of your favorite hero. At this time, there is no official release date for the game, but we expect it not to be too far off from the early access date.
Related: What is the Push game mode in Overwatch 2? How to play, strategy, & more!
What platforms will Overwatch 2 be playable on?
Overwatch is known for the various platforms it is playable on. Luckily, OVerwatch 2 will be playable on all of the same platforms it is playable on now. That means you can play Overwatch 2 on PC, Xbox consoles, PlayStation consoles, and Nintendo Switch. This leaves you with plenty of options, and the game's cross-play function means that you don't have to sacrifice playing on your favorite platform just to play with your friends.
How does Overwatch 2's live-service model work?
As revealed by devs in the Overwatch 2 reveal event on June 16, 2022, the game will be a free-to-play, always-on live-service experience. Game Director Aaron Keller explains that the development team has crafted a seasonal model for the game that ensures players are always receiving game updates and new content every nine weeks. So far, short-term plans for Season One and Season Two, as well as long-term goals for 2023 and future seasons, have been laid out by Blizzard.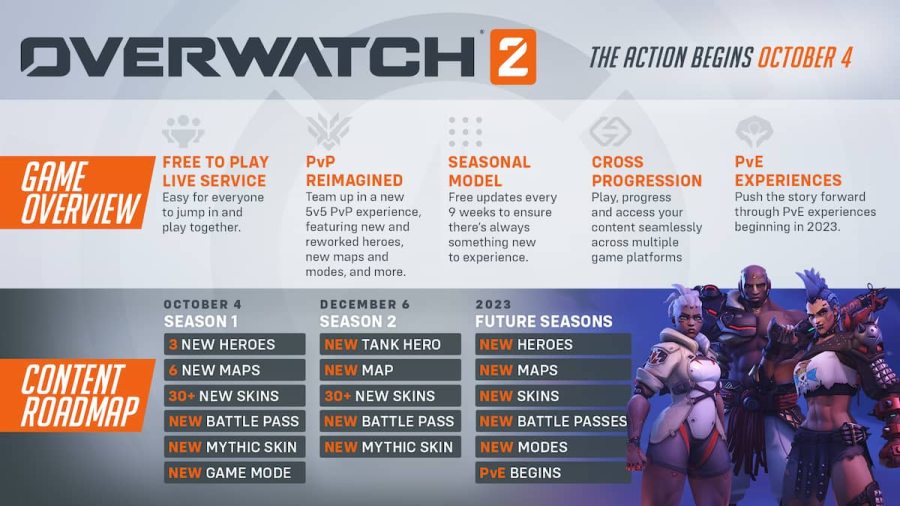 You can see the currently laid out roadmap in the image above. Basically, players will be getting new content each season, such as a new hero, new skins, or new maps. Looking ahead into 2023, players can see the launch of the PvE story mode, where seasonal content drops will add more stories to the ever-expanding world of Overwatch.
What to expect from Overwatch 2's PvE mode?
PvE main goal in Overwatch 2 is to bring much more of the story of Overwatch to players. It has long been one of the most intriguing parts of the game, and a PvE mode allows the devs to feed you that story content in a satisfying way. Null Sector has made a return, and they are here for vengeance. Veteran Overwatch members will be joined by the young heroes, and some of the stories will go into how they work together and the chemistry that is formed. We will also get a deeper look into certain characters' history, such as Torbjörns home turf and his factory.
The mode itself is comprised of story-driven missions that can be completed either alone or co-op. They will be similar in style to the PvE missions we experienced in Overwatch 1. However, the gameplay and story content will go much deeper.
Related: Overwatch 2 PvP Beta – Start/end dates, gameplay, & more!
All changes coming with the launch of Overwatch 2
Here is everything that will be changing with the launch of Overwatch 2:
Loot Boxes - Loot boxes have been entirely removed from the game.
Battle Pass - In exchange for the Loot boxes, players will have the option to purchase the Battle Pass and earn its various rewards.
In-Game Store - There will be a store inside the game in which you can purchase items directly
Existing Hero changes - So far, we have been exposed to some of these changes in the first OW2 Beta, but keep in mind that there may be more changes to come as well, and some changes may get reverted back.
Existing map changes - All of the returning maps from the first game got complete art touch-ups and texture tweaks. Some maps were also given different time of day options, such as nighttime Oasis.
New game mode - The new Push game mode in which players compete to push a barrier to the other side of the map.
Three new Heroes - Sojourn a DPS Hero, Junker Queen a Tank Hero, and one other unannounced support Hero will all be joining the game with its launch as part of Season One.
Six new maps - Six entirely new maps are coming with the launch of Overwatch 2.

Rio - Hybrid Map
Portugal (currently unnamed map taking place in Portugal) - Push Map
Midtown - Hybrid Map
Circuit Royal - Escort Map
New Queen Street - Push map
Colosseo - Push Map

Mythic Skins - These are a new skin type past legendary. They will feature special advantages such as customizing color options.
Activision Blizzard will be providing more information on new content and other changes coming to Overwatch 2 leading up to its release. We will bring you all the news and updates about the game as soon as we know them.
For more on Overwatch, check out Is Overwatch 2 Free-To-Play? right here on Pro Game Guides.