If you're wondering how to get your hands on the Nano Cola D.Va Skin then our guide will walk you through the steps on how to earn the skin, sprays, play icons, and get even more sprays from Twitch Drops!
As far as I can recall, this is one of the first events Overwatch is hosting that will earn you a skin and combines itself with Twitch drops. You will be able to earn ten sprays, a player icon, and an Epic skin if you complete everything listed below. You will also have between the dates of August 28th - September 10th to complete them.
Unlocking the D.Va Nano Cola Skin
This part of the challenge is pretty easy to do, all you will need to do is win games in Quick Play, Competitive Play, or in the Arcade to earn sprays, a player icon, and the new Nano Cola D.Va skin. You need to win nine games in total to unlock everything, and you have two weeks to complete it! You do NOT need to play as D.Va to complete the challenge.

The bar above will be in the play area of Overwatch. It keeps track of the wins you've earned. When you win three games, you will unlock two sprays:

After you've knocked out those three wins, you will need to get three more wins (six in total) to unlock the following player icon: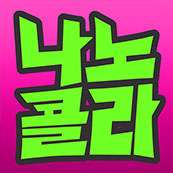 And finally, once you put together the final three wins (nine in total) you will unlock the Epic new D.Va Nano Cola skin:
D.Va's Nano Cola Challenge Twitch Drops: Eight Unique D.Va Sprays
Now to earn the Twitch Drops is a bit more challenging. First off, you'll need to connect your Battle.net account to Twitch or you will NOT be able to participate. Once you've done this, then you'll need to head to a Twitch Stream that has Overwatch Drops enabled. Here's a look at how you can tell if the stream you are watching has these enabled:
Now you'll need to watch participating streams for eight hours to get all eight unique D.Va sprays. For each two hours you watch, you'll earn a spray(s) up until the eight hour mark. You don't have to watch all eight hours in a row, it is cumulative and you have over the next two weeks to complete the time. You can always just tune into a stream (or multiple streams) and leave it running in the background. Here are the sprays you will potentially earn if you put in the hours: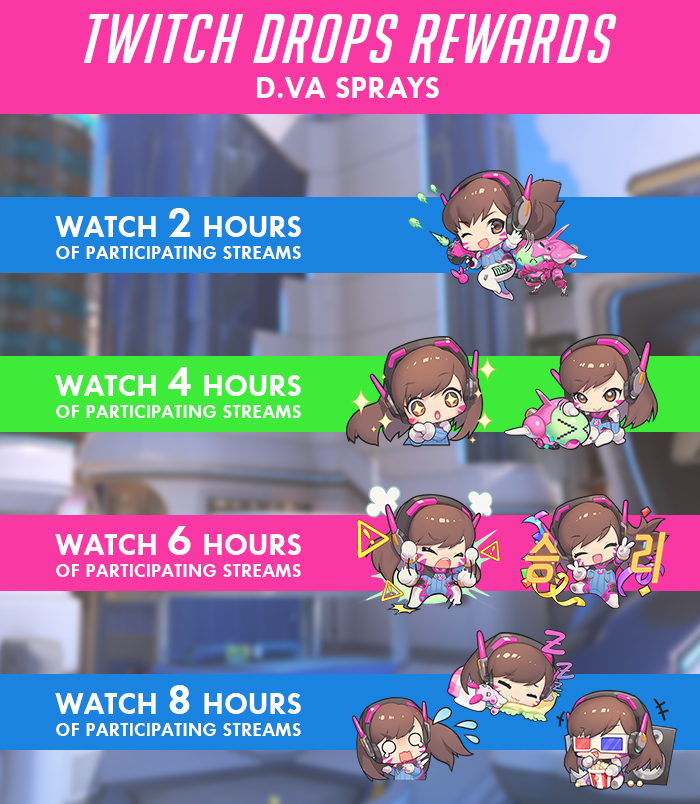 The Twitch Drops will be available through August 28th - September 10th on select Twitch channels. I've added a list of the participating streams below. The times listed are their highlighted stream dates, but you don't have to watch them during those times to earn the sprays. You just need to make sure the stream you are watching is participating in the event and is playing Overwatch.
How Do I Know When I've Received a Spray?
This is also a bit weird, but I never received an alert on Twitch when I unlocked a set. You have to go into Overwatch, go to Hero Gallery, click on D.Va and on the Sprays area. You should see them in here if you've unlocked any, and it will look like this: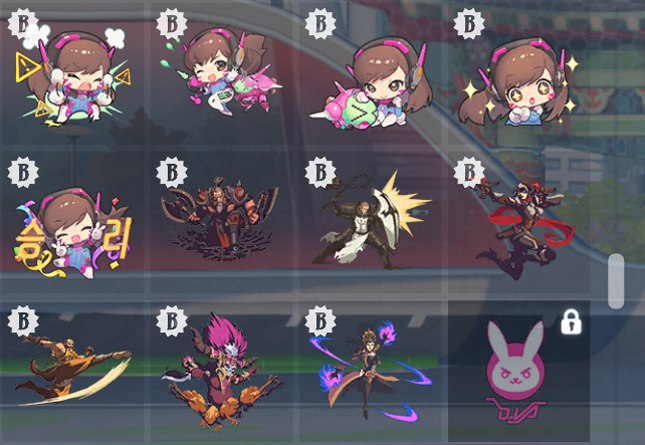 Update: It looks like Twitch has fixed the alert, if you check the little bell icon on the top bar it should show notifications when you receive a spray! Here's a look at what you should see when you load up Twitch: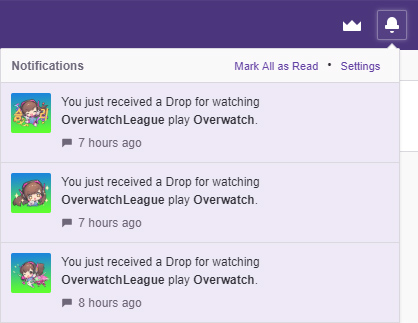 Shooting Star
This event is celebrating the release of the new Overwatch Animated Short: Shooting Star. This takes a look at the life of D.Va and what she does to protect her city. We'll also be seeing the release of the new map Busan (shown in the video) in the coming weeks.