Our Overwatch Sigma Guide walks you through everything you want to know about the 31st hero to be added to the game! We've got information on his abilities, voice actor, and when he's coming to the PTR and the live game itself.
PTR & Live Release Date
Sigma was added to PTR on July 23rd, 2019! We don't know yet when he will be released on live servers.
Sigma Voice Actor
Sigma's English Voice Actor is Boris Hiestand!
Sigma Origin Story
Siebren de Kuiper, Age: 62

Occupation: Astrophysicist

Base of Operations: The Hague, Netherlands (formerly)

Affiliation: Talon

Brilliant astrophysicist Dr. Siebren de Kuiper's life changed forever when an experiment gone wrong gave him the ability to control gravity; now, Talon manipulates him to their own ends.

De Kuiper was considered a pioneer in his field. His life's work involved devising a way to harness the power of gravity. Equally known for his groundbreaking research and eccentric personality, he conducted most of his studies from his lab in The Hague. Believing that he was close to achieving his goal, he performed his most important experiment on an international space station.

But something went wrong, triggering the brief formation of a black hole. De Kuiper was only exposed to its power for a moment, but he suffered serious psychological damage. The area around him began to experience strange fluctuations in gravity, peaking and dropping in time with his reactions. He had to be evacuated immediately.

Upon returning to Earth, De Kuiper was quarantined in a secret government facility. Between his ravings about the patterns of the universe, the psychic damage he sustained, and the gravitic anomalies happening around him, he was deemed unsafe and detained for years under the name "Subject Sigma." Isolated and unable to control his powers, De Kuiper retreated into his own mind. He thought he would never see the outside world again.

When Talon discovered De Kuiper's existence, they infiltrated the facility and broke him out, planning to use his brilliance and research to further their plans. In their custody, De Kuiper slowly gained control of his powers. Now, gravity moved according to his will, and he was closer than ever to achieving his life's goal. But the same experiment that had opened his mind had also fractured it, and he struggled to keep the pieces together.

De Kuiper continues to develop his powers in hopes of unlocking the secrets of the universe, unaware that Talon is using both him and his research.
Sigma Gameplay
Sigma Abilities
Primary Fire - Hyperspheres
Launch two charges which implode after a short duration, dealing damage in an area.
Fires limited ranged projectiles that can bounce off of walls. The orbs explode after a certain range and do area damage. This does 120 damage if you direct hit both of the orbs.
Experimental Barrier
Hold to propel a floating barrier; release to stop. Press again to recall the barrier to you.
This is Sigma's main shield and what he will use to prevent damage for your team. It starts with 1,500 HP and can be placed on the map in front of you. It moves forward until you release the shield button. You press the button again to bring the shield back to you. The shield is just like Reinhardt's shield where it needs to be recharged, and doesn't have a separate health pool like Orisa's shield.
Accretion
Gather a mass of debris and throw it at an enemy to knock them down.
Gathers rocks and throws them. Hitting a target at close range will only deal damage, further away targets will be hit by a knock-back and CC.
Kinetic Grasp
Absorb projectiles in front of you and convert them into shields.
Absorbs in coming damage and converts the damage up to 400 shield for Sigma.
Ultimate Ability - Gravitic Flux
Manipulate gravity to lift enemies into the air and slam them back down.
Sigma's ultimate ability floats Sigma into the air (you can kind of fly around slowly) and allows you to place a black hole like ability on the ground. Any enemy within this area gets floated up into the air, and eventually they are slammed down onto the ground for 50% of their hp. You can fire Hyperspheres immeddiately after you've set the black hole.
Sigma's Role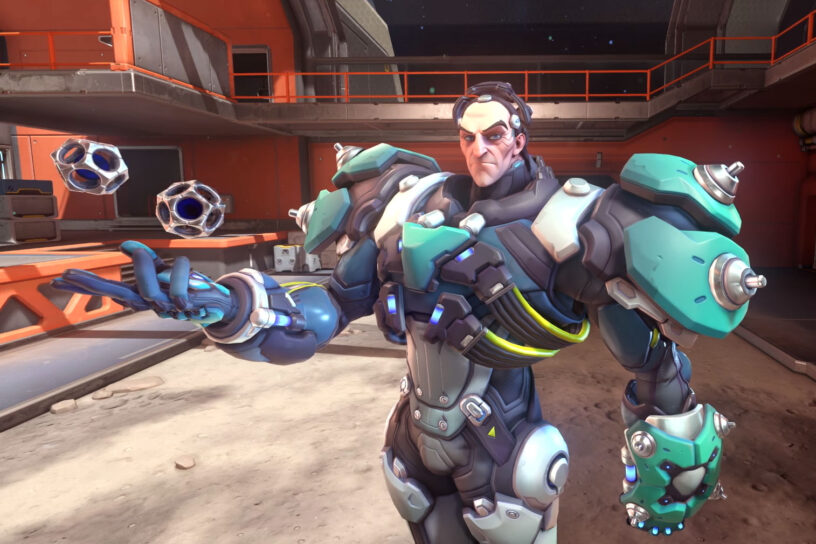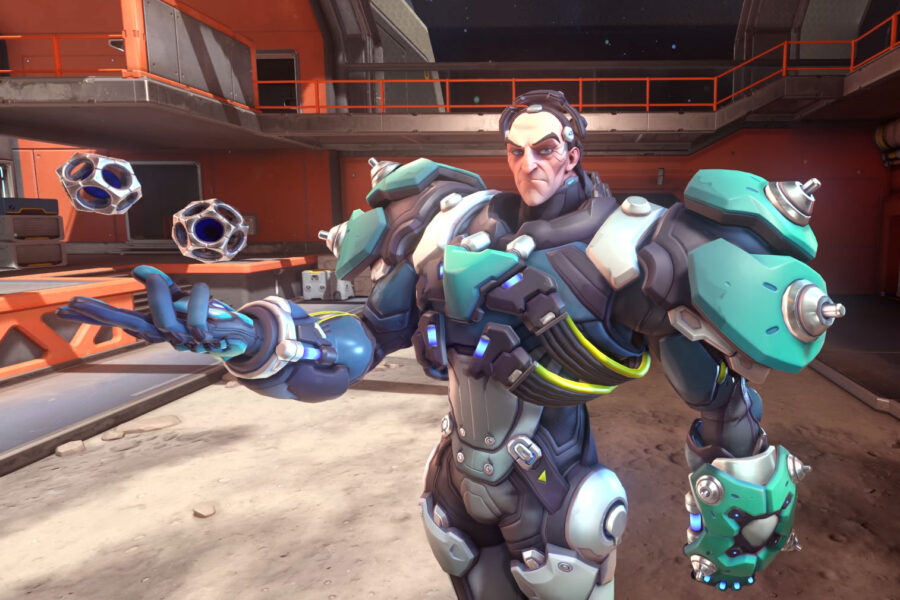 Sigma occupies the tank role. He is a full tank and uses a barrier to prevent damage.