Pentiment is a point-and-click RPG in which you take on the role of Andreas Mahler, a 16th Century graduate finding his way in the world as a craftsman. But a series of mysterious events lead him to become embroiled in a murder investigation. The game is largely driven by dialogue, with a series of early conversations deciding how the game unfolds. So which background should you choose in Pentiment?
Pentiment character creation guide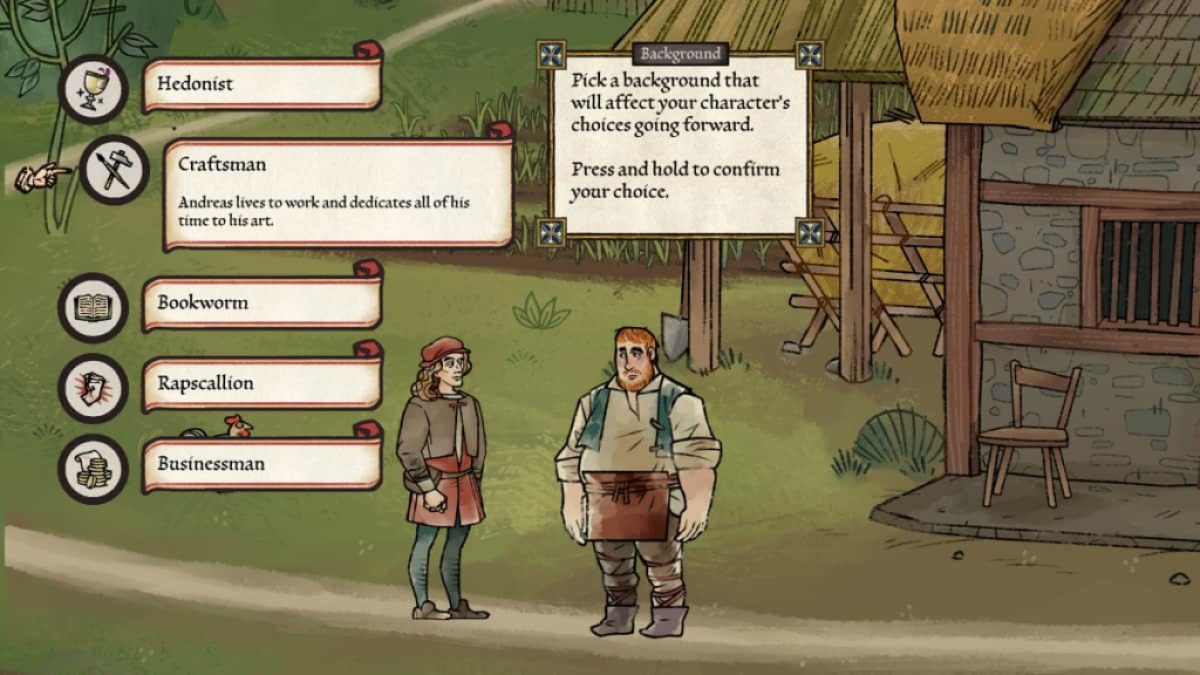 Your Pentiment character creation begins with a conversation with Big Jorg outside the Gertner's house. He will ask about your past. Your choices will mold how the story progresses, including which books you can read and who you can have deeper conversations with. There is no correct answer here, and the decision will largely not affect your skills. Choose one that helps you immerse in the storyline.
Related: What is Pentiment? – Release date, platforms, & more
The bigger decisions come a little later when you walk to the Abbey with the Baron. He'll ask what you studied, giving you the choices of Theology, Imperial Law, or Medicine. Once the mystery begins to unfold, each will be useful, so choose the story you wish to follow. Medicine, for example, will give you a better understanding of clues to do with the body or materials you find. While Theology may point to understanding motivations.
The Baron also asks about your favorite subject and then about further interests. This time you have five options, leading to new skills and conversation paths. Choosing Orator, for example, will give you conversational options that may persuade information out of characters others wouldn't get. While Occultist will give knowledge of the dark arts, or Heavens and Earth, about plants, animals, and astrology. All will be useful in certain situations but useless in others. You'll get to choose two of them.
With these choices, you'll have the basics to mold your story. Remember, the most important thing is to make choices you want to role-play (this is an RPG, after all). You can replay the game later, make completely different choices, and come to very different conclusions. It's not about winning or losing but about creating your own story.
If you love Pentiment, have you checked out Disco Elysium? Check out other top posts at Pro Game Guides, including Top Disco Elysium Best Thoughts and Best Games Similar to Disco Elysium.