Each time you defeat any of the three Miss Fortune Sisters during the post-game in Pokémon Legends: Arceus, you'll be rewarded with four or five nuggets. These go for a neat 10,000 Pokédollars apiece at the shops. So, if catching monsters and building your Galaxy Member Rank hasn't been a focus, then nugget farming with the Miss Fortune Sisters is a good money option.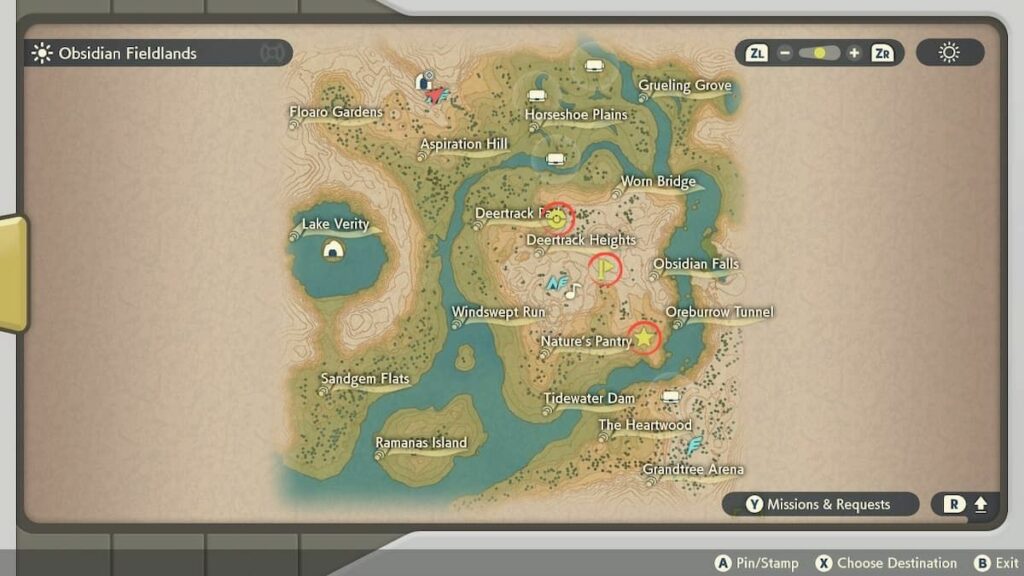 Each of the sisters, Coin, Clover, and Charm, have their own spawn site on the central island of the Obsidian Fieldlands map. Note the three localized areas marked above with red circles where, each time you rezone—that is, each time you leave to Jubilife Village and then re-enter the area—one or more sisters will have a low-to-moderate chance of appearing at any three of these sites.
Make the Heights Basecamp your go-to fly point
Arrive at the Heights Basecamp and fly on Braviary to scan the slopes and ledges around these localized areas. Look for the speech bubble, and you'll know it's one of the sisters. Note that, if you know where to look, you can easily take a glance if you're in the area hunting Pokémon, shinies, or other materials.
Related: How to hunt shiny Pokémon during Massive Mass Outbreaks in Pokémon Legends: Arceus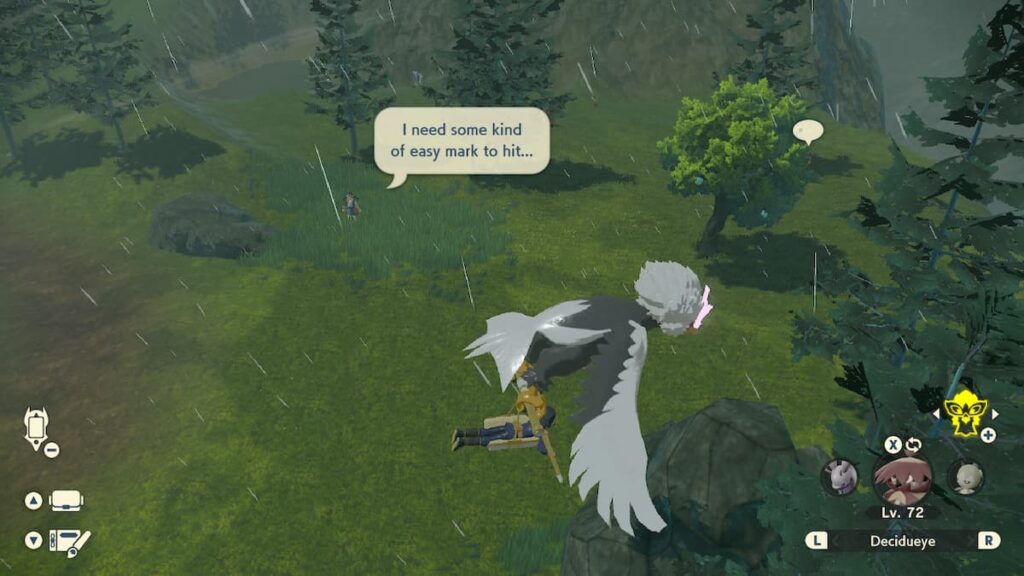 Coin has her Toxicroak, Charm has Rhydon and Gengar, and Clover has her Abomasnow that she tortured at the volcano—all leveled to the early 60s by the post-game. Depending on how many battles you have with the sisters, you'll get up to five nuggets for each win rather than four or fewer.
At any rate, each battle decided in your favor should net you a sizable amount of funds for max revives, Aguav Berry Harvests, and the things you need as you complete the first-ever Pokédex. That, or you can buckle down and finally buy the knowledge of how to expand your item storage to its max.
For more Pokémon: Legends Arceus content, check out How to clone shiny Pokémon in Pokémon Legends: Arceus.