Pokémon Scarlet and Violet have three campaigns you can complete in any order. With the Paldea region being completely open-world, you may be wondering which story you should finish first. Here is everything you need to know to choose the best route in Gen 9.
Which campaign should I complete first in Pokémon Scarlet & Violet?
At the beginning of the game, you are introduced to the three story campaigns Victory Road, Starfall Street, and Path of Legends. Although you can complete them in any order, there is no level-scaling in Pokémon Scarlet and Violet. Every Gym, Team Star boss, and Titan Pokémon have fixed levels. As a result, Gen 9's campaigns have a progression structure that is in order by level. So while you could technically focus on only beating one campaign like Starfall Street first, we do not recommend playing this way. Not only will you be over-leveled for the other campaigns, but you will also get destroyed if you try tackling the map in the wrong order. The best way to play Pokémon Scarlet and Violet is to jump back and forth between the three campaigns in the route we have detailed below.
What is the best route in Pokémon Scarlet and Violet?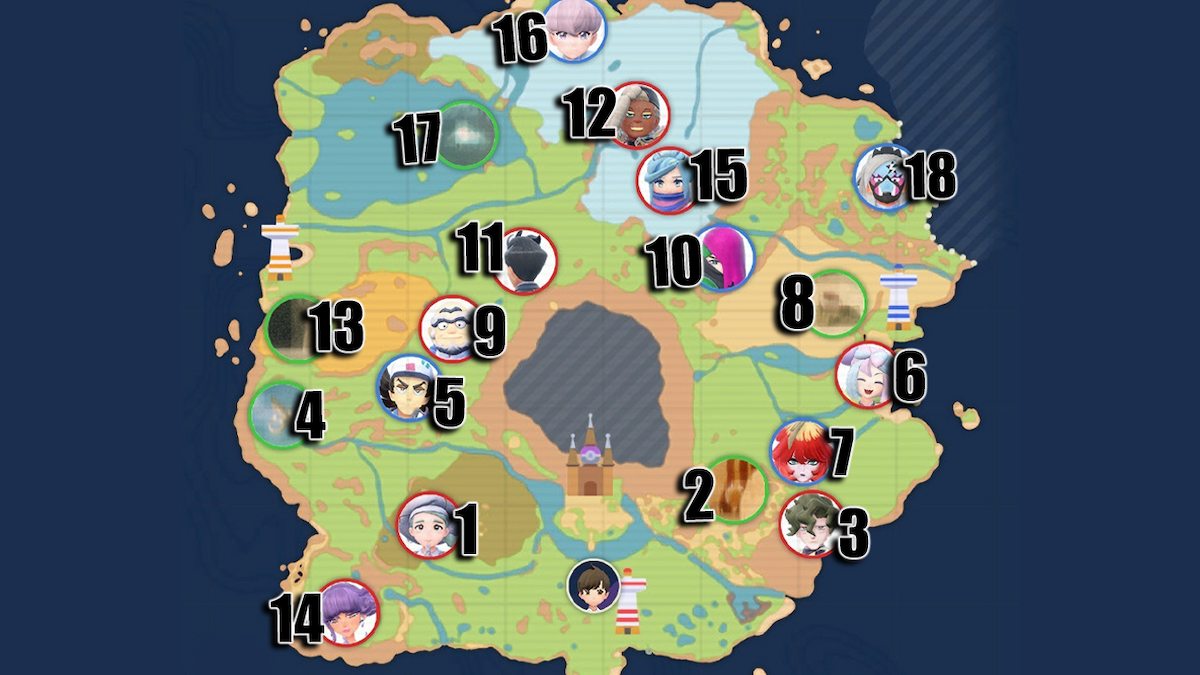 There are a total of 18 story quest lines that are scattered across the Pokémon Scarlet and Violet map. If you are just starting the game, you will want to choose the school's Mesagoza West Exit to reach Cortondo City in South Province (Area Two). Here you can tackle the game's lowest-level story campaign, the Bug-type Gym Leader Katy. Below is the rest of Pokémon Scarlet and Violet's best route, which is ordered by level of difficulty.
#1: Katy (Bug-type Cortondo Gym) lvl 15
#2: Stony Cliff Titan Klawf (Rock-type) lvl 16
#3: Brassius (Grass-type Artazon Gym) lvl 17
#4: Open Sky Titan Bombirdier (Flying-type) lvl 19
#5: Giancomo (Team Star Dark-type Crew) lvl 20
#6: Iono (Electric-type Levincia Gym) lvl 24
#7: Mela (Team Star Fire-type Crew) lvl 26
#8: Lurking Steel Titan Orthworm (Steel-type) lvl 28
#9: Kofu (Water-type Cascarrafa Gym) lvl 30
#10: Atticus (Team Star Poison-type Crew) lvl 32
#11: Larry (Normal-type Medali Gym) lvl 36
#12: Ryme (Ghost-type Montenevera Gym) lvl 42

#13: Quaking Earth Titan Great Tusk/Iron Treads (Ground-type) lvl 44
#14: Tulip (Psychic-type Alfornada Gym) lvl 45
#15: Grusha (Ice-type Glaseado Gym) lvl 48
#16: Ortega (Team Star Fairy-type Crew) lvl 50
#17: False Dragon Titan Tatsugiri (Dragon-type) lvl 55
#18: Eri (Team Star Fighting-type Crew) lvl 56
Related: Read about the Fastest way to EV train in Pokemon Scarlet and Violet on our sister site, Upcomer.
Because Scarlet and Violet have a linear progression structure, the easiest way to play the game is to complete sections of the map in chunks based on campaign objective levels. For example, you can tackle both the Stony Cliff Titan and the Grass-type Gym while exploring East Province (Area One) in the first hour of the story. To be clear, you can go anywhere on the map anytime. And if you are willing to level up by battling NPCs and wild Pokémon, it is possible to complete campaign objectives out of order. However, you will ultimately find yourself in a situation where large portions of the game will be incredibly easy to beat due to the lack of level scaling. Following the correct story, route ensures that you are progressing through the game at a balanced rate, which is the optimal way to experience Gen 9.
For more information on Pokémon Scarlet and Violet, check out Where to find Leader's Crest to evolve Kingambit in Pokémon Scarlet & Violet here on Pro Game Guides.