Although Pokémon possess a list of moves that can be actively used in combat, each Pokémon also has an Ability, which is a passive effect. These Abilities range from Overgrow, which enhances Grass-type moves when the Pokémon's HP is low, to Mummy, which has the capacity to change its opponent's Ability into Mummy. It's helpful to know your Pokémon's Abilities so you can learn to play to their strengths. Here's how to check a Pokémon's Ability in Pokémon Scarlet and Violet.
How do you know which Ability your Pokémon has?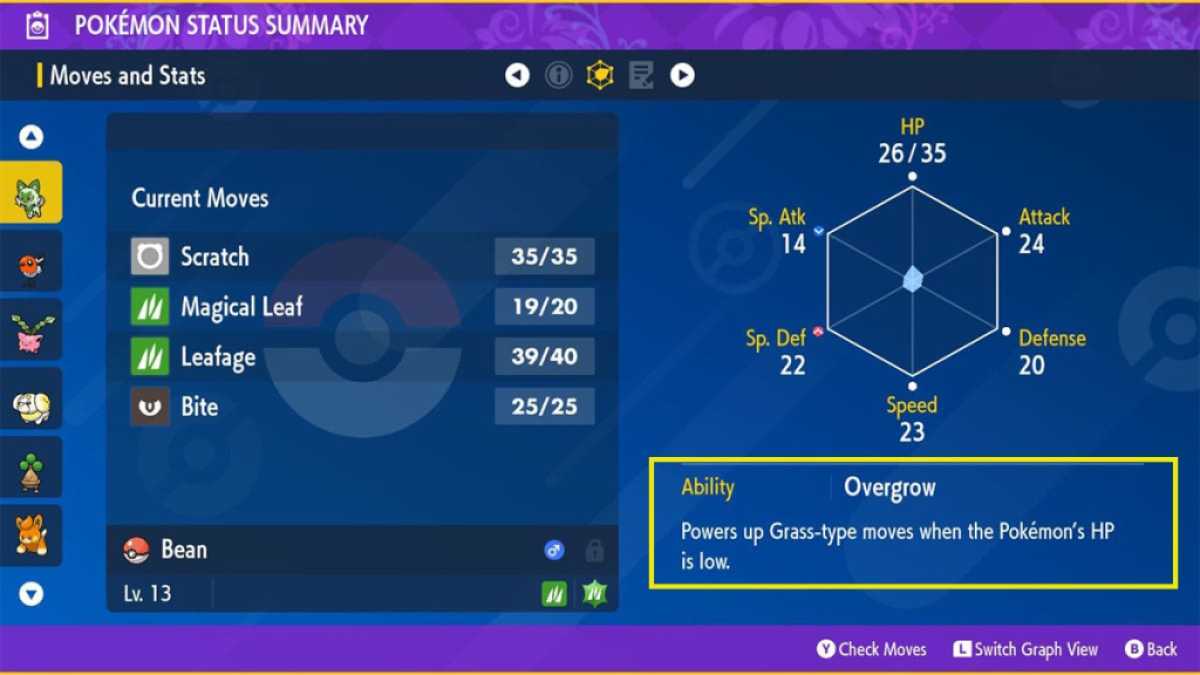 To check your Pokémon's Ability, open the menu and select a Pokémon. Press Check summary, then use the right arrow on the directional pad to reveal the Moves and Stats menu. Here, you can view your Pokémon's Ability, along with their move list and combat stats. While Pokémon species typically have a pre-determined Ability, some Pokémon you catch in the wild may have unique Abilities.
If you possess an Ability Capsule, you can switch a Pokémon's Ability to one of their species' default Abilities. However, these items are quite difficult to obtain, as they must be gathered from five-star raids. If you're unhappy with your Pokémon's Ability, try catching another Pokémon of the same species and see if you can find one with a different Ability.
Related: Can you get a Shiny Starter Pokémon in Pokémon Scarlet & Violet?
While some Abilities are mildly helpful, Sturdy and Natural Cure are some extremely beneficial Abilities you can get at the beginning of the game. Sturdy prevents a Pokémon from being defeated in one hit, and Natural Cure removes any status effects when the Pokémon is switched out. These Abilities can help low-level Pokémon stand a chance against higher-level opponents, unexpectedly turning the tide of battle.
For more Pokémon Scarlet & Violet guides, come check out Best Nature for Cyclizar in Pokémon Scarlet & Violet here on Pro Game Guides.