We're taking a look at how-to change your uniform in Pokemon Sword and Shield! This is a new type of outfit you can wear that lets you celebrate specific Pokemon type you might like! These are just a single set of clothing, so if you aren't big on coordinating your outfit, they might be a fun option for you to wear instead!
How-to Get Uniforms
When you first arrive at Motostoke and head up to the Motostoke Stadium you will be introduced to the concept of uniforms. You wear one of these when you make your attempts at the Gym Challenges that are scattered across the map. Your name will be on the back, and you can pick an up to three digit number to be displayed on it.
When you complete a Gym Challenge, you will be rewarded with a uniform that is stylized based upon that particular gyms typing. So, if you defeat the Grass Gym, you get a Grass themed uniform! By the following story, you will inevitably unlock a lot of the different types.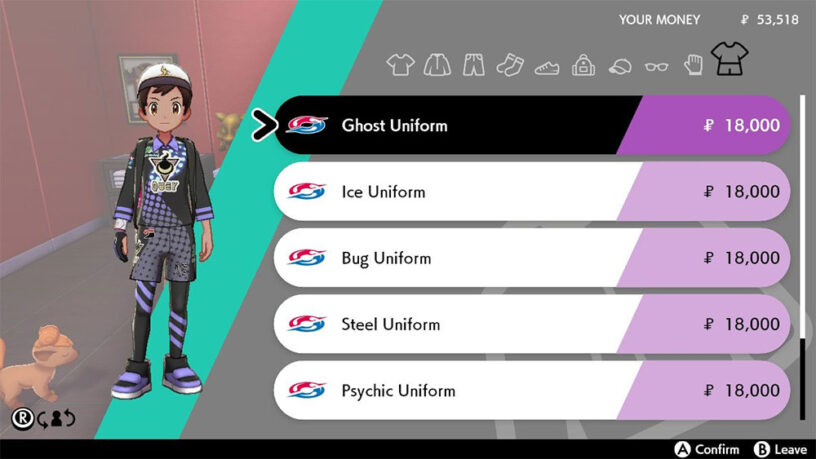 You can also purchase a uniform at the shop in Motostoke. They retail for 18,000 and these will cover all the gyms you won't be battling so you won't get a themed uniform from them. Uniforms can also be purchased at most of the coliseums in other towns.
How-to Change Your Uniform
Here's where things get a bit disappointing. I think most people who are reading this guide are wanting to change the uniform you wear when you are facing off in a Gym Challenge. The problem with that is that you can't change that uniform. The white uniform you wear that features your name and number on the back can't be switched. So, if this is what you'd like to change your uniform for then you should just save your money!
If you just want to wear a uniform, go to any clothing shop and head into the changing room.
From this area you can change into all the clothes you've purchased throughout the game. Move your cursor all the way to the right and you will be able to change into one of your owned uniforms. You will still get to see the number you picked on it, but you won't be wearing it into the Gym Challenges. It's a very weird choice by Game Freak, but unfortunately there's no work around at the moment.
That's everything we know about changing your uniform in Pokemon Sword and Shield! Hopefully this helped set you on the right track.