Project Triangle Strategy uses a Class-System to determine character abilities, with each character being assigned a unique Class tied to their interests and talents. For example, Anna uses daggers and poison to stealthily dispatch enemies, befitting her role as House Wolffort's spy. Additionally, each Class can be upgraded to unlock more powerful skills and abilities. To do this, first, you'll need to learn the secrets behind a special process—Class Promotion.
Promoting character units
Sundry Shop
To Promote your classes, first, you'll need to speak with the Sundry Shop merchant. The Sundry Shop will appear in your encampment at the start of Chapter Three, at which point you'll be able to upgrade your character Classes. Similar to the Smithy, the Sundry Shop merchant doesn't work for free, so you'll have to supply him with the necessary Promotion Medals.
Related: How to upgrade weapons in Project Triangle Strategy – The Smithy system explained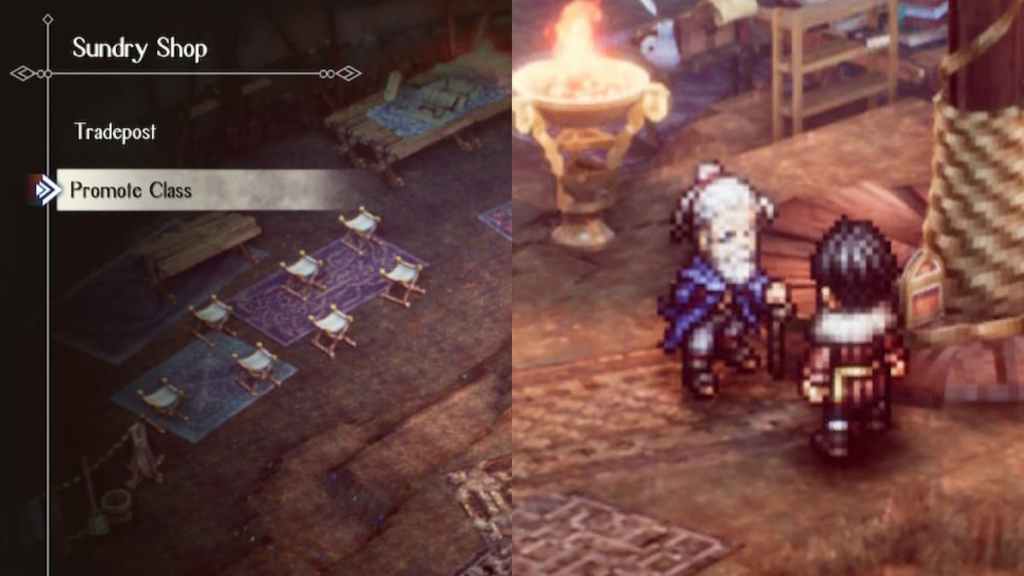 Kudos points can be exchanged for a variety of useful items at the Tradepost, including the occasional Promotion Medal or two, meaning you'll want to keep a close eye on his selection of wares. On top of all this, War Chronicle Notes and Quietuses can be obtained here, making the Sundry Shop an extremely valuable tool on your journey.
Class Promotion
Each Class is divided into three Ranks—Recruit, Veteran, and Elite. The eight starting characters will begin their journey as Recruits, but can be promoted to Veteran or Elite after certain requirements are met. For example, upon reaching level ten and using a Medal of Bravery, Serenoa's rank can be raised from Recruit Swordsman to Veteran Swordfighter.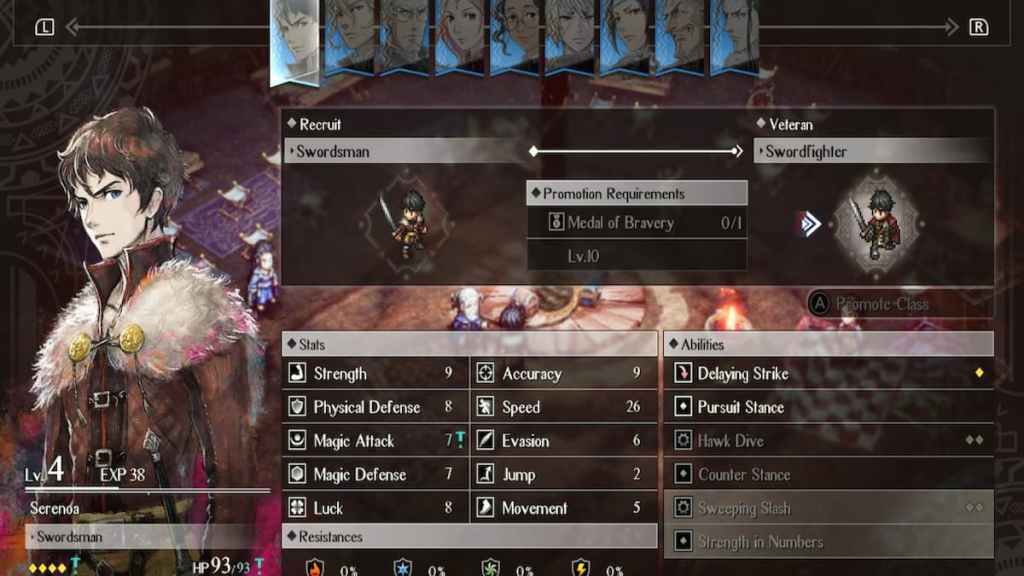 In addition to a boost in stats, Class upgrades grant your characters access to new abilities—Erador's Physical Counter allows him to retaliate when hit with a physical attack, while Serenoa's Sweeping Slash can hit multiple enemies at once, turning the tide of battle. Project Triangle Strategy's protagonists have a long journey ahead of them, and Class Promotions will be a key component to surviving the obstacles they'll face along the way!.
Looking for more great Project Triangle Strategy content? Be sure to check out Everything we know about Project Triangle Strategy – Story, characters, gameplay, and more! here at Pro Game Guides.