RAID Shadow Legends is a massively popular mobile game where you must cleave your way through a campaign of powerful enemies with your team of Champions. Build your Champions' stats with experience from many types of battles, such as Raids, Faction Wars, and Arena challenges.
In this turn-based combat game, you will need plenty of Silver to upgrade your characters and equipment or to purchase rare characters with special abilities. Thankfully, the developers of RAID Shadow Legends grace us with the occasional promo code to boost us along our path of conquest. You can find these promo codes in our list below to get the resources, characters, and energy you need to continue your never-ending fight against the Dark Lord Siroth!
While you're using the codes below, don't forget to check out our other codes lists for some of the most popular mobile games! We have the latest codes for Castle Clash, Idle Heroes of Light, Lords Mobile, and Taptap Heroes!
All RAID Shadow Legends Codes List
Updated March 9, 2022

Added new codes!
RAID Shadow Legends Codes (Working)
4YEARSRAID—Redeem for 400k Silver, 400 Energy, 4 Energy Refills, and an XP Boost (New)
RAIDRONDA—Redeem for 500k Silver, 150 Multi Battle Attempts, 5 Energy Refills, and an XP Boost
MIDGAME23WIN—Redeem for 200k Silver, 100 Multi Battle Attempts, 2 Energy Refills
BESTHERO—Redeem for 1 Energy Refill, 1 Day XP boost, 20 Autobattles, and 100k Silver
LADYQUN—Redeem for Lady Quellin and Silver 
LUCKYRAID—Redeem for Chonoru, 300k Silver, and a Chicken
POWERSTARTER—Redeem for Tallia, Energy, and Silve

Raid22ya2—Redeem for 10 of each Brew and 100k Silver
MORDECAI—Redeem for Mordacai 
SUPERPOWERS—Redeem for Deacon Armstrong, 1 Epic Book 200k Silver, and 24 Magic XP Brews
READY4RAID—Redeem for 4 Rare Skill Tomes, 3 Star Chickens, 40 XP Brews, 1 Million Silver, and 200 Autobattles
VALENTINES23—Redeem for Banshee, 1 Rare Skill Tome, 200k Silver, and 10 Magic XP Brews
RAID Shadow Legends Codes (Expired)
These codes are no longer active.
RAIDSUMMERGIFT—Redeem for free rewards

DREAMTEAM—Redeem for free rewards
POWERSTARTER—Redeem for free rewards [New accounts only!]
3YEARSRAID—Redeem for free rewards
YTPCOFFER22—Redeem for 500k Siler, 3 Multi Battle, 13 Day XP Boost, and 6 Energy Potions (New) [New accounts only!]
RAIDGOODIES—Redeem for free rewards
KRISKMAS21—Redeem for free rewards
TGASALE—Redeem for the Epic Champion Fayne, 60 Gems, an Epic Skill Tome, 15 Arcane Potions, 200k Silver, and 10 Greater Spirit Potions
TGA2021—Redeem for free rewards [New accounts only!]
SPOOKY13—Redeem for free rewards
gift1—Redeem for free rewards
NINJA—Redeem for 500k Silver, 3 Multi Battles, 3 Day XP Boost, and 6 Energy Potions
Gator—Redeem for free rewards

PCRAID2022—Redeem for free rewards
RAIDXMAS21—Redeem for free rewards
S1MPLE—Redeem for 350k Silver, 4 Energy Refilles, 20 Magic XP Brews, and a 3 Day XP Boost
realhell—Redeem for 500 Energy, 2 Epic Books, 50 Autobattles, and 1m Silver
MURDERGIFT—Redeem for 500k Silver, 3 Multi Battles, 6 Energy Potions, and a 3 Day XP Boost
ESLPRO—Redeem for 3 Potions and 3 Books [New accounts only!]
gullible—Redeem for free rewards
Raid375
RSL535
QLQYJH0
JXHK21V
D7LH79T

56SLD
235RAID
7KITTD7
9XX78YU
90LSLN4
Xmas4u
RAID100
Raid652
S6L5E3
KH0YTY5
E03C5C9
365RAID

7WPT7KM
9YXHGHI
90LSLN4
How to redeem RAID: Shadow Legends Codes
To redeem codes in RAID: Shadow Legends, follow the instructions below.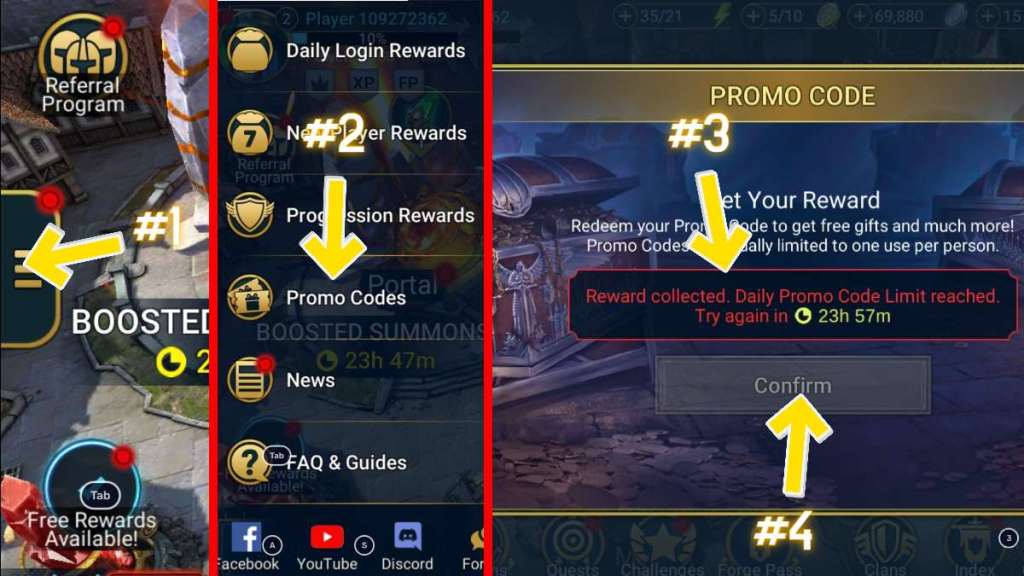 In the game, press the Menu button (three lines) on the left side of the screen.
Select the Promo Codes tab in the Menu window.
In the text box, enter the code exactly as it appears in the list above.
Press Confirm to claim your reward!
Why can't I enter codes in RAID: Shadow Legends?
The developers of RAID made it so you can't enter more than one code per day. When you enter one of the codes above, you'll have to wait 24 hours to enter another one. You also may be restricted from entering codes if you try to submit too many invalid codes in a row.
How do I get more RAID: Shadow Legends codes?
Unfortunately, there is no solid answer for how to get codes in RAID: Shadow Legends. Plarium's (the developer) Twitter account is active, but they rarely include new promo codes in their Tweets. There are many social media platforms for Plarium, but there is no way to tell which one will release the next one or when. If you see nothing on Plarium's Twitter account, you can check for codes on other platforms, such as their Facebook page or YouTube Channel.
What is RAID: Shadow Legends?
RAID: Shadow Legends plays like many other combat-based mobile games in that you must go on a seemingly never-ending quest of raiding dungeons and destroying any enemy in your path. Your goal is to collect and build the strongest characters possible to become a legend in a world full of evil and despair. Can you build the ultimate team of Champions to take down the Dark Lord Siroth?
Want to read more about RAID Shadow Legends? If so, check out Raid Shadow Legends Tier List on Pro Game Guides.