If you're wanting to check out the Realm Royale map in a peaceful setting that isn't fraught with enemies trying to eliminate you then check out our map guide! This guide will feature some of the most notable spots on the map, forge locations, and general information!
Realm Royale Map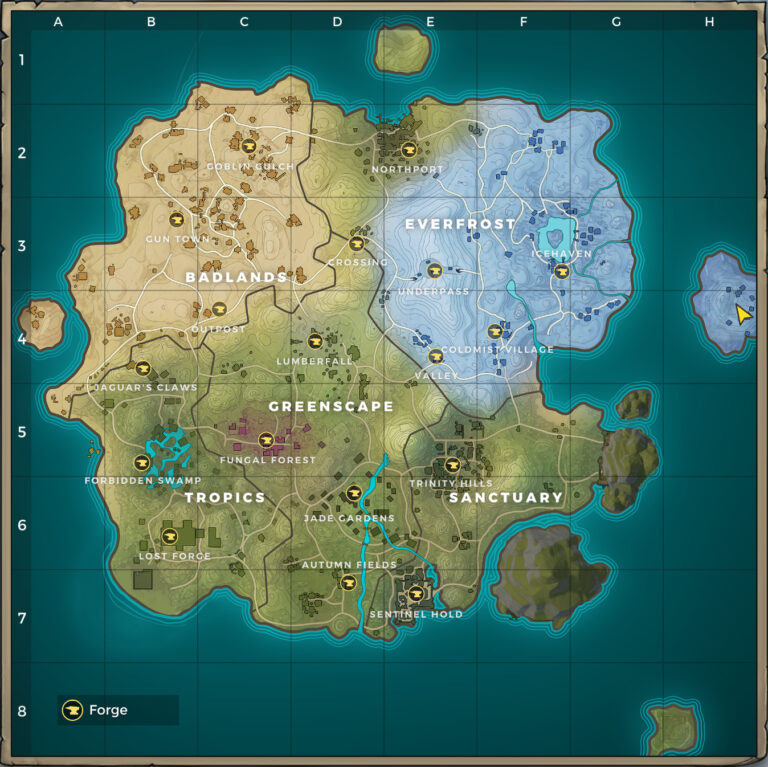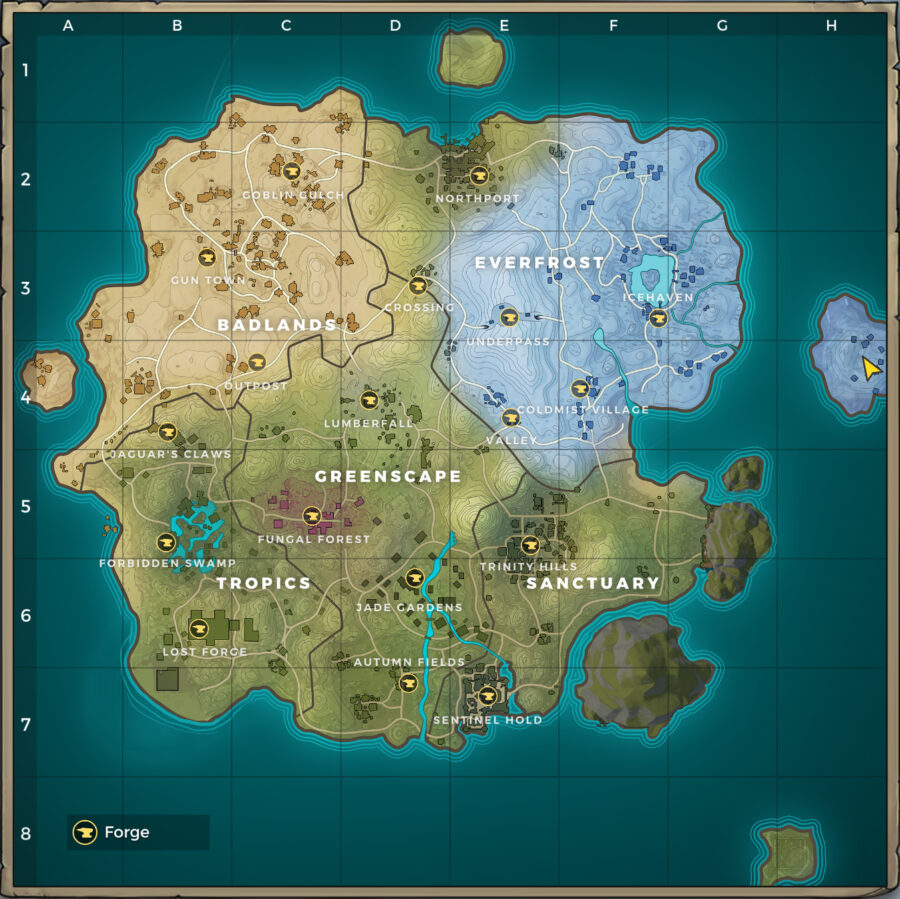 Main Sections
The map is kind of broken up into biomes. Each area has a distinct feel, so if you like a certain type of atmosphere you will find just about everything you can imagine!
Badlands
This is a desert area with some high dunes and cactus. It has some popular cities like Gun Town which is joked about as this maps Tilted Towers. Goblin Gulch is another comparably large city, and Outpost makes up a small spot to the south.
Landmarks
Goblin Gulch
Gun Town
Outpost
Everfrost
If you are more if a cold area person then Everfrost is your spot. The problem with Everfrost is most of the cities are pretty small, and circles rarely end up finishing in this area. A popular place to land is Underpass, there's quite a few guaranteed chests here and a Forge to use. There is actually a portion of Everfrost this isn't completely frozen. Northport is a large city at the very northern end of the map. Icehaven is a city around an icy lake, while Coldmist Village and Valley make up the other named areas.
Landmarks
Northport
Crossing
Underpass
Valley
Coldmist Village
Icehaven
Tropics
The Tropics makes up the south western portion of the map and have a very jungle feel to them. Forbidden Swamp is a fun place to land, don't worry about the murky water it isn't as annoying as it is in Fortnite's Moisty Mire. Jaguar's Claws and Lost Forge are other places of note.
Landmarks
Jaguar's Claws
Forbidden Swamp
Lost Forge
Greenscape
This is probably one of the more dense areas in terms of cities and Forges. Due to it being in the middle of the map it's quite a popular place for people to land. Fungal Forest is one of the more unique cities with its tall mushrooms.
Landmarks
Lumberfall
Fungal Forest
Jade Gardens
Autumn Fields
Sanctuary
One of the smaller sections of the map, but has one of the most popular cities with Trinity Hills. Sentinel Hold also appears in this area and is a large walled off castle area that is fun to run around!
Landmarks
Trinity Hills
Sentinel Hold
Realm Royale High Quality Map
This is kind of a cool map below, it was posted on the official Realm Royale Twitter. It displays a more high quality version of the map without all of the labels. Click to enlarge to see that high quality splendor!