Updated September 19, 2023

We added a new code today!
If you ever played the Settlers or any 4X strategy (Explore, Expand, Exploit, Exterminate), you'll be well prepared for the challenges Rise of Kingdoms throws you. But even if you're a rookie in these build 'n' conquer historically themed mobile games, you'll get the hang of it quickly. That is, if you have some codes to help you out. If that's the case, you're in luck!
This Rise of Kingdoms codes page has the most up-to-date list of codes that you can redeem for freebies like:
Golden Keys—Best used for unlocking commanders.
Silver Keys—Used for opening chests with rewards.
Tomes of Knowledge—Used for upgrading commanders.
Speedups—Used for speeding up research, building, training, healing, etc.
If you need some help while playing the best mobile games, we have some help for you! Check out articles like Clash Royale Creator Codes, State of Survival Codes, and Best Games like Clash of Clans for iOS and Android.
All
Rise of Kingdoms

Codes List
A

ctive

Rise of Kingdoms Codes
rok2023hbd—Redeem for 100 Silver Keys, 5x 30min Speedup, and 1x 50 Gems (New)
Expired
Rise of Kingdoms Codes
These ROK codes no longer work.
dragonboat—Redeem for 200 Gems, 2 Silver Keys, 50k Food, and 50k Wood (New)
Lilith10th—Redeem for 1x 500 Gems and 1x 10 Gems
umis9g2q23—Redeem for 200 Gems, 2 Silver Keys, 50k Food, and 50k Wood
ROKVICTORY—Redeem for x1 Level 5 Tome of Knowledge, 1x Speedup, and 1x Golden Key.
2023xnsfss
newyearah9—Redeem for 200 Gems, 2 Silver Keys, 100k Food, and 100k Wood
cF04nHXYpk—Redeem this code for 1 Gold Key, 3x 60 Minutes Training Speed Up, 3x 60 Minutes Healing Speed Up
Vqac8DfWsB—Redeem this code for3x 60 Minute Building Speed Up, 3x 60 Minute Research Speed Up, 3x 60 Minute Training Speed Up, 10x Lvl 5 Tome of Knowledge
3sENgwrXUF—Redeem this code for30x Silver Keys
a2j61b790d—Redeem for 1x Golden Key, 1x Silver Key, 2x Speedup, and 1x Level 5 Tome of Knowledge
Happycny22
5Bewu21acn

MXhk0V38aL
rokcny8888
ROK2YOMDTU
ah9vzgp0mi
rokpromo21
q51ajxwdzc
fb98l0wrfk
hpr3BveYL6
rokhappybd
d725ig2acq
ROKVIKINGS—Redeem for 1 Golden Key, 3 Silver Keys, 2 Speedup, and 10 Level 5 Tome of Knowledge.
brem4k69u2—Redeem for 2 Golden Keys, 5 Tomes of Level 6 Knowledge, 2 Immediate Action Point Recovery, and 2 SpeedUps.

Happynew21—Redeem for Golden Key 1x, Silver Keys x3, 3-hour Universal Speedups x2, and Lvl. 5 Tome of Knowledge x10.
Rise of Kingdoms FAQ
Here's everything you need to know regarding ROK codes.
How to redeem
Rise of Kingdoms Codes
Redeeming codes for free rewards in Rise of Kingdoms takes a few steps.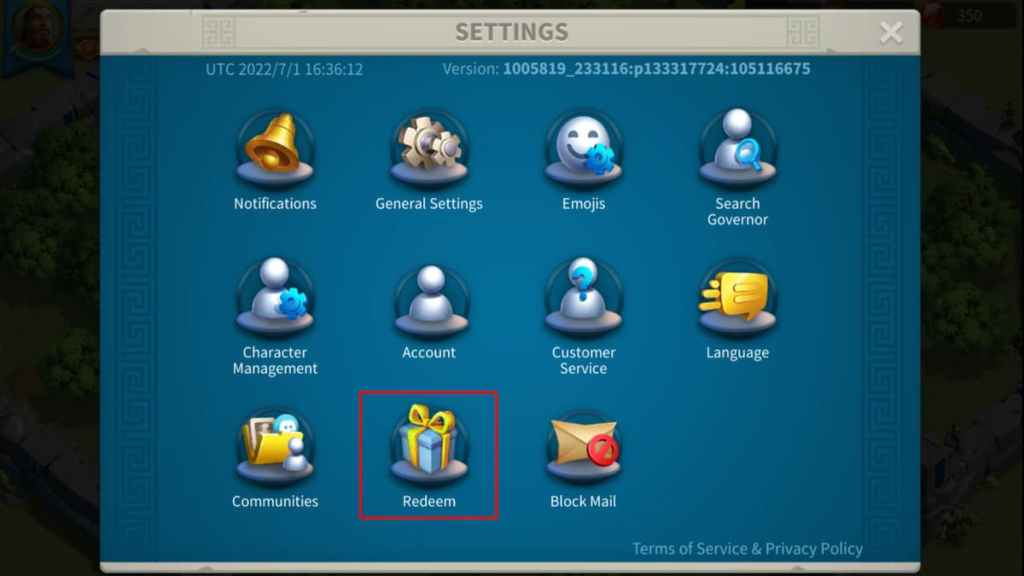 In the game, press Profile picture in the top left-hand corner.
Press the Settings cog icon on the bottom right of the screen.
On this new window, press the Redeem button at the bottom of the screen.
In the text box, enter the code exactly as it appears in the list above.
Press the Exchange button to confirm.
Return to the game and find Inbox in the lower right corner of the screen.
Select mail with the subject Redeem Gift Code and claim your prizes.
How to get more ROK Codes
Check out the official Facebook, Twitter, and Discord pages to get more Rise of Kingdoms codes. If you want everything in one place, bookmark this page and check it out often. As soon as new codes appear, we'll update this page.
Why aren't my Rise of Kingdoms Codes working?
Most of the ROK codes have an expiration date. Hence, it would be best to claim your rewards as soon as possible. If you find that some codes are no longer active, please let us know so we can remove them. Another reason why your codes might not work can be a typo. To avoid that, copy and paste codes from the active codes section above into the redeem text box.
What is Rise of Kingdoms?
Rise of Kingdoms is a strategy game where you take control of one of the most famous civilizations in human history. Every kingdom has bonuses, so your choice will influence how you play the game. You'll need a good plan because a strong army is nothing if your economy is weak. Games like this force you to make tough decisions, but that is the king's job after all.
If you like Rise of Kingdoms, check out RoK guides like Best Commanders in Rise of Kingdoms and Best Civilizations to choose in Rise of Kingdoms on Pro Game Guides.