Roblox AO Adventure introduces players to the dizzying world of professional tennis. In this game, players can play practice matches or battle against trained AI or fellow players; collect plenty of exclusive fits to show off your style, then become a tennis champion by winning singles and doubles matches.
I highly recommend claiming the codes below for AO Adventure, as they will reward you with Coins, which you can use to purchase items from the shop. If you like similar ball games, check out our compilation of Blade Ball Codes and Roblox Ball Throwing Simulator Codes to not miss out on amazing, limited-time rewards.
All Roblox AO Adventure Codes List
Roblox AO Adventure Codes (Working)
SERVE—Redeem for Coins
GAME—Redeem for 500 Coins
SET—Redeem for 500 Coins
MATCH—Redeem for 500 Coins
BACKHAND—Redeem for 1,000 Coins
LETSGO—Redeem for 1,000 Coins
TENNIS—Redeem for 140 Coins
Roblox AO Adventure Codes (Expired)
There are currently no expired codes for Roblox AO Adventure.
Related: Super League Soccer Codes
How to redeem codes in AO Adventure
Before you can claim codes in AO Adventure, you first need to complete the tutorial or play one tennis match. Doing so will unlock additional buttons on the left side of the screen, including the menu for accessing the code redemption window. Once you can see the icons on the left, follow the steps below to redeem codes in Roblox AO Adventure.
Click on the three lines on the left side of the screen (if you don't see it, play one tennis match first).
Click on the box icon to open the code redemption pop-up.
Type the code exactly as-is in the blank textbox.
Click REDEEM to obtain rewards.
How can you get more Roblox AO Adventure codes?
To find more codes for Roblox AO Adventure, follow the @AOmetaverse X account and join the AO ArtBall Discord Server, where codes may regularly be posted. You can also follow the Australian Open TV YouTube channel as they might sneak in some free goodies in the videos. Alternatively, you can bookmark this page, as we'll constantly update it with all working codes, so you don't have to look for them yourself.
Why are my Roblox AO Adventure codes not working?
Roblox AO Adventure codes may not work for a few reasons. First, you might have mistyped it (which happens to the best of us). Make sure to type in the codes exactly as they're written above to prevent errors, and do not use autocorrect if you're playing on a mobile device. Second, you might have already claimed the code before. Codes can only be claimed once! Finally, the code might be expired. If that's the case, let us know in the comments below so we can remove it from our working codes list.
How to get more free rewards in Roblox AO Adventure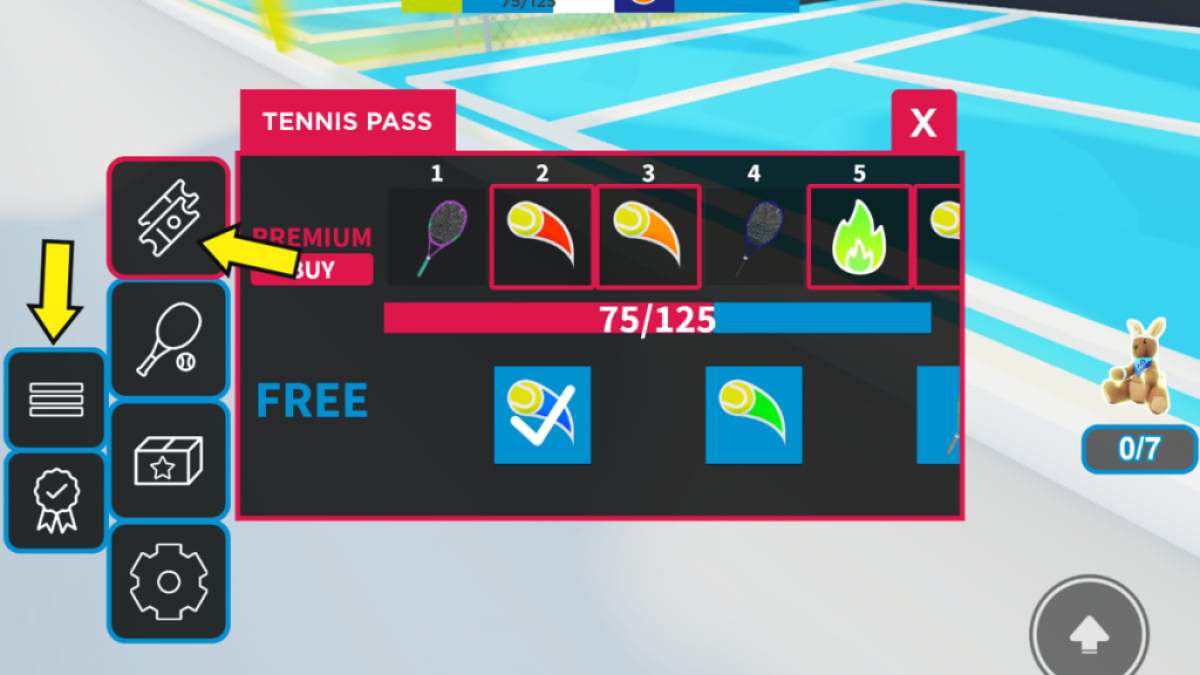 To get more free gifts in Roblox AO Adventure, click on the three lines on the left side of the screen. If you don't see it, play a tennis match to make the icons show up. Then, click on the ticket icon to open the Tennis Pass window. You can claim rewards as you level up and progress through the game by winning tennis matches.
What is Roblox AO Adventure?
Roblox AO Adventure is an official game released by the Australian Open, packaged with partnerships with Emirates and popular tennis brands, including Ralph Lauren. Players can enjoy casual and competitive batches in the blue court and even pay a visit to the Emirates ball park for varied gameplay. Earn Coins to spend on outfits at the shop to play tennis in style—just like your favorite Australian Open players.
Like Roblox games? Check out our Pro Game Guides Roblox Game Codes post! You can also get a bunch of free goodies via our Roblox Promo Codes page.