Blue Locked League introduces you to the world of fantasy soccer. Have you ever wondered what it would be like if soccer players had superpowers? This crazy Roblox Experience lets you play soccer as it has never played before. Inspired by Anime shows, where characters have earth-shattering superpowers, this soccer game won't leave the terrain in one piece!
The codes for Blue Locked League will provide players with Talent Spins and Aura Spins. The Spins are used as an in-game currency, allowing players to roll for skills. These assets will be especially useful for new players to get them up to speed and ease them into the game. If you like this Title, check out Shuudan Codes.
All Blue Locked League Codes List
Blue Locked League Codes (Working)
These are all the working Blue Locked League codes.
/code EGOIST—Redeem for 3 Talent Spins (New)
/code LOCKOFF—Redeem for 5 Height Spins
/code CHEMICALREACTION—Redeem for 5 Aura Spins
Blue Locked League Codes (Expired)
These are expired codes for Blue Locked League.
Currently, there are no expired Blue Locked League codes.
Related: Gold Lock Online Codes
How to redeem codes in Blue Locked League
Follow the instructions below to redeem codes in Blue Locked League.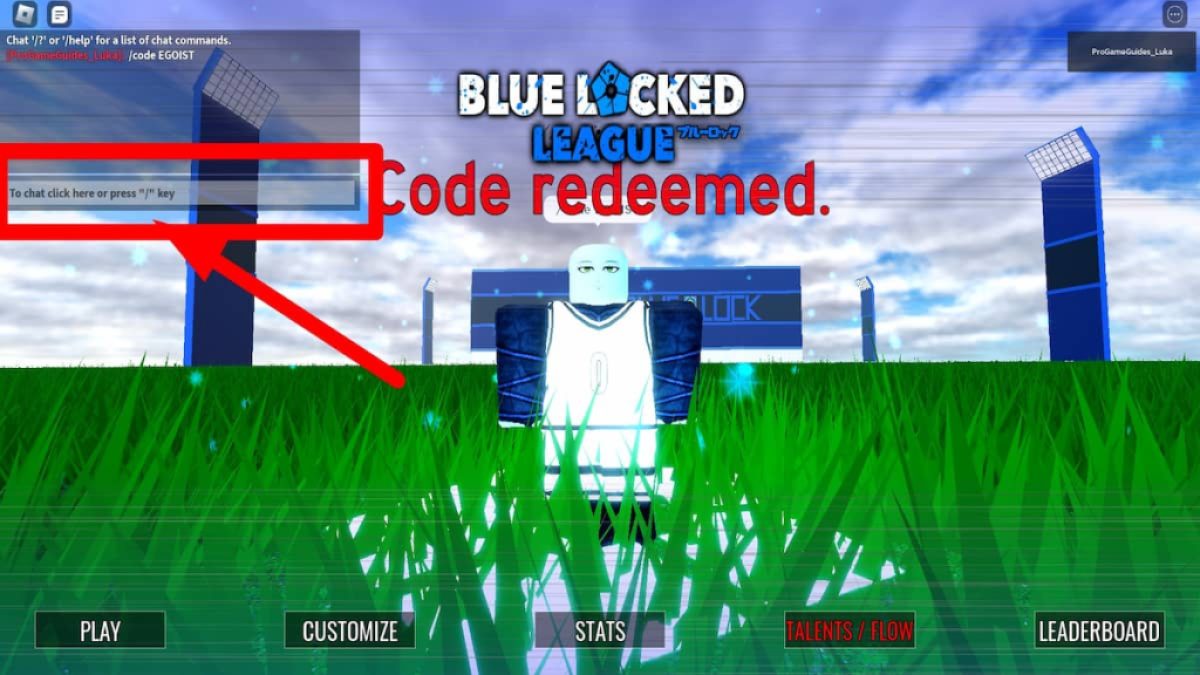 Launch Blue Locked League on Roblox.
Once inside the main menu, press / on your keyboard to open the chat menu.
Enter working codes into the Chat window text box.
Press Enter to claim your free reward.
How can you get more Blue Locked League codes?
The best way to ensure you get the latest Blue Locked League codes is to follow the developer on their Twitter page @MarkoSumisu, their Blue Locked League Discord Server. It's also always a good idea to bookmark this page by pressing Ctrl+D to always stay up to date with the latest codes, as we are constantly on the lookout and update our code pages regularly.
Why are my Blue Locked League codes not working?
There could be a few reasons why your Blue Locked League codes might not be not working. The codes could be expired. Sometimes the developers release the codes during holidays or upon reaching particular milestones. Such codes have a finite lifespan and do not last forever. Always claim your codes as soon as possible, and never miss out on freebies again. The codes could also be mistyped or have missing punctuation. Always ensure you copy the codes from the website list and paste them into the game directly. That way, you're ensuring that you'll always enter the codes properly and without typos.
Other ways to get free rewards in Blue Locked League
The best way to look for more free rewards in Blue Locked League is to join the Blue Locked League Discord Server. The fan community is active on the server, and there's always a possibility that the developers organize giveaways or a competition to promote the game further or reward players for interacting on their socials.
What is Blue Locked League?
Blue Locked League is an anime-styled Roblox experience where players can play a game of soccer using superpowers. The game has a learning curve, and to master it, the players must invest themselves in it. But it's worthwhile because they will be able to make correct passes and pull incredible stunts with the ball upon mastering it. There are multiple talents the players can gain experience and learn, rewarding them for playing the game.
If you're looking for codes for other games, we have a ton of them in our Roblox Game Codes post! You can also get a bunch of free stuff via our Roblox Promo Codes page. And in the meantime, take a look at the latest news to stay up-to-date on all things entertainment.