You might not expect the bathroom business to be a blast, but Club Bathroom Tycoon exposes the fun in this Roblox title. Invite your friends to check out your epic bathroom and compete to be the best in the bathroom business. With a little bit of work, you can turn your bathrooms into a wonderland of fun and chaos.
Using codes in Club Bathroom Tycoon is a great way to get prizes and free stuff. When codes are added, they will have expiration dates and need to be used before then. You can find a list of active codes for Club Bathroom Tycoon below—use them to get free stuff and get a head start in-game.
If you're looking for other Roblox content, check out Gumball Factory Tycoon Codes, Roblox Be a Spider Tycoon Codes, and Jujutsu Tycoon Codes on Pro Game Guides. We have many other Roblox Code guides on our site, so feel free to search and check out other Roblox titles.
All Club Bathroom Tycoon Codes List
Updated November 15, 2022

Added a new code.
All Club Bathroom Tycoon Codes List (Working)
Here are all active codes in Club Bathroom Tycoon.
ClubBathroom4Life—Redeem for 500 Bathroom Bucks (New)
Plays2M—250 Bathroom Bucks
Likes3K—250 Bathroom Bucks
SpaceUpdate—250 Bathroom Bucks
All Club Bathroom Tycoon Codes List (Expired)
There are no expired Club Bathroom Tycoon codes at this time.
Roblox Club Bathroom Tycoon Codes FAQ
Here's everything you need to know about Roblox Club Bathroom Tycoon codes.
How to redeem codes in Club Bathroom Tycoon
Codes will give you various prizes, including Bathroom Bucks in Club Bathroom Tycoon. Once you have a code, it is easy to redeem and claim your rewards. Here is how to enter codes in Club Bathroom Tycoon.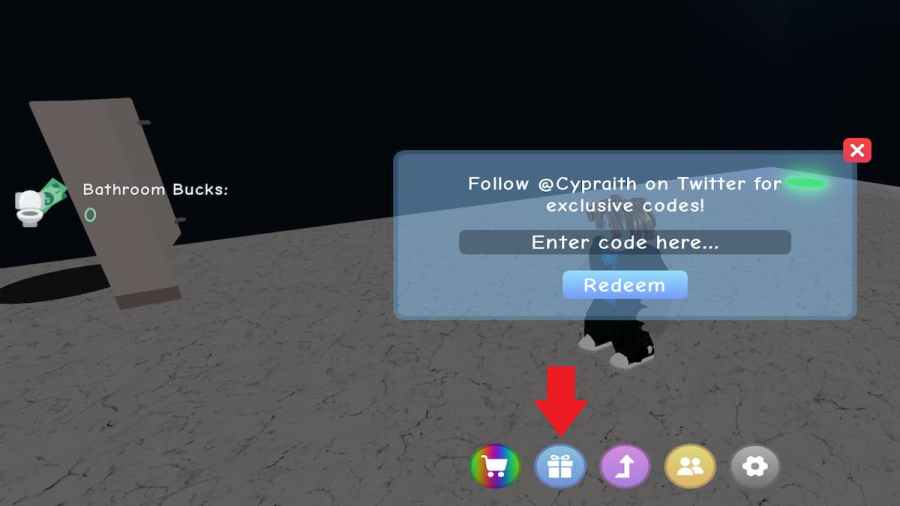 Click the Present button on the bottom of the screen.
Select the enter code here text field.
Input your code and click Redeem.
How to get more Club Bathroom Tycoon Codes
Follow the official Club Bathroom Tycoon Twitter or join the Discord and Community Group for codes and to interact with other players and the developer. As new codes are added, we will add them to this list and ensure the codes are up to date. Bookmark this page to stay updated and get free stuff from codes once they are released.
Why aren't my Club Bathroom Tycoon Codes working?
The developer of Club Bathroom Tycoon determines when new codes are added and how long they will be active. Some codes may expire faster than others, so pay attention to when they are added. If some codes no longer work, check their expiration date, spelling, and whether it is active yet. Come back to this page to see if any new codes have been added or have expired. If you notice that a code no longer works, please let us know so we can verify and update this list accordingly.
What is Club Bathroom Tycoon?
Club Bathroom Tycoon expands what is possible in the bathroom and offers numerous activities to enjoy. Build and upgrade your bathroom to turn it into a legendary hangout spot and invite your friends. Find hidden secrets and complete challenges to unlock epic gear and hobbies. Climb the ranks of bathroom tycoons and claim the top spot on the leaderboard.
For more information on Roblox, check out Poo Tycoon Codes and Roblox Car Dealership Tycoon Codes on Pro Game Guides.