Fire Force Online is taking the world of Roblox by storm with its immersive story, engaging gameplay mechanics, and beautiful graphics. Fans of the Shonen anime Fire Force will enjoy this action RPG game as they explore this expansive world. Upon realizing just how complex this game is, I immediately went out to find the Trello board to explore it a bit further. If you want to expand your knowledge of this popular game, you're in the right place!
What is the official Fire Force Online Trello Link?
If you're looking for the official Trello board link for the Fire Force Online Roblox experience, you can find it here. Companies and developers use Trello to put up vast amounts of content and information online in an easily navigable way that's visible to their user base. Trello is a digital storyboard that allows its users to quickly organize and edit information using a card system and communicate with each other via in-card messages, making the workflow simple.
Related: Fire Force Online Codes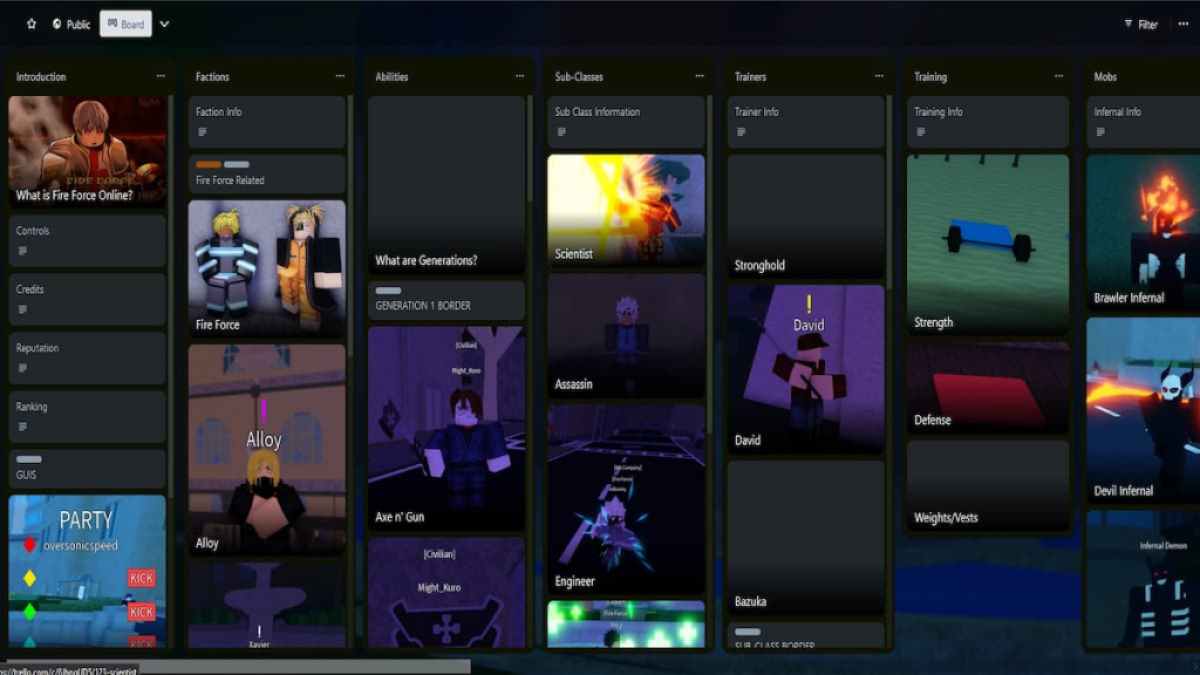 Recently, the popularity of the Trello board has exploded among Roblox developers, and they regularly use it to post important information on in-game mechanics, items, skins, enemies, and more. I found it particularly useful for learning how to find specific items in Project Mugetsu, and their Trello board made my work much more manageable.
What is the official Fire Force Online Discord Channel?
You can find more information on Fire Force Online and participate in the exchange with the community by visiting the official Fire Force Online Discord Server made by the game's developers, Fire Force: Online Roblox team. You can see the latest game-related announcements, links, updated information, and more. 
Joining the Discord server can also carry in-game benefits! Check out their #giveaways channel, and keep an eye out for any freebies and rewards that the developers may hand out as a reward for player interaction and activity on the server.
If you enjoy Fire Force Online, you can also check out more similar games, like Demon Slayer RPG 2 Codes – Free resets & EXP, here on Pro Game Guides!