Our Roblox Ghost Simulator Codes has the most up-to-date list of codes that you can redeem for pets, hoverboards, and more. This is a quick and easy way to get a step up in the game, so you can catch a bunch of ghosts a whole lot faster and earn Ectoplasm and Gems!
All Ghost Simulator Codes List
We'll keep you updated with additional codes once they are released. You should make sure to redeem these as soon as possible because you'll never know when they could expire! All of these codes have been tested on the date that this post was released. If you find one that is expired, please let us know the exact code in the comments below so we can remove it!
Make sure to enter the code exactly as it is listed or it might not work correctly!
How to Redeem Codes in Ghost Simulator
It's a very simple process to redeem your codes in Ghost Simulator. Look to the left of screen for the blue Twitter icon that is right under the currencies you can earn. Press that button and you will open up the following menu: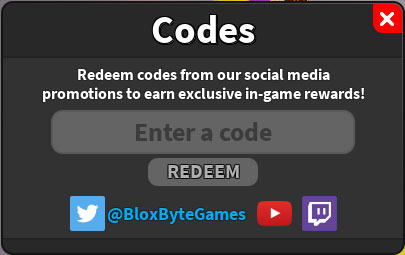 Click on the area that says "Enter a Code" and enter one of the codes from below. Once you've got it entered in correctly, you'll just need to hit the Redeem button and you will be given the reward!
Update Oct. 12
Ghost Simulator Codes (Working)
BOOSTED: Boosted Lucky Gem (NEW)
BACONRA1D: Stack O' Bacon
EXCITE!: Excite
SPF-GS: SUNPROTEC
Pug Pet: PUGSARECOOL (Must be in Bloxbyte Games Group)
Godly Pet: 2YEARS (Must be in BloxByte Games Group)
Gears & The End Hoverboard: THEEND (Must be in BloxByte Games Group)
The Cosmic Hand Pet: PLAY
One Year Bag (Contains Anniversary Pet and Hoverboard): 1YEAR (Must be in BloxByte Games Group)
Firefly Pet: FIREFLY
Purple Pegasus Pet: R1FT
Dave Pet: SPAC3
Ghost Simulator Codes (Expired)
Sadge Pet: SADGE
Hoverboard: BOOST
2 Boss Bait: 1STRANDO
Fallen Spirit: 2NDARC
Jinshi Hoverboard: UWURACER
Sugardrop: REMNANT
Crate Key: S1LLYBUNNY
Freedom: LIBERTY
Sorry Board: PUZZLE (Must be in BloxByte Games Group)
Bloo Chonks: BOSSRAID
Snazzy Pegasus: SUMM3R
Reward: m3ta (Must be in Bloxbyte Game Group)
T-Duck Pet (NEW): SH0P
Lava Java Pet: TOYS
Star Striped Pegasus Pet (Must join Bloxbyte Games Group): R3B1RTH
Free Starfly Pet: WINTER
Free Pet: 100M
Overshot 2021 and Fireflight 2021: 2020OVER (Must be in BloxByte Games Group)
300 Snowflakes: JOLLY
Royal Kreepy Cat: EPILOGUE
250 Golden Turkey Leg: GOBBLE (Must be in BloxByte Games Group)
10 Soul Keys: SOUL
350 Candy & Creepy Krepy Cat: HAUNTED
Bloxy Boy 500 Pet: BB500K (Must be in BloxByte Games Group)
Shocker Pet: SHOCKER
Byte Pet: BB250K (Must be in BloxByte Games Group)
10 Atlantis Keys: FISHIN (Must be in BloxByte Games Group)
Aqua Pegasus Skin: SEA
1 Basic Zoom Gum: GUMGUM
Gumball Pet: Bubble
Sports King Pet: SQUAD
Bit Missile Hoverboard: BIT
Flop Hoverboard: JUNE
1x Crate Key: CLASSIFIED
Vanity Hoverboard: VANITY
Firecracker Pet: HAPPY4TH
Dr. Doctor Pet: RELIEF (Must be in BloxByte Games Group)
ButterBoy Pet: ITSCOMING
1x Crate Key: LUCK
Blox Bytes Hoverboard: BB100K (Must be in BloxByte Games Group)
Leader One Pet: LEADER
1x Crate Key: HOPHOP
Spring Pegasus Pet: EGGHUNT
Grid Hoverboard: V1RTU4L
1x Crate Key: CHANCE
Lucky Boy Pet: PATTY
Victory Pet: JOURNAL
Dr. Dice Pet: JOV3N
Giggles Pet: HEART
Trippy Pet: SPIRAL
Tri-Jet Hoverboard: JET
1x Crate Key: TRAINER
Mushi Pet: WEKNOW
Pets, Hoverboards, & What to do With Currencies
There's two currencies you can collect: Ectoplasm and Gems. You can use Ectoplasm to upgrade your backpack storage and your vacuum. These are how you collect ghosts, so it's important to make sure you work to get the best ones of these you possibly can. Gems are used to purchase Pet crates. You can earn Ectoplasm by catching and selling ghosts. Gems can be earned by completing quests, and will drop randomly after you catch a ghost.
Pets help increase the amount of Ectoplasm you collect from each Ghost, and also speed up the catch time for Ghosts. These are pretty important, so make sure to grab the pets that are available for free with codes because they will make your life a lot easier in the early stages of the game.
Hoverboards help you get around the map quickly, so having one of these is going to speed up the process of catching ghosts! Be sure to run through the early quests that are available to get access to this feature.
If you're looking for codes for other games, we have a ton of them in our Roblox Game Codes post! You can also get a bunch of free stuff via our Roblox Promo Codes page.