Updated November 13, 2023

We found a brand new code!
Have you ever wanted to be Ghostbuster? Now you have a chance to catch all those naughty ghosts! In Roblox Ghost Simulator, those vile creatures have spread worldwide, and it's up to you to catch them. To do that, you'll have to be well-equipped as they are strong opponents. Luckily, we have some codes to help you on your quest.
Redeem Roblox Ghost Simulator codes for pets, hoverboards, cosmetics, and more. These codes are a quick and easy way to succeed in the game. They will help you catch a bunch of ghosts faster and earn Ectoplasm (used for gear upgrades) and Gems (used for purchasing Pet crates).
If you're searching for scary Roblox games, you should try Tapping Horror, Monkey Kills, Demon Blade Tycoon, and Book of Monsters. For more great games, check out our Best Roblox Games guide.
All Ghost Simulator Codes List
Ghost Simulator Codes (Working)
JACKOLANTERN—Redeem for a Back Pack (New)
SPOOKY—Redeem for 1x Ghost Lootbag
REMVISION—Redeem for 1x Ghost Lootbag
MAGNETICLUCK—Redeem for a Back Pack
LOOTYLOOTY—Redeem for a Back Pack
REMGUARD—Redeem for a Back Pack
OVERLOAD—Redeem for a Back Pack
MURICA—Redeem for an American Theme Skin
GUMPOWERED—Redeem for Spiral Skin
OVER9000—Redeem for a Overpack Loader
SPRINGFEELING—Redeem for a Faunascape
4YEARSYOUNG—Redeem for a Ghost TV

EGGSCEPTIONAL—Redeem for an Egg Weapon
EGG—Reward for a Bear Pet
RABBITSEASON—Redeem for a Rabbit Skin
2LUCKY—Redeem for a Twinkling Luck
VAL3NT1N3—Redeem for a Amore Amore
YEAR2K23—Redeem for a Custard Class
DR1P—Redeem for a Peppermint Cat
GIFT—Redeem for 500 Snowflakes
KFT—Redeem for 500 Kentucky Fried Turkey Legs
TREAT—Redeem for a Krepy Bat and 500 Candy
2NDROUTE—Redeem for 1 Crate Key
CORN—Redeem for the Corn Board McCoard

BB500K—Redeem for the Blox Boy 500
LASTDAY—Redeem for hoverboard
SPAC3—Redeem for Dave Pet
PLAY—Redeem for Cosmic Hand Pet
FIREFLY—Redeem for Firefly Pet
R1FT—Redeem for Purple Pegasus Pet
Ghost Simulator Codes (Expired)
These codes for Ghost Simulator no longer work.
NOTIME2WASTE
DOORKEY
DAISYCHAIN
PUGSARECOOL
2YEARS
THEEND

1YEAR
TREEHUGGER
VDAY22
KINDHEARY
MERRY
SURFD
CORN
BADBAD
XMASBEATS
L1STED
FALLSEND
LEAFPOWER

GARLIC
LASTWEEK!
TOX1N
EERIE
SCARE
BOOSTED
BACONRA1D
EXCITE!
SPF-GS
SH0P
TOYS
R3B1RTH

WINTER
100M
2020OVER
JOLLY
EPILOGUE
GOBBLE
SOUL
HAUNTED
BB500K
SHOCKER
BB250K
FISHIN

SEA
GUMGUM
Bubble
SQUAD
BIT
JUNE
CLASSIFIED
VANITY
HAPPY4TH
RELIEF
ITSCOMING
LUCK

BB100K
LEADER
HOPHOP
EGGHUNT
V1RTU4L
CHANCE
PATTY
JOURNAL
JOV3N
HEART
SPIRAL
JET

TRAINER
WEKNOW
Roblox Ghost Simulator Frequently asked questions
Here's everything you need to know regarding Ghost Simulator codes.
How to redeem Ghost Simulator Codes
It's a very simple process to redeem your codes in Ghost Simulator.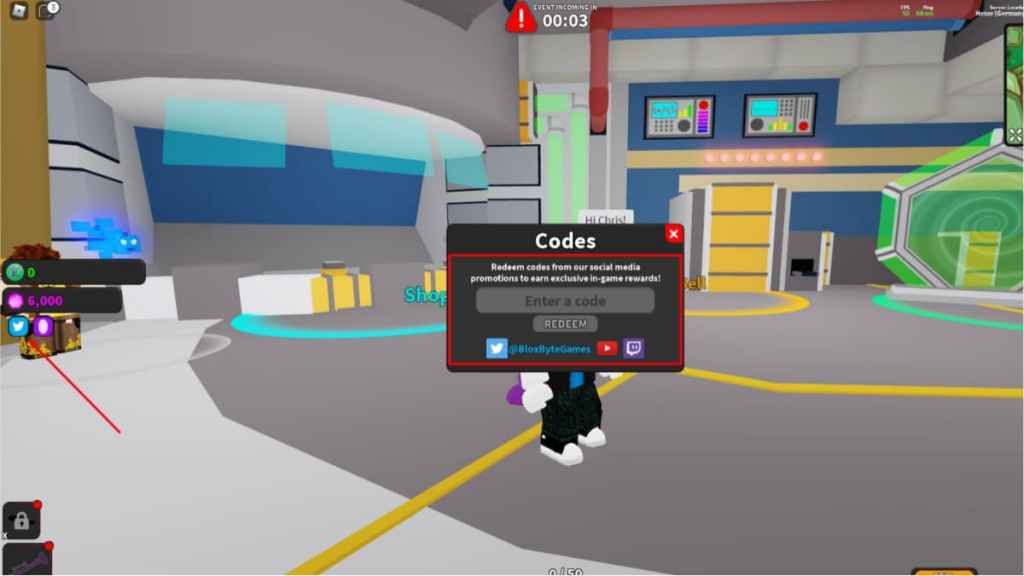 In the game, press the blue Twitter icon on the right side of the screen (under the currencies).
In the text box, enter the code exactly as it appears in the list above.
Press the Redeem button to claim your reward!
How to get more Ghost Simulator Codes?
Visit the developer's official Twitter, Discord, and YouTube pages to get more Ghost Simulator codes. If you wish to have all information in one place, bookmark this page and visit it frequently. We'll update it as soon as the codes come up.
Why aren't my Ghost Simulator Codes working?
The expiration date is the most common reason Roblox Ghost Simulator codes aren't working. Make sure to claim them fast to avoid missing out on rewards. Another reason can be a simple typo, so make sure to enter codes precisely as they are written. To avoid this problem, copy and paste codes from the list above into the redeem text box.
What is Roblox Ghost Simulator?
Roblox Ghost Simulator is a multiplayer action game where you're hunting ghosts. Just like in the movie Ghostbusters, you'll use Ectoplasm, a currency here. You can use it to upgrade backpack storage and your vacuum. You can earn Ectoplasm by catching and selling ghosts. Another resource is Gems. You can acquire them by completing quests, but they will also drop at random after you catch a ghost.
What do pets do in Ghost Simulator?
Pets will increase the amount of Ectoplasm you collect from each Ghost and speed up the catch time for Ghosts. These are important, so grab the pets that are available for free with Ghost Simulator codes. Hoverboards help you get around the map quickly, so having one of these will speed up the process of catching ghosts.
If you're looking for codes for other games, we have many of them in our Roblox Game Codes post! You can also get a bunch of free stuff via our Roblox Promo Codes page.