Updated October 16, 2023

We searched for the newest codes today!
How much do you press, bro? You can now prove how much time you spend in the gym by playing Grow Strong Simulator! Spawn into this free-for-all beat 'em up where the strongest and biggest rule the yard. You can take on all the other players and find places to work out to make your avatar the largest in the game. It's time to flex on these noobs!
The Grown Strong Simulator codes will give you Gems' in-game currency. Gems can be used to unlock items to help get your avatar stronger. Use these codes to help you get a boost at the start of your game.
Getting strong and showing off your gains in Roblox experiences is a great way to let off some steam. Join the other meatheads online and claim these codes to help you get stronger. Claim the codes for Strong Simulator S Codes, Strong Simulator X Codes, Roblox Strongman Simulator Codes, Get Strong Simulator Codes, and Roblox Super Strong Simulator Codes.
All Grow Strong Simulator Codes List
Grow Strong Simulator Codes (Working)
launch250—Redeem code for 250 gems
Grow Strong Simulator Codes (Expired)
There are currently no expired Grow Strong Simulator codes.
Grow Strong Simulator FAQ, Answered
Follow our guides for all your questions on Grow Strong Simulator.
How to Redeem Grow Strong Simulator codes
It's easy to redeem codes for free rewards in Grow Strong Simulator. To do so, follow the instructions below.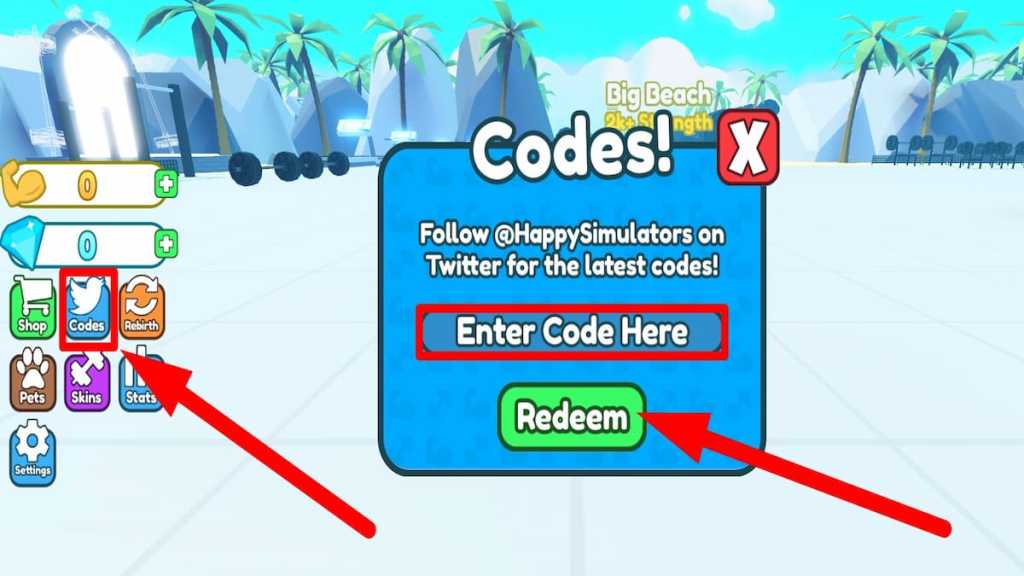 Launch Grow Strong Simulator on Roblox.
Click on the Twitter Bird icon on the left-hand side of the screen.
Enter the code into the Enter Code Here text box.
Click on Redeem button to claim your reward.
How to get more Grow Strong Simulator codes
For all the latest Grow Strong Simulator codes, follow the developer Happy Simulators on Twitter @HappySimulators. Here at Pro Game Guides, we have all the latest codes for all your freebies, so save this page and often return to redeem all the rewards.
Why aren't my Grown Strong Simulator codes working?
There may be a few reasons why your Grow Strong Simulator codes are currently not working. These codes may be misspelled or mistyped into the text box. Copy and paste the codes from our working list to avoid mistakes before clicking on the Redeem button. These codes could be expired; if a code on our working list says expired or invalid after you have tried to claim it, let us know in the comments below so we can keep our list up-to-date.
How to get strong in Grow Strong Simulator?
Getting strong in Grow Strong Simulator is easy. To get strong, click on the weight icon at the bottom of the page. While you have the weight equipped, click on the screen as fast as possible to gain strength. Gaining strength will also make your character bigger and make it harder for the other players in the game to kill you.
What is a Grow Strong Simulator game?
A Grow Strong Simulator game is a click fighting game where you will need to become stronger than any other player in the game. You can choose to fight with any of the other players in the game. You must lift weights and train your avatar to get bigger to be the strongest in the game. Climb to the top of the leaderboards by beating up as many players in the game as possible.
If you're looking for codes for other games, we have a ton of them in our Roblox Game Codes post! You can also get a bunch of free stuff via our Roblox Promo Codes page.