Roblox is a community-driven gaming platform that sees millions of active players partaking in and exploring thousands of different Roblox experiences each month. For some, the massive breadth that Roblox displays can be daunting, leaving them feeling left out but unsure of where to start. In this quick guide, we'll be going over how to start your Roblox journey, including setting up an account, creating a character or avatar, and joining your very first Roblox experience.
Setting up your account
To create a new Roblox account, you'll first need to head to Roblox's website or open the mobile Roblox app and look for the create an account button. If you don't see this button on PC, look for the gear icon in the top right corner of your screen and click it. From the drop-down menu, select create an account.
You should now be prompted with a screen to enter your birthday, username, password, and gender preference. Fill out this information and press sign up when finished. When creating your username, be sure to make something up—do not ever use your real name when making a username online.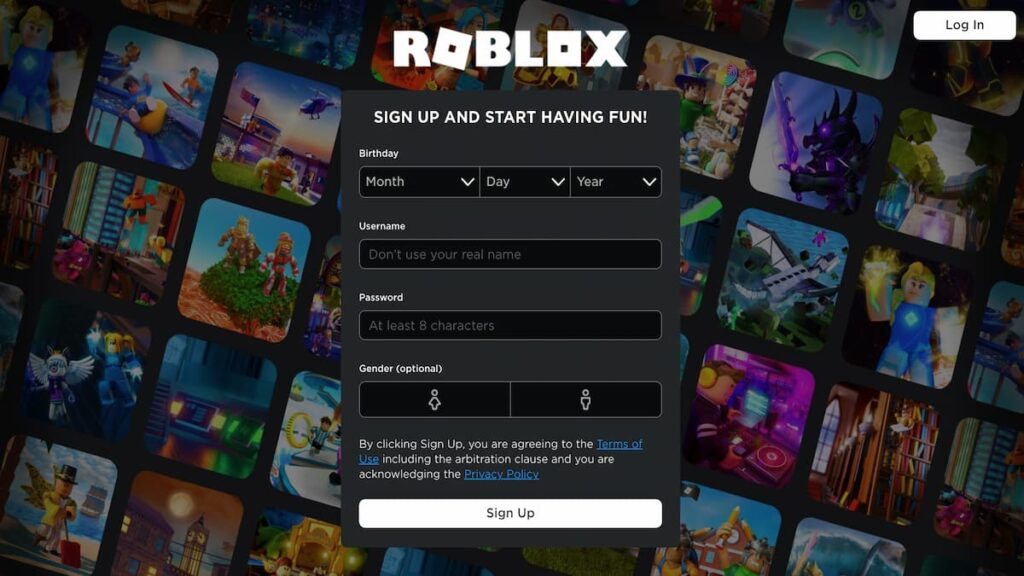 Related: Roblox Hyundai Adventure Mobility Codes (November 2021)
After you click sign up, your account will be created, and you will be taken to Roblox's home page. Now, we can work on customizing your character! Depending on whether or not you choose a male or female gender preference upon signing up, Roblox will create a basic avatar that resembles a girl or boy that you can customize and change to your liking.
Creating a character
To customize your new Roblox avatar on PC, locate the three lines in the upper left-hand side of your screen and click on them. From the drop-down menu that appears, click Avatar from the list of options. This will take you to the avatar customization page. On mobile, press your avatar picture in the middle of the bottom menu.
You can change nearly everything about your avatar within this page, including their face design, hair, shirt, pants, backpack, glasses, and much more. Every user is given a few free shirts, pants, and accessories courtesy of Roblox that players can find in their inventory. However, most clothes beyond those will need to be purchased with real money from the Roblox avatar shop. Luckily, PGG has a list of even more free items to help you out before you crack open your wallet.
To look around your inventory and see your current wardrobe options, locate the menu to the right of your avatar. You should see the menu titles Recent, Characters, Clothing, Accessories, Body, and Animations—hovering over these titles will signal drop-down menus to appear, giving your more detailed options like Shirts, Pants, Hair, Gear, and more. Click through these submenus to explore your inventory.
When you find an item that you want to equip onto your avatar, click it. After a few seconds, you'll notice that your avatar's sketch on the left will reflect any changes that you've made to its appearance. Your avatar is updated and saved automatically, so once you've found the outfit and look that you want, you can simply click the Roblox icon in the top left corner to return to the home screen.
Joining an experience
To find the main page of Roblox experiences on PC, click Discover from the bold menu at the top of your screen. On mobile, press the play button in the bottom menu. Here, Roblox will display experiences in categories, such as Most Engaging, Up-and-Coming, Popular, Top Rated, and more.
As you play through experiences and find ones you like, the Discover page will automatically adapt and update your Recommended for You category accordingly. To join an experience, simply click on its icon and press the green play button that appears on the experience's launch page. You will be transported into the experience in just a few seconds.
That's the basics of creating an account, customizing your character, and joining an experience. How you play and spend your time on Roblox is now up to you!
Looking for more Roblox content? Check out the Roblox section of Pro Game Guides for more guides, news articles, and code lists!