If you love collecting virtual pets, then you're no doubt going to want to know about obtaining them in Adopt Me. You can get your pets in many different ways, but if you're a free-to-play player, then it can be a bit difficult to collect them! Read below to take a look at all the ways you can get pets for free in Adopt Me.
Ways to Get Pets for Free in Adopt Me
To get free pets in Adopt Me, you can either obtain them via events, star rewards, or gaining bucks and purchasing eggs! We're going to go into more detail on how to use these methods. Read below and get yourself some free pets!
Starter Egg
When you first start out in the game, talk to Sir Woofington at the Nursery and he will give you a Starter Egg. You need to go complete objectives to hatch your egg, such as feeding it. Once you do, you will get the choice of a Dog or Cat! Choose wisely because you only get one chance, and the pet you get from it is not able to be traded.
Star Rewards
Star Rewards are a great way to obtain free pets! All you need to do is log in every day to earn stars. The more you log in, the more stars you will accumulate. You can see on the Star Rewards catalog that after you collect a certain amount of stars, you have a few options for pets.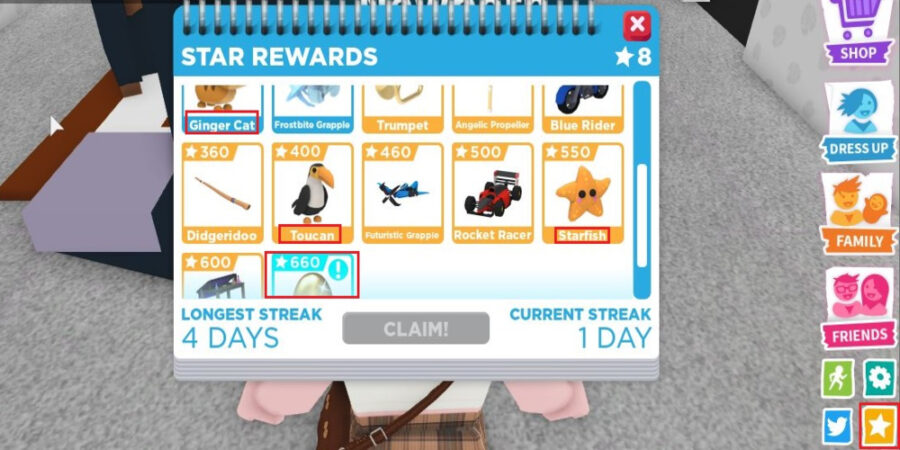 Once you've collected 210 stars, you can purchase yourself a Ginger Cat. If you save up 400 stars, you can get a Toucan. 550 stars will get you a Starfish. With 660 stars, you can get a Golden Egg that will give you either a Golden Unicorn, Golden Dragon, or Golden Griffin!
Earning Bucks and Purchasing Eggs
The final and most typical option for obtaining pets without spending real money or Robux is to earn money in-game to purchase eggs! There's a variety of ways to earn money: paychecks, login bonuses, objectives, money trees, and more.
Paychecks are given periodically while you are playing the game. You get 20 bucks every 10 - 15 minutes you are actively logged into the game. So, if you want to just earn money throughout the day, try and keep the game open in the background and check back once in a while to collect your check!
You should be logging in every day for the star rewards, but you also get a fair amount of bucks for each day you jump into the game in a row. Make sure to open up the game at least once per day to continue the streak and get more and more money! Every five days you will get a gift and a bonus amount of stars. On your 30th day, you will receive a Cracked Egg that you can hatch for a pet!
You get 6-7 bucks per blue objective you complete. Things like showering, feeding, and giving your pet something to drink are blue objectives. Orange objectives give you 12 bucks, so make sure to do them when they are available! These usually require you to head to specific locations (like the campsite or school) and hang out there for a brief period.
Money trees are an item you can place in your home that will periodically grow bucks on it. Once it does, you can harvest and get 8 dollars each time. You can have multiple money trees, but can only collect a maximum of 100 bucks per day.
Once you've got a fair bit of cash you can purchase an egg from the Nursery. There are multiple different eggs that can be purchased at different prices. If the egg is a higher price, that usually means you get a higher chance at getting a more valuable pet.
350 Bucks: Cracked Egg
600 Bucks: Pet Egg
1,450 Bucks: Royal Egg
There are also special event eggs that you can purchase! At the time of this writing, you can get yourself an Ocean Egg that will cost you 750 bucks. These special eggs generally will only have a particular set of themed pets, so make sure they are something you want before purchasing!
For a detailed guide on making bucks in Adopt Me, check out our How to Get Money Guide!
Hacks & Codes
There's a lot of talk about hacks that you can use to get pets in Adopt Me. These don't work and are likely some kind of malware/virus that someone is trying to get you to install. Never trust these methods, because even if one of them happened to work you are likely to get your account banned!
People talking about codes in Adopt Me. There are currently no codes available in the game right now. There's no location to enter a code in the game at the moment, so don't believe anyone saying there are codes until it is announced via Adopt Me on social media or in the game!
"Free" Pets on YouTube
You may see YouTube videos claiming you can get a "free" pet. This usually means they are giving away a pet, and you have to join the contest somehow. If the YouTuber is reputable and well-known, there's a possibility you could win the pet but it's a very small chance. If the requirement for entry is something simple like commenting on a video, feel free to enter for a chance to win, but don't get your hopes up!
If they are asking you to signup somewhere, pay money, or give away personal info, use extreme caution. These "giveaways" could actually be a scam. Always be wary when interacting with people playing Roblox who demand money or personal details.
No Longer Available
There are some pets that are only obtainable through events and other limited-time settings. Here is a list of pets that you cannot get any more. These pets may make a return, but as of the writing of this article, they are unavailable.
Easter 2020: Free Chick Pet
During the Roblox Easter Egg Hunt for 2020, you could get a free Chick pet. You needed to hop into the game and press the Easter button that appeared on the side of your screen. You would hatch the egg as you do normally and earn the Chick. This pet does not have the ability to be traded, so it is truly unavailable.
April Fools' 2020: Pet Rock
The Pet Rock was a joke pet that could be obtained by visiting the Nursery during April Fools'. It was only available for a limited time and then disappeared from the owners' inventory. It is not available for trade, since no one owns the Pet Rock.
May 2020: Scoob
Scoob was a pet designed after the famous dog, Scooby-Doo. He could be obtained during the Scoob Event for free. The pet was removed from the game entirely on May 18, 2020.
Halloween 2020: Pumpkin
During the 2020 Halloween Event, players could receive a Pumpkin pet if they participated in the Pumpkin Smash mini-game. This pet does not have the ability to be traded, so it is truly unavailable.
April Fools' 2021: 2D Kitty
When the April Fools' Day 2021 Update came out, the developers released a free pet called 2D Kitty. The pet was a joke gift that was removed from the game entirely on April 2, 2021.
Want to read more about Roblox Adopt Me? Check out Best Roblox Adopt Me Bedroom Ideas or Adopt Me Pet Ages & Levels List – Neon Levels! on Pro Game Guides.