Sparks Kilowatt has landed in Super Power Fighting Simulator for the fourth and final week of Metaverse Champions. To get Secret Package #4 (available May 6 to May 14), you must grind out your player stats multiple times and open five Ancient Chest, both of which requires Gems and Tokens. We've got exactly what you'll need to speed up the process.
Head to our Super Power Fighting Simulator Codes page where we have dozens of tokens, gems, and boosts rewards available. To redeem these codes, launch the game and click the Menu button on the right. Then click Codes and enter each working code separately into the text box. Redeem as many codes as possible first.
With your fresh stock of in-game currency established, run outside and talk to Sparks Kilowatt for the Metaverse quests. You'll have to train your Endurance, Strength, and Psychic stats multiple times. Usually it requires grinding, but with all those Gems and Tokens you can speed up the process.
Related: All Roblox Metaverse Champions | Weekly Locations, Games & Rewards
To raise your Stat Multiplier, press the Stats button on the left to open a new window. Next to each Stat is a + button. Increase the multiplier a handful of times before grinding out your stats for the quests.
Once these are raised, increase your stats by pressing on the Endurance, Psychic, or Strength buttons on the bottom. You can only increase one Stat at a time. When one Stat is highlighted, click anywhere to strengthen. Do this multiple times until you reach the Ancient Chests part of the mission.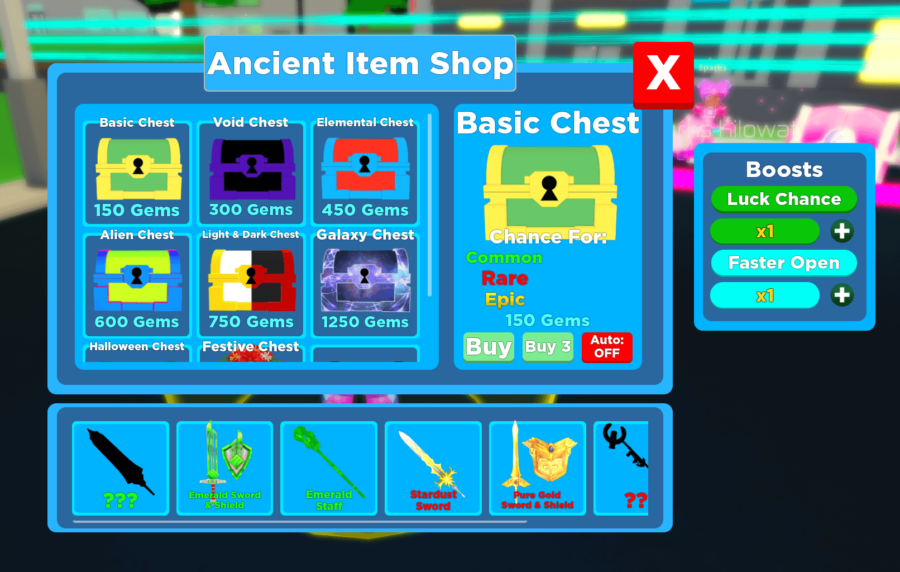 After the Stats part Sparks will ask you to open five Ancient Chests. To do this, press the Upgrades button on the left to open a new window. You will see an Ancient Item Boosts section with the option to press Shop or Items. Press Shop. Then buy five Basic Chests, which cost 150 Gems each. If you've redeemed the codes then you should have more than enough Gems for this section.
Finally, Sparks will ask you to raise your Endurance, Strength, and Psychic Stats one more time. Raise your multipliers as necessary.
After you have raised your Stats and opened five Ancient Chests, Sparks will award you a game badge and the Secret Package #4, which will also appear in your Avatar Inventory.
For all Metaverse Champions Mission Guides, be sure to check back with Pro Game Guides. If you're looking for codes for other games, we have a ton of them in our Roblox Game Codes post! You can also get a bunch of free stuff via our Roblox Promo Codes page.