Roblox's Arsenal has come out with a new update for Summer 2020! With this update have come a bunch of graphical overhauls to the game with some polishing to the menus, new weapons, and some new skins! While most of these skins can be purchased in the shop, you can get yourself the Cryptid Fire Golem Skin for free by completing a couple of fairly easy to do steps in the game. We'll show you how it's done in this guide.
We've got guides for all the other free skins right here:
Fire Golem Skin Guide
The first step to obtaining the Fire Golem Skin is to play in the Aircraft map. If you or a friend have a VIP Server for Arsenal then this will be a whole lot easier because then the map can just be set. However, you can jump into a game of Arsenal to check the map, if it's not the Aircraft map:
Then you can close out of the game and join another one. Repeat this process until you end up in the Aircraft map. Once you've reached the map, just look for the big cloud of smoke that is on one side of the ship. This is where you'll need to go, but beforehand you will need either the Snowball or Water Balloon weapon. Once you have it, head over to the smoke/back of the ship and you'll find this molten fireball: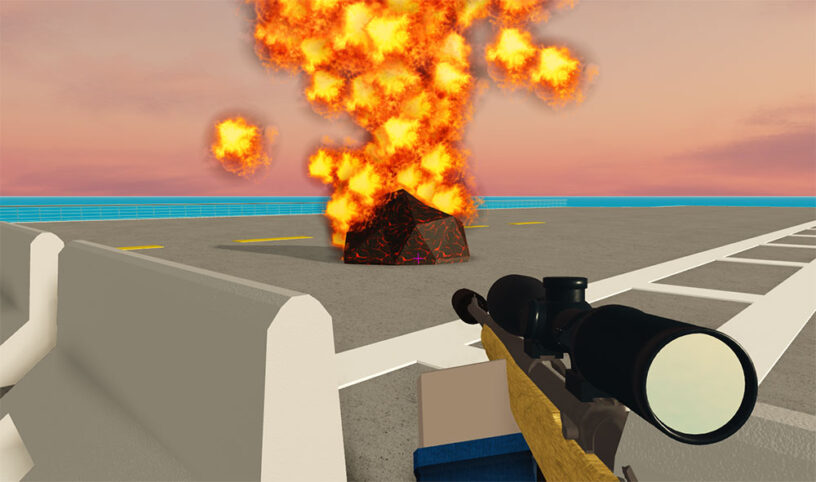 Throw the Snowball or Water Balloon at the flaming rock and you and the rest of your server will earn the Fire Golem badge and receive the skin! Yes, that's correct. Everyone who is in the server will get the badge, so you might get this skin without even realizing it!
Here's a look at the Fire Golem skin once you've received it:
Just head into your locker, hit character, and find it here to equip it! If you had any trouble following this guide, check out the following video:
Be sure to also check out our Arsenal Codes, how to get the Karambit, how to double jump, and how to get the megaphone guides!