Wren Brightblade found herself in a bit of a disaster during Week 2 of Metaverse Champions. Find out how to get Wren Brightblade's Treasure Chest #2 (available April 22 to April 30) in Natural Disaster Survival below.
How to get Wren Brightblade's Treasure Chest in Natural Disaster Survival
You must survive three disasters in order to get Wren Brightblade's Treasure Chest #2 in Natural Disaster Survival. The disasters shuffle at random and some disasters are easier to survive than others. Much of your success falls down to luck, but you do not need to win three in a row to get the badge. So long as you survive three in total, you will complete this mission.
Here are some strategies to survive each natural disaster:
Acid Rain: During an acid rain storm, stay indoors but be prepared to move. While indoors, you might be forced to run around the building because the acid rain will eventually bleed through the bricks and leak from the roof. Do your best to remain under a covered roof to survive this disaster.
Blizzard: During a blizzard stay inside and hug one of the walls for safety. The blizzard will spawn in from a random direction and freeze whatever falls in its path. Failing to touch a wall will most likely result in losing health from hypothermia. Your best bet is to find a corner inside of a building and remain there during the whole disaster.
Deadly Virus: A random player will get sick at the start of the match, infecting all other players in close proximity. Find a lone spot and avoid all other players during this disaster.
Earthquake: Avoid the shaking bricks because they will shake you off the island. As you run toward clear areas, we suggest jumping up and down repeatedly, since the earthquake doesn't affect you mid-air.
Related: All Roblox Metaverse Champions | Weekly Locations, Games & Rewards
Fire: Random areas of the map engulf in flame, slowly spreading into further territory. Touching a burning brick will damage your health, but touching areas that have turned to ash is harmless. Your best bet is to stand on the edges of the island, as fire typically doesn't spread to the corners.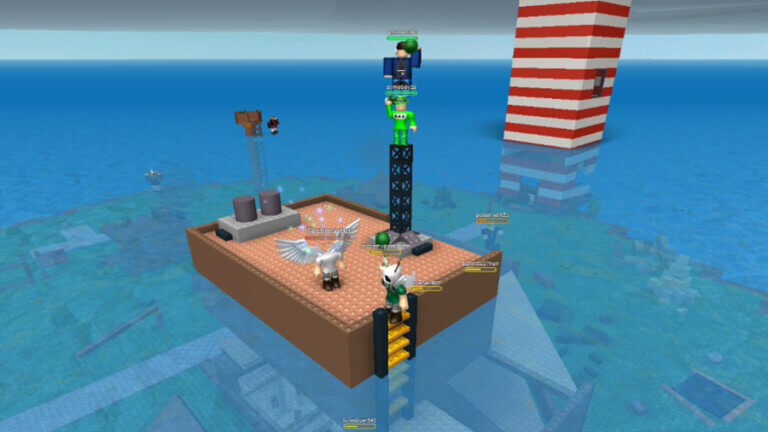 Flash Flood: The ocean surrounding your island will rise and cover as much of the land as possible. Do your best to find high ground and stay up there for the duration of the round. If your platform starts wobbling, it will plunge into the ocean in a matter of seconds. In this case, jump to another platform before the one you're standing on falls.
Meteor Shower: Large, round meteors fall from the sky at random during this disaster. Surviving this event ultimately falls down to luck, as there is no rhyme or reason where a meteor will strike. Hang out toward the edges of the map or in flat, clear areas. You might find yourself accidentally crushed by debris if you hide inside a building.
Sandstorm: A challenging aspect from the sandstorm results in your screen becoming fuzzy from the storm. The storm will not cause any damage, but the flying debris will lower your health if struck. While it is not recommended to stay in a building (bricks will tear from the wall), we found success staying inside for shelter and avoiding the dangerous areas. Alternatively, find a flat, clear area outside where the sandstorm has avoided, and do your best to avoid any oncoming debris.
Related: How to get Wren Brightblade's Treasure Chest Legends of Speed | Roblox Metaverse Champions
Thunderstorm: You will instantly die if struck by a lightning bolt, which typically strikes around 45 times in one round. Stay inside and wait out the storm until the round is over.
Tornado: The tornado will most likely spawn in the middle of the map, picking up random objects in its destruction. Not only must you avoid getting sucked into the tornado, you must avoid the flying debris that will damage your health.
Tsunami: The tsunami engulfs the island in water similar to the flash flood. Find a tall, sturdy structure to stand on during this disaster for your best bet at survival. Sturdy is the key word here. Tall, thin structures, topple faster than sturdy buildings, so avoid the thin buildings.
Volcanic Eruption: You have two options to survive a volcanic eruption: hang out at edge of the island located in the farthest direction from the volcano. Or, climb the volcano! If you take the first approach, you must monitor where the lava bricks fall, but you will most likely remain out of harm's way.
Climbing the volcano is risky, but possible. You will survive the jump into the water closest to the volcano as the land has risen around the eruption. Then, climb the volcano and hang out until the round ends.
Once you have survived three disasters total, you will be awarded a game badge and Wren Brightblade's Treasure Chest #2. The chest will also appear in your Avatar Inventory.
For all Metaverse Champions Mission Guides, be sure to check back with Pro Game Guides. If you're looking for codes for other games, we have a ton of them in our Roblox Game Codes post! You can also get a bunch of free stuff via our Roblox Promo Codes page.