Many parents want to make sure their children are safe while they play online. This may extend to the games they play, like Roblox. To ensure their safety, they may want to add restrictions to their account or make sure they can monitor their actions. Here's what parents can do with controls on Roblox.
Log In and Account Settings
The first step you'll want to take is to log into the Roblox account, where you can alter account settings. You must know the log in information to be able to make changes. Once you are logged in, go to the Security tab. This is located within the Settings function on both platforms.
Set Up PIN
Once you are officially in the Account Settings or Security area, you will see a section titled Account PIN. Toggle the button beside Account PIN is currently disabled. This will give you a window that prompts you to enter a PIN, and then enter it once again to confirm. Keep this PIN handy, as you will need it if you need to make changes in the future.
Related: How to enable Voice Chat in Roblox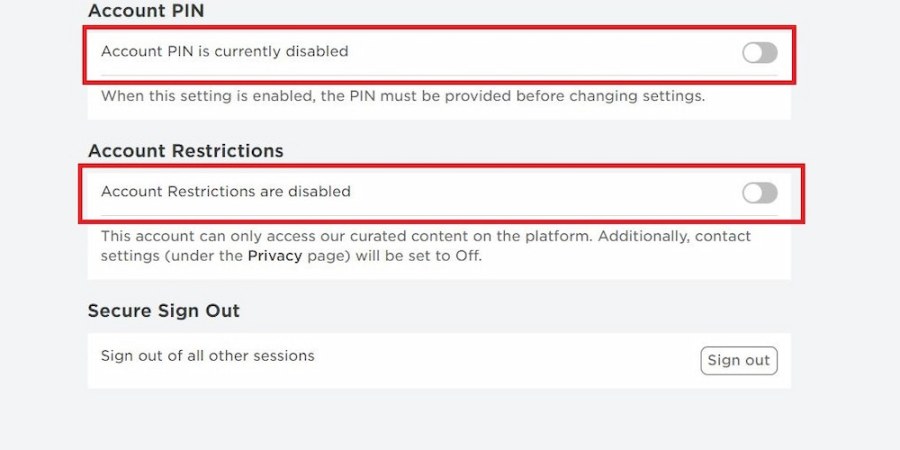 Turn on Restrictions
After creating your PIN, look below the Account PIN in the security settings. You will see the Account Restrictions section. You will toggle the option to where the button is green and says Account Restrictions are enabled. This will turn off the user's contact settings and only allow them to access curated content.
Other Options
If the above settings are not ideal, you may have some other options for Parental Controls on Roblox. You can utilize the Block and Report features for offensive or unsafe content. If the user is under 12 years old, Roblox already filters content and moderates communication for this age group. You can also use third-party apps like Google Family Link to monitor the user's site usage time.
Want to read more about Roblox settings? Check out Roblox: How to change Display Name for free with Windscribe VPN on Pro Game Guides.