A vast economy exists in Roblox Islands and trading with other players isn't as simple as the press of a button. Trading is primarily performed through vending machines and various trading communities outside of the game. We've broken down many of the common methods below.
Vending Machine Trading
Vending machines are the primary method of trading between players in Roblox Islands. They allow players to sell and buy items for coins across published islands. But there are in-game requirements the player must meet before using the vending machine block.
Vending Machine Requirements
To use someone else's vending machine, the player must reach Level 25 Economy. In other words, the player cannot buy items from another player until reaching this required skill level.
To craft your own vending machine, the player must reach Level 55 Economy. Meaning, the player cannot place a vending machine on their own island nor sell their own items until reaching this required skill level.
Related: Roblox Islands Patch Notes
How to use a Vending Machine
If you are looking to buy items from another player, you must visit a Published Island that is specifically designed as a marketplace. Published Islands are islands created by other players and many players design their islands as central marketplaces.
To access a Published Island, press the Explore button on the left side of the screen to bring up a new window. This will bring up a list of Published Islands—look for islands with shop titles in the name and connect to those servers.
Once on someone's island, search for the vending machines. Many players line up their vending machines in a row and organize each machine with a specific item to purchase. Just approach a vending machine and press F or tap on it to view the prices and/or make a purchase.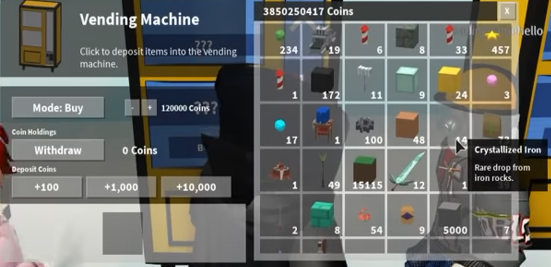 Note: Item prices will vary across published islands. Prices are always set by the individual seller, so as the buyer you should always refer to an Islands price value list before making a purchase.
Related: Roblox Islands Codes (2021) don't exist, here's why
Social Media Trading
There are many Islands communities across social media serving as exclusive hubs for Roblox Islands trading. Joining a dedicated trading community can be an efficient method of connecting with players immediately for the particular item you are looking for. It also prevents yourself from server hopping across published islands if the first few islands don't hold the item you are looking for.
However, scammers do exist within trading communities, so it is always best to use these social media channels with caution. It is very easy to connect with someone who is looking to trick you out of your item, so your best discretion must be made on these channels. We prefer to use the Vending Machine method above for this very reason.
Discord communities are a popular source for trading hubs on Roblox Islands. But if you are under 13 and/or are not allowed to use Discord, it is best to find a trading group created on the Roblox platform to ensure your own safety.
Dropping Items
Dropping items is the "old fashioned" way of trading with another player on Roblox Islands. In the chance that you stumble across one player looking to make a trade, the both of you can drop your item in front of each other. But, we don't recommend dropping valuable items because the other player can easily snatch up your item quickly and run away. Once again, it's always smart to use your best discretion when making quick drop trades.
For more Roblox Islands guides, check out How to create Save Slots in Roblox Islands on Pro Game Guides.