Mine Racer is a clicker game where you earn rewards the further you manage to dig down into the ground in each race. Grab your pickaxe, hatch some eggs for more powerful pickaxes, and then upgrade or sell them. When the next competition starts, you'll have two minutes to click and dig your way deeper for greater rewards. Can you dig your way onto the leaderboards?
Codes will give you one or both of the currencies in Mine Racer, which is Wins and Coins. Coins can be spent breaking open eggs which will reward you with new pickaxes. Wins are spent on upgrading your cooldown timer for using any pickaxe.
If you love Roblox clicker games, we have cool codes for loads more of them. Check out Fat Race Clicker Codes, Skydive Race Clicker Codes, Strongman Simulator Codes, Race Clicker Codes, and Muscle Race Clicker Codes.
All Mine Racer Codes List
Updated December 5, 2022

Added new Mine Racer codes.
Mine Racer Codes (Working)
Here's a look at all the working Mine Racer codes.
25KLIKES—Redeem for 25k Coins (New)
MOONWORLD!—Redeem for 6k Coins (New)
WIK—Redeem for 500 Wins (New)
SEMERRE!—Redeem for 9k Coins (New)
10KLIKES—Redeem for 150 Wins
THANKYOU!—Redeem for 5,000 Coins
100KMEMBERS!—Redeem for 50,000 Coins
YOURFAVOURITEYOUTUBER!—Redeem for 5,000 Coins
BLOXER1ONYOUTUBE!—Redeem for 6,942Coins
LETSDOTHESHAKER!—Redeem for 200 Wins
LETSGOOOO!—Redeem for 9,350 Coins
4MILLIONVISITS!—Redeem for 600 Wins
WORLDCUP—Redeem for 50 Wins
UPDATE3—Redeem for 25 Wins
Mine Racer Codes (Expired)
These codes for Mine Racer no longer work.
There are no expired codes for Mine Racer
How to redeem codes in Mine Racer
Redeeming codes for free rewards in Mine Racer is easy. Follow our guide below.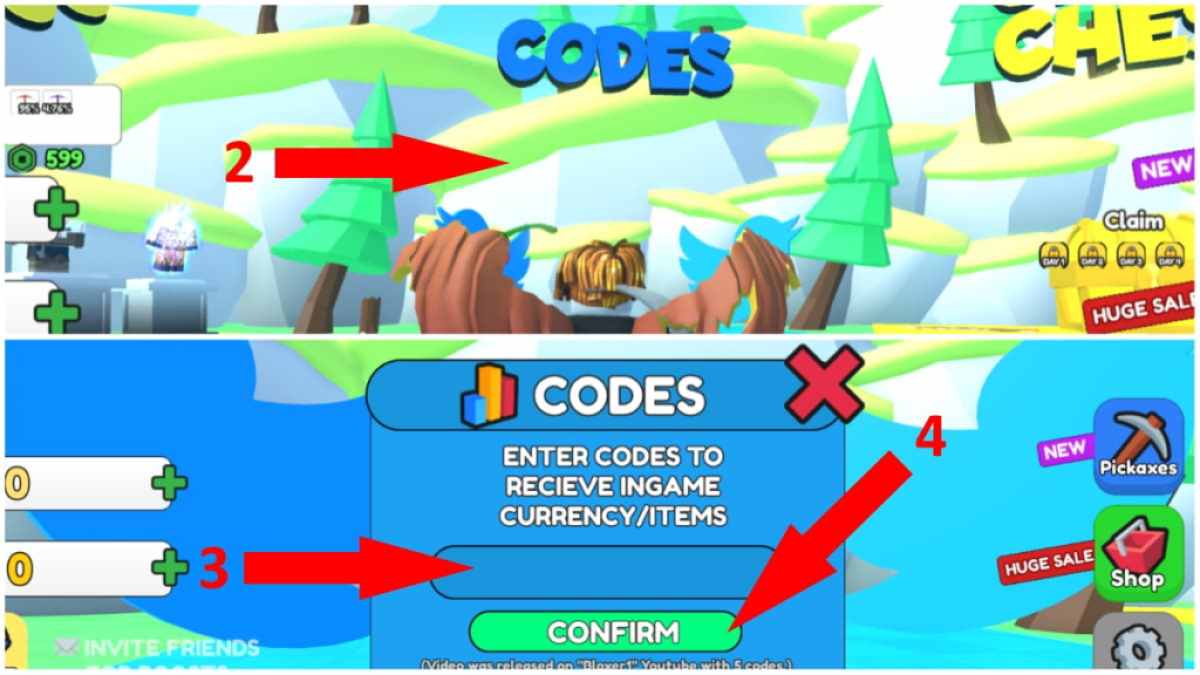 Launch Mine Racer on Roblox.
In the start area, run over to beneath the Codes sign.
In the popup CODES box, enter the code into the blue text box exactly as it appears here.
Press the green CONFIRM button to claim your reward!
How can you get more Mine Racer codes?
We're always out on track racing to find the latest Mine Racer codes. But to try to find some yourself, head over to the Rice Bowl Studio Roblox Group. You can also join the Ricebowl Studios Discord Server, and subscribe to the Bloxer1 YouTube channel.
Why are my Mine Racer codes not working?
If one of the Mine Racer codes you've found at Pro Game Guides doesn't seem to work, start by checking for a typo. Codes need to be exact, so make sure the capitalization matches and that you haven't mistaken a number for a letter. The easiest way to make sure is to cut and paste the code directly from here. If that doesn't fix it, the code may have expired. If that's the case, there's nothing we can do. But rest assured, we're constantly looking for new codes to replace any expired ones.
How can I make money fast in Mine Racer?
Mine Racer is all about having the best pickaxe and also the best mining rate. Breaking better eggs will always get you a better pickaxe, so once you move on to the next quality of egg your old pickaxes are useless. This isn't a trading game or a combining game. Instead, if you click the pickaxe button, click on the left menu and go onto sell. Here you can dump your weak pickaxes for some bonus cash, helping you get to the next quality of eggs faster.
What is Mine Racer?
Mine Racer is a clicker game where you can get your name on the leaderboard by digging the deepest in a single race or by having the most total wins. Each race is two minutes, and you'll have to physically click unless you pay for the auto-click function with Robux. While Robux can also buy you boosters that raise your luck with eggs, improve mine speed, or add reward multipliers.
If you're looking for codes for other games, we have a ton of them in our Roblox Game Codes post! You can also get a bunch of free stuff via our Roblox Promo Codes page.