Updated September 1, 2023

Checked for new codes!
Mining is a hobby gamers have enjoyed for years, and while titles like Minecraft are enticing, sometimes a change of pace is welcome. Those looking for a unique Mining experience would do well to try Mining Simulator. Before you dive into the game, make sure you know a few codes to get you some extra supplies before you start.
The Pro Game Guides Roblox Mining Simulator Codes List details all the currently available and valid codes you can enter to gain tokens, eggs, hat crates, and coins! Pro Game Guides keeps this article up-to-date with new codes. Make sure to redeem these codes as soon as possible to ensure you get the rewards.
Check our code pages on Roblox Crystal Valley Mining Simulator Codes, Roblox Planet Mining Simulator Codes, Roblox Stone Miner Simulator Codes, Roblox Epic Miner Simulator Codes, Roblox Rocket Rush Simulator Codes, for more Roblox Codes.
Active Mining Simulator Codes
Token Codes List
250 Tokens: #ChristmasHype
250 Tokens: AnniversaryTokens
250 Tokens: EpicTokens
200 Tokens: 200Tokens
200 Tokens: 4thJuly
150 Tokens: July21st
80 Tokens: America
75 Tokens: 1Year
75 Tokens: 500m
75 Tokens: SummerTokens
70 Tokens: SummerParadise
70 Tokens: Challenge

70 Tokens: ILoveTokens
70 Tokens: ImOutOfCodeIdeas
70 Tokens: ImOutOfCodeIdeas2
70 Tokens: ISeriouslyNeedMoreCodeIdeas
70 Tokens: MoreMoreCode
70 Tokens: MoreMoreTokens
70 Tokens: oof
70 Tokens: owo
70 Tokens: Shiny
70 Tokens: sircfenner
70 Tokens: Trails
70 Tokens: TooManyCodes

70 Tokens: Wings
50 Tokens: GetSlicked
50 Tokens: HammieJammieDoesntSuck
50 Tokens: NewQuests
50 Tokens: NosniyIsCool
50 Tokens: SandCastles
50 Tokens: SuperGems
20 Tokens: HammieJammieSucksx2
20 Tokens: HammieJammieSucksxInfinity
Gaming Texture
Lamb Sauce Texture: Lamb Sauce
Abstract Texture: Abstract
Pink Army Texture: PinkArmySkin
Retro Gaming Texture: Retro
Comic Texture: Comic
Egg Codes
Eggs
Eggo!
LegendaryEggCode
Momma
Rumble
RumbleStudios
AnniversaryEgg
AwesomeLegendary
BaconHair
BeachBall
BigL
CoolWater

Demon
Duck
FollowUs
FreeCrate2
JackOLantern
Light
memes
PatrioticStars
Pumpkin
Pumpkins
Rainbowite
SecretEgg

Skies
SummerEgg
SuperSecretCode
TooManyCodesSmh
Valkyrie
Legendary Hat Crate Codes
LegendaryHatCode
Halloween2019
FreeCrate
NewHats
AnniversaryCrate
Adventure
SuperCrate

Fright
HelpPls
Scary
TrickOrTreat
EventQuest
Goose
SubscribePls
yeet
BigW
Witches
Duckie
MineAlot

Sunscreen
Dreamy
Scorch
Lemonaide
Vacation
Patriot
ILOVECODES
Bonus
Other Crate Codes
Epic Crate: Defild Is Awesome
Rare Crate: Rare
Rare Crate: Cool
Rare Hat Crate: Easter

Common Crate: TestingThing
Rare Hat Crate: CrazieGamerSquad
Rare Crate: DefildPlays
Omega Hat Crate: Ghosts
Legendary Crate: Fluffy
Legendary Skin Crate: Level
Epic Crate: Unobtainible
Epic Accessory Crate: NewTwitch
Epic Accessory Crate: TrailUpdate
Epic Accessory Crate: NoU
Epic Accessory Crate: Dominus
Epic Hat Crate: Toast

Epic Hat Crate: ToyChest
Epic Skin Crate: SandBox
Rare Hat Crate: GummyBears
Rare Hat Crate: Pumped
Spooky Trail Crate: BroomSticks
Spooky Trail Crate: Candy!
Spooky Trail Crate: Ghosty
Candy Corn Codes
60 Candy Corn: Skelly
60 Candy Corn: Skeletons
60 Candy Corn: ThisIsHalloween
40 Candy Corn: Halloween
30 Candy Corn: ScarySkeltons
30 Candy Corn: Spooky
30 Candy Corn: Spook
30 Candy Corn: Spoopy
Coin Codes
1,000 Coins: isaac
20,000 Coins: WeBreakRoblox
10,000 Coins: Koala
5,000 Coins: RexexSquad
2,500 Coins: Arcade
2,000 Coins: Bear
100 Coins: Pets
1,000 Coins: LotsOfCoins
500 Coins: Bunny
2,500 Coins: Selfie
1,000 Coins: Crainer
1,200 Coins: CrazieGamer

1,500 Coins: DefildPlays2
1 Coin: FutureMSOwner
Coins: Rebirth
10,000 Coins: Bread
10,000 Coins: Money
5,000 Coins: Dinosaur
5,000 Coins: Sand
5,000 Coins: Trades
2,500 Coins: JellyBean
2,000 Coins: Candy
2,000 Coins: Coal
Expired Codes
How to Redeem a Code in Mining Simulator
Head into Mining Simulator and look to the left of your screen. You should see a bird icon (Twitter) with the word Codes above it. Click on that, and you will get the following screen: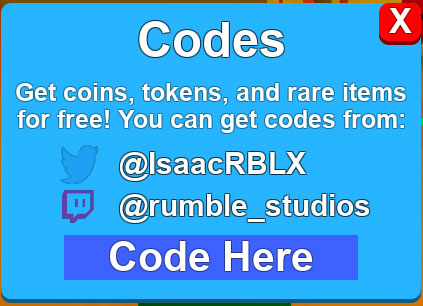 Copy one of the codes listed below and paste it into the "Code Here" area. Once you've done that, hit the big green Enter button! That will submit your code, and you should receive that designated item associated with it. You will need to go to your inventory to open up crates.
What do codes do in Mining Simulator?
Each type of code has a different use in Mining Simulator. Token codes give you currency to purchase event gear and limited items in Mining Simulator, while Eggs can net users a random pet. Hats improve mining ability, and Coins upgrade storage space and the mining Pickaxe.
Why are my Mining Simulator codes not working?
If you're typing codes in and they aren't working correctly, try copying them directly from this page and into the code bar to see if that helps, as codes with any extra characters or spaces will not work correctly.
What is Mining Simulator?
Mining Simulator is a collection game that players can play alone or cooperatively to find various mining materials to sell and upgrade their characters while traveling to several unique worlds. Collect hats, pets, tools, and more as you mine the day away.
For more on Roblox, visit other articles on Pro Game Guides, like Roblox Rocket Rush Simulator Codes (May 2022.)