A new musical event is here and ready to party in Roblox! The Insomniac World Party is a week-long event that allows players from around the world to experience the massive music festival EDC, or the Electric Daisy Festival, from the comfort of their own home and, even better, for free! This event is in collaboration with Roblox to commemorate EDC's 25th anniversary and bring in as many attendees, and new fans, as possible.
EDC is an electric dance music (EDM) festival that takes place around the world each year with its main show occurring in Las Vegas. This festival incorporates bright, flashing lights, heart-pumping music, and immersive 3D technology to create an experience that fans will remember forever—including those who visit in Roblox!
The Insomniac World Party features four festival stages where live performances will take place, a campsite where users can customize their tents, two unique minigames, various avatar items, and even adorable pets to adopt and collect.
Map
The full map of the Insomniac World Party can be found below.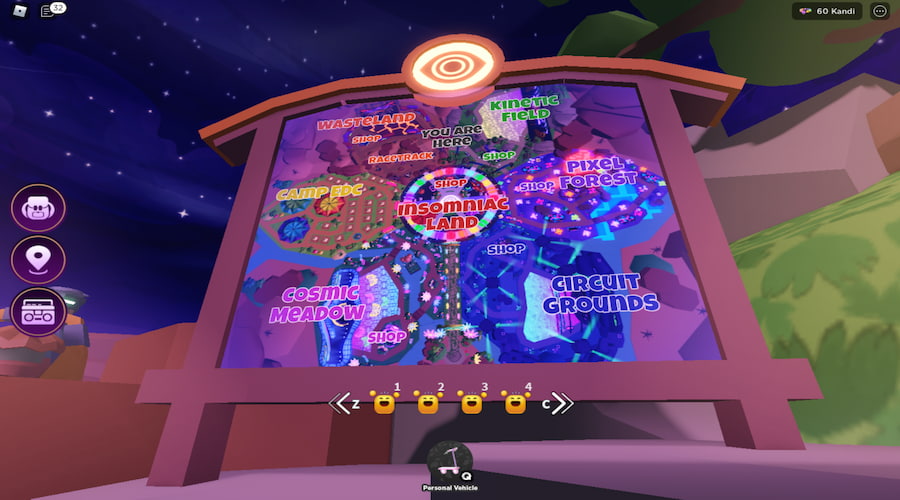 Stages
The four stages in this experience can be found within four of the unique areas of the map.
Wasteland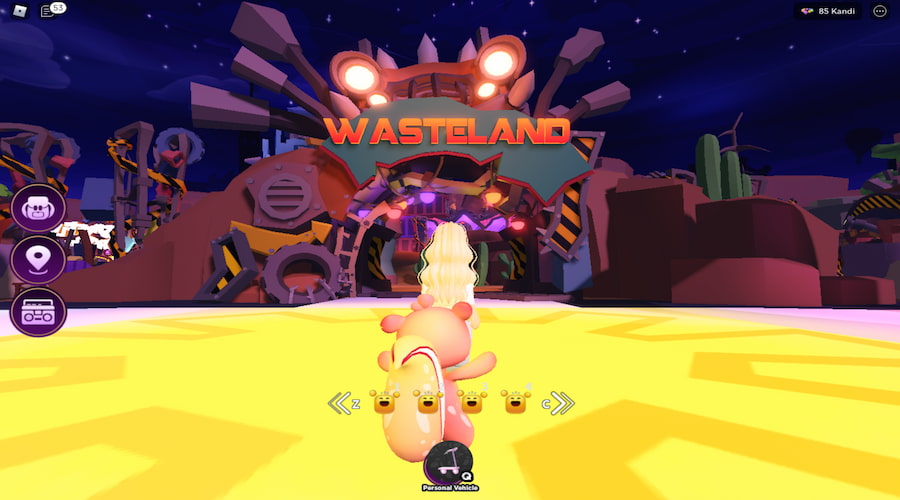 The first stage can be found towards the back of the Wasteland area. The aesthetic of this stage is created with a lava floor and junkyard-chic decor.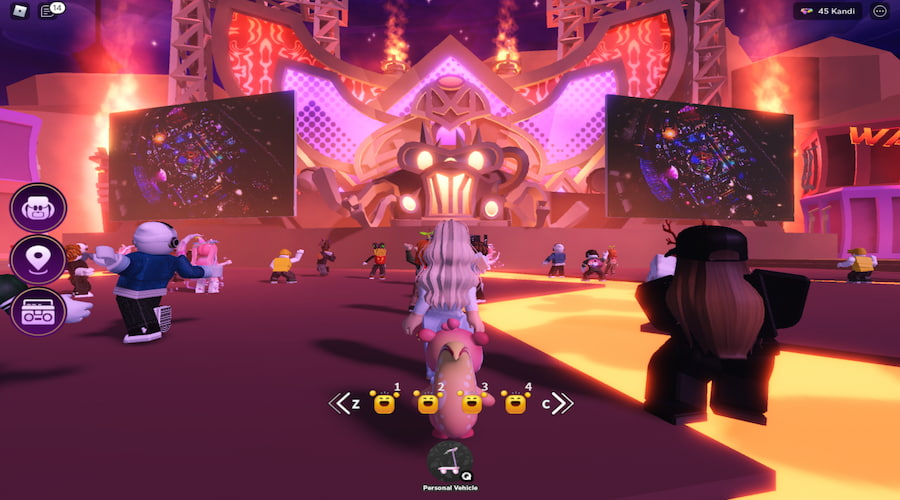 Kinetic Field
The second stage can be found within the Kinetic Field area. The aesthetic of this stage, and area, is centered around owls—possibly a hint at EDM group Galantis who's known for their owl logos.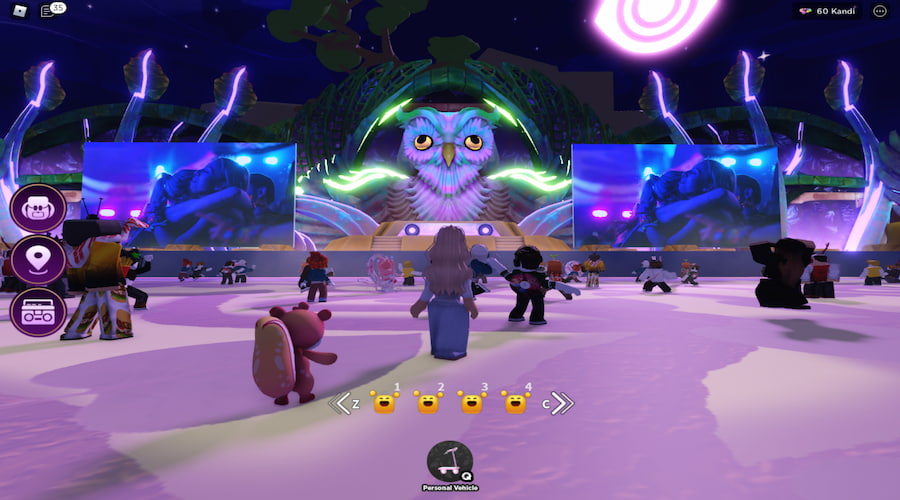 Circuit Grounds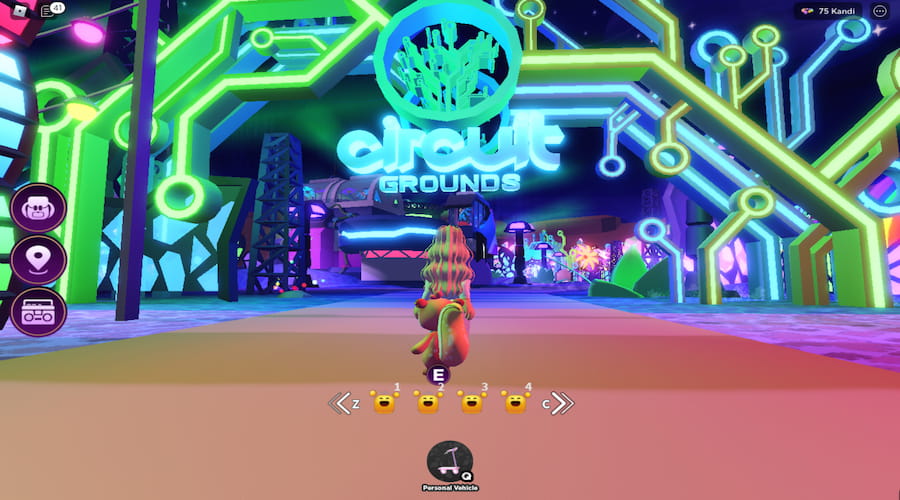 The third stage can be found within the Circuit Grounds area. This stage creates a techno-music aesthetic that features blue and purple lights, digital flora, and industrial-inspired props.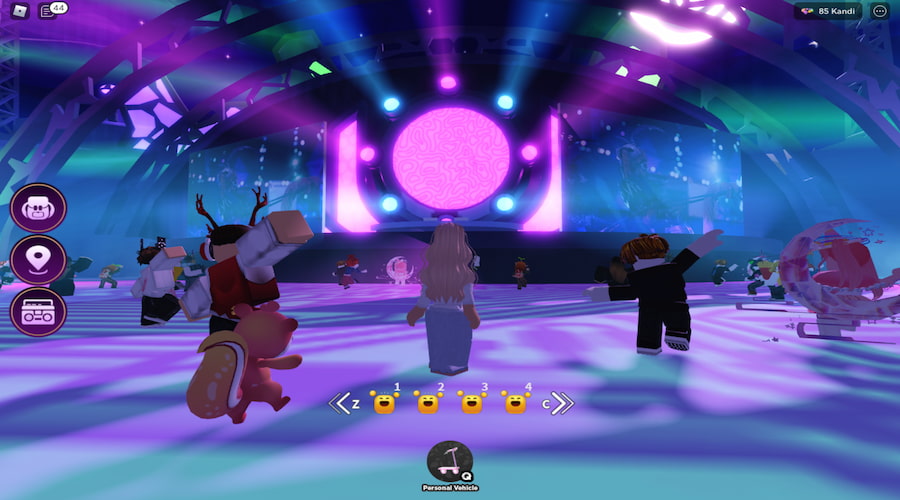 Cosmic Meadow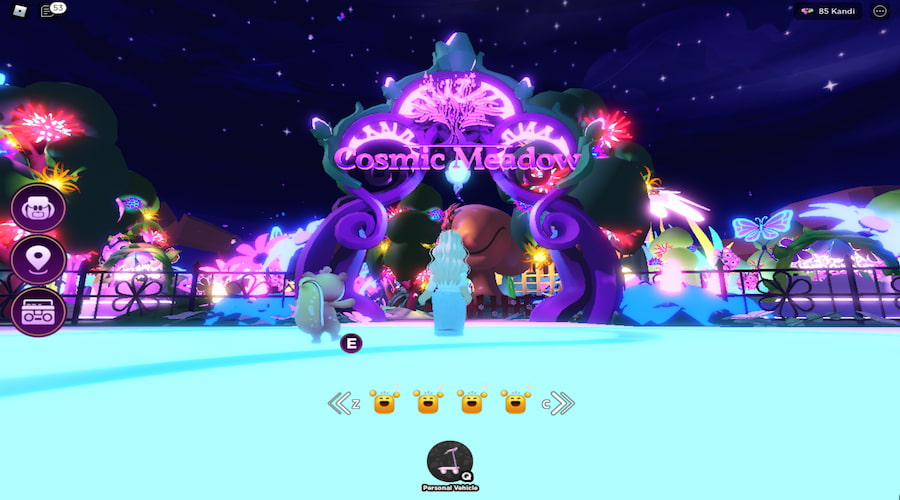 The fourth and final stage can be found inside Cosmic Meadow. This area is meant to recreate an LED garden with giant rainbow butterflies, flowers, and a stage to match!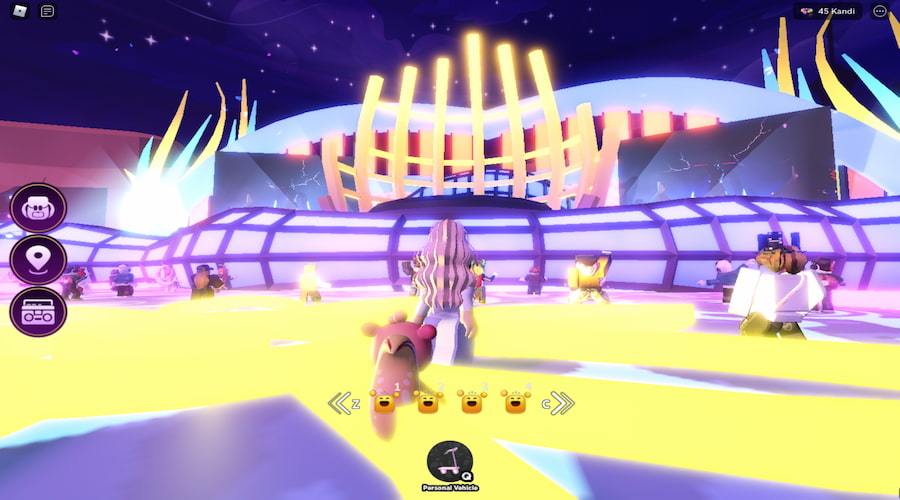 Related: Roblox Promo Codes List (October 2021) – Free Clothes & Items!
Tents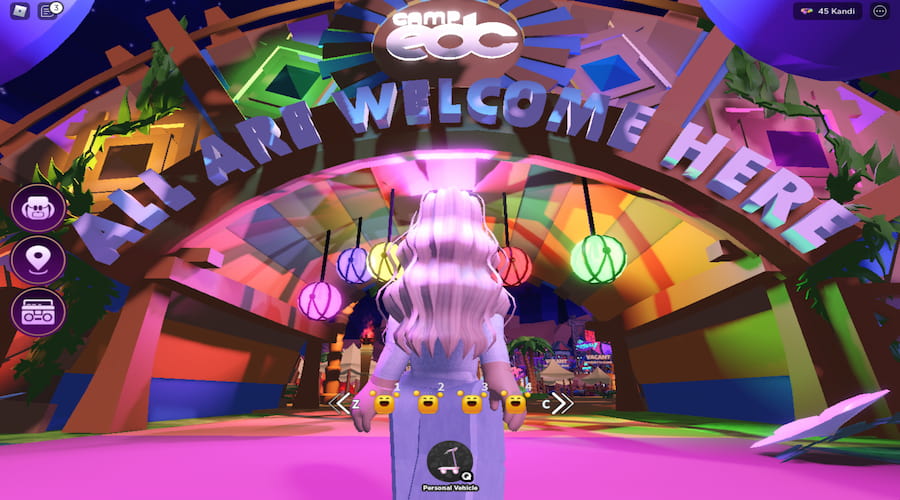 Camp EDC in Insomniac World Party gives players the option to customize their own tent and choose where to set it up. Find a cozy spot in the back or gather around with your friends—whatever your tent choice and tent location you're sure to have a great place to relax in between sets!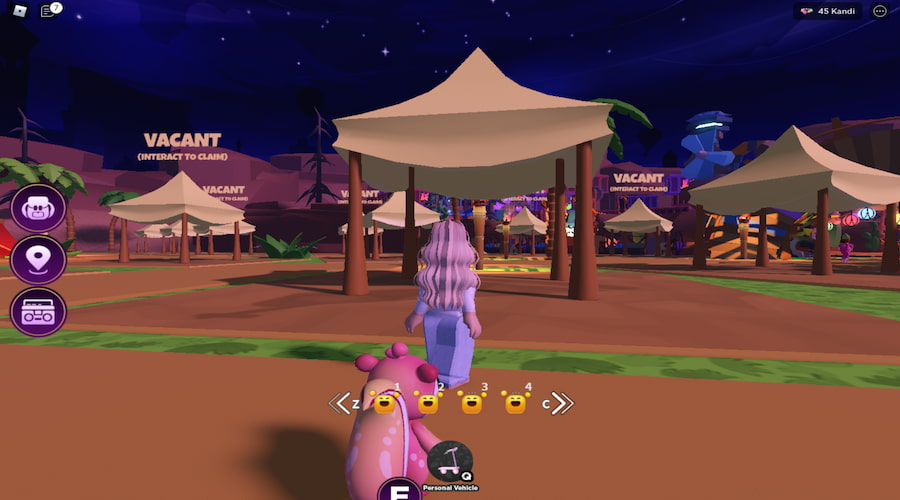 New tent styles can be purchased with Kandi from any Insomniac Shop around the map.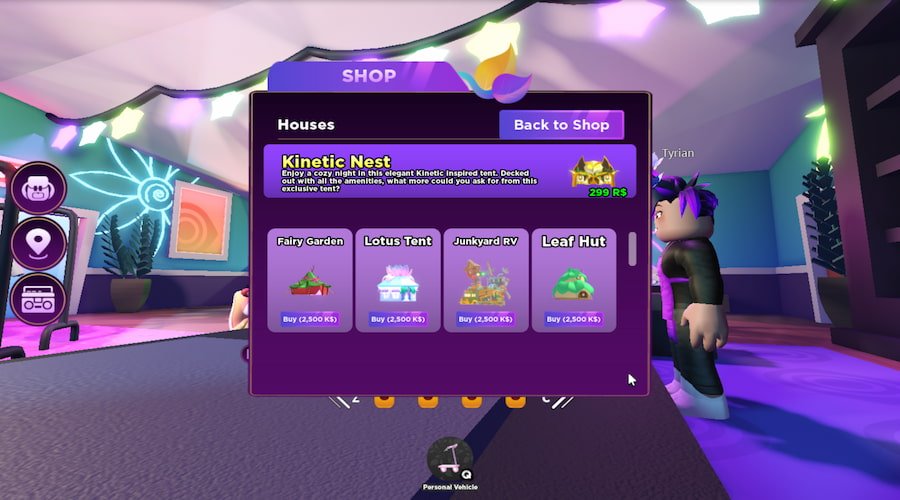 Minigames
Though there are only two minigames in Insomniac World Party, Shuffle Showdown and Go-Kart Racing, the fun that you can have playing them is endless!
Shuffle Showdown stands can be found in various locations around the map and allow you and another player to face off in a timed dance-off competition.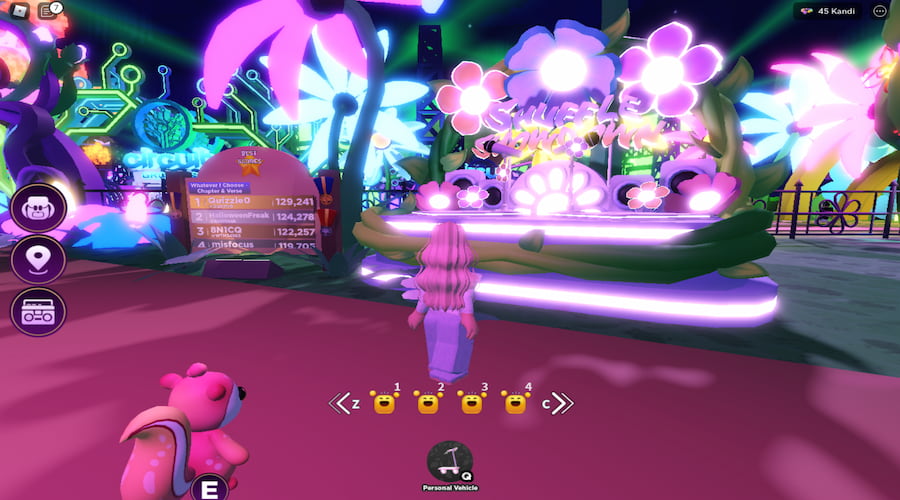 Go-Kart Racing is located in the Wasteland area and features a three-lap race for you and up to 11 other players.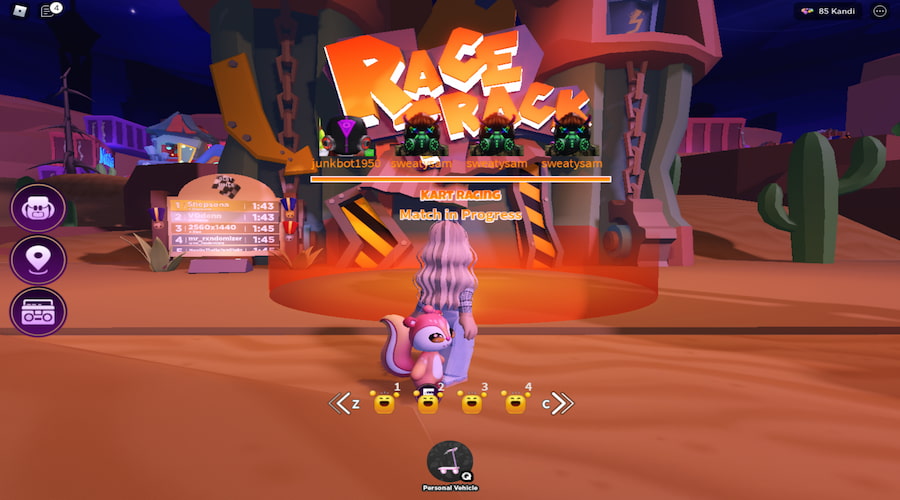 Items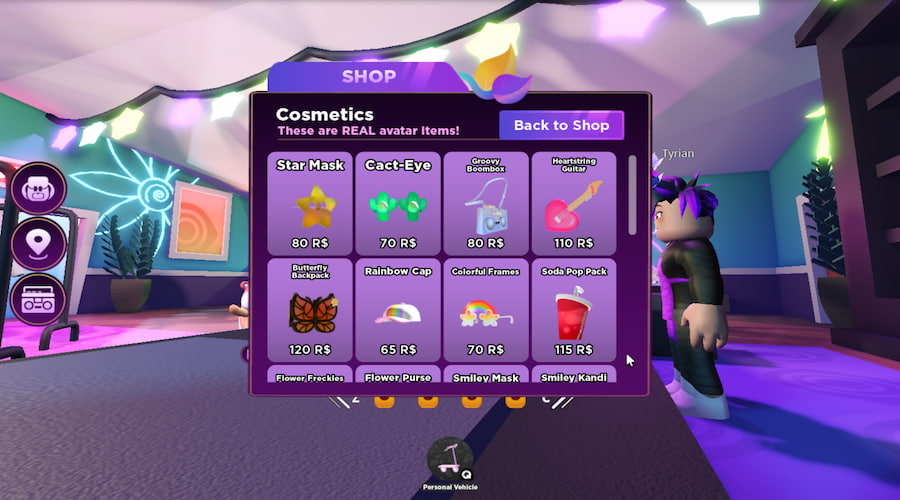 The list below features every available item from the Insomniac World Party and its cost. These items can be purchased from any Insomniac Shop. The Owl Mask is unlocked by obtaining the corresponding badge at the spawn point.
Star Mask - 80 Robux
Cact-Eye - 70 Robux
Groovy Boombox - 80 Robux
Heartstring Guitar - 110 Robux
Butterfly Backpack - 120 Robux
Rainbow Cap - 65 Robux
Colorful Frames - 70 Robux
Soda Pop Pack - 115 Robux
Flower Freckles - 65 Robux
Flower Purse - 75 Robux
Smiley Mask - 55 Robux
Smiley Kandi - 60 Robux
Watermelon Treat - 60 Robux
Petal Hat - 75 Robux
Shooting Star Guitar - 110 Robux
Daisy Session Hat - 70 Robux
Butterfly Blessing - 80 Robux
Rainbow Keyboard - 110 Robux
Note Bag - 80 Robux
Owl Mask - Free
Cactus Cap - Unknown
Rainbow Mask - Unknown
Sunflower Glasses - Unknown
Related: All Roblox Adopt Me Updates | Mummy Cat Sneak Peek + Glamicorn Purse Confirmed
Pets
As mentioned in this experience's description, there are over 20 pets to unlock in Insomniac World Party, and even a few premium pets for players to purchase from an Insomniac Shop. Pets can be used to farm Kandi from dirt piles around the map.
Collecting Kandi
Kandi is used as an in-game currency in Insomniac World Party and can be collected by sending your pet to dig through random piles around the map. These piles can contain anywhere from 5-30 Kandi and will respawn to a new location as your pet digs through them.
If you're looking for a faster way to obtain Kandi, it can be also be purchased from Insomniac Shops for Robux. At the moment it seems as though Kandi can only be used to purchase new tents.
Looking for more coverage on Roblox events? Check out the Roblox section of our website for more guides and news updates like this one!