North Pole Friends calls you to help out Santa! In this Christmas Roblox experience, you will be disguising yourself as a prop to avoid the evil North Pole Friends trying to ruin Christmas. All the while, your goal is to collect items and bring them into Santa's sleigh. Collect the items the North Pole Friends are trying to steal, and save Christmas!
The codes for the North Pole Friends will help players get additional goodies, as well as an in-game currency called Cookies. This will be especially good for new players who are just getting into the game, as they'll be able to get the additional props to mask themselves.
If you are feeling that Christmas spirit, or perhaps like playing Prop Hunt games, make sure to check out Roblox Snowman Simulator Codes, Roblox Snow Shoveling Adventure Codes, Roblox Penguin Tycoon Codes, Roblox Murder Mystery 3 Codes, and Roblox Murder Mystery A Codes.
All North Pole Friends Codes
Updated December 7, 2022

New code added!
North Pole Friends Codes (Working)
freecookies—Claim for 100 free Cookies (New)
littlebirdie—Claim for a free Little Birdie Epic prop
freecrate—Claim for a free prop
North Pole Friends Codes (Expired)
There are currently no expired North Pole Friends codes.
How to redeem North Pole Friends Codes
Redeeming the codes for North Pole Friends is easy. Just follow the steps outlined below.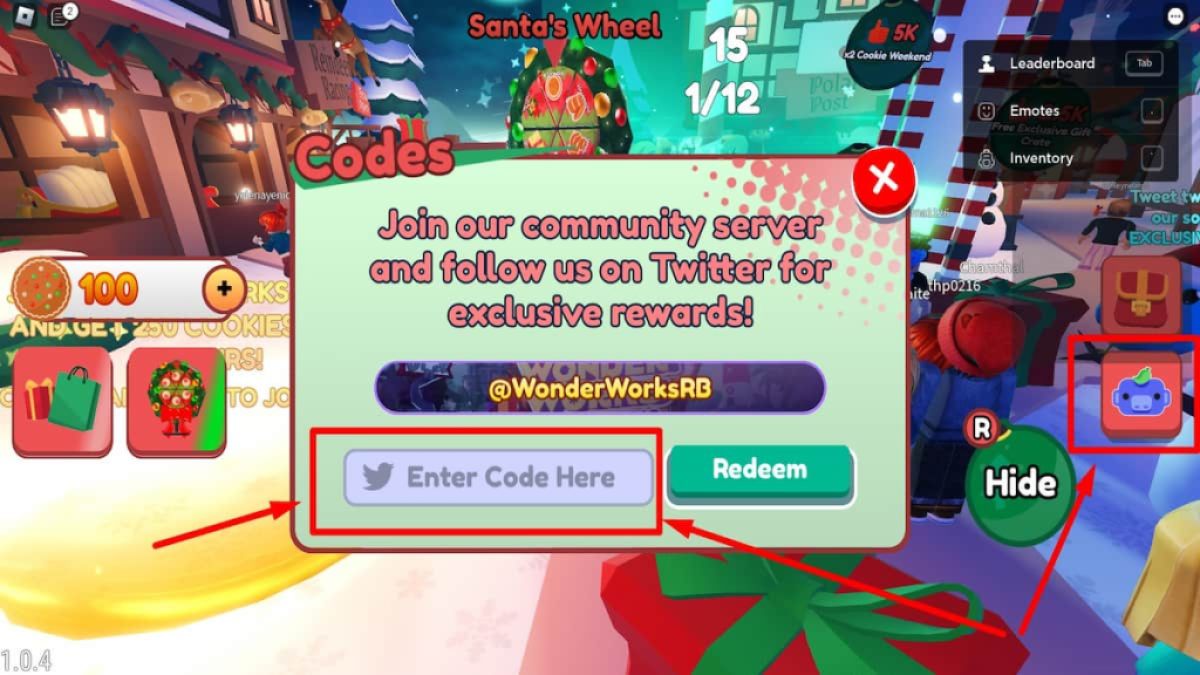 Launch North Pole Friends on Roblox.
When you spawn in the game, look for the Codes Icon on the left side of the screen.
Put the code on the bottom text box that says Enter Code Here.
Click the Redeem button to claim your code.
How can you get more North Pole Friends Codes?
To make sure you're always up to date with the newest North Pole Friends codes, follow the game's developer Wonder Works Studio, on their Twitter page @WonderWorksRB. We at Pro Game Guides always have you covered with the latest codes by developers. It's always a good idea to bookmark this page by pressing Ctrl+D on your keyboard to bookmark this page. That will make sure you never miss any new codes!
Why aren't my North Pole Friends Codes working?
There could be a couple of reasons why your North Pole Friends codes are currently not working. First, the codes could have expired. Codes sometimes have a finite lifespan and therefore don't last forever. The game developers sometimes release codes for holidays or specific events. Always try claiming the codes as soon as possible to ensure you never miss your freebies. The codes could have been misspelled or have missing punctuation. Sometimes the codes are case-sensitive, with both uppercase and lowercase letters. Copy and pasting the codes is a sure way to enter the code properly and avoid making any mistakes.
How to spin Santa's Wheel in North Pole Friends?
Spinning the Santa's Wheel in North Pole Friends is easy. It is located just ahead of your spawning point in the game. Approach Santa's Wheel and press the E button to take a Free Spin. After you do, a 12-hour timer will appear on the sign left of the Wheel. When it expires, you will be able to take another Free Spin. The Free Prizes you can win range from a certain number of Cookies to random Props.
What is a North Pole Friends game?
North Pole Friends is a beautiful Prop Hunt Roblox experience where the player collects items and brings them to Santa's sleigh. All the while, they are being chased by the evil characters called North Pole Friends. To avoid them, players can mask themselves as a specific prop. The objective is to steal back as many gifts as possible from North Pole Friends.
If you're looking for codes for other Roblox experiences, we have many of them in our Game Codes post! You can also get a bunch of free goodies via our Roblox Promo Codes page.