Take your favorite characters from One Piece and use them as your crew in One Fruit. Get the Straw Hat Pirates together again as you face fierce battles and take on new adventures that will take you to new islands and locations to explore! Get strong enough to use your favorite fruit in battle and face down any foe that steps in your way.
Codes for One Fruit will give you the in-game currency of Berri and Boosts. Berri is used in the shop to buy new gear and powers. Boosts will help you collect you get more in-game resources to help your character get stronger faster.
The best One Piece Roblox experiences have codes, and we have gathered them all for you to claim and take on the high seas! Claim these codes in Pro Piece Pro Max Codes, A Piece Codes, Pirate's Dream Codes, Master Pirate Codes, and A One Piece Game Codes.
All One Fruit Codes List
Updated December 30, 2022

Moved codes to expired.
One Fruit Codes (Working)
There are currently no working codes.
One Fruit Codes (Expired)
XMASRACE—Redeem for Coin and XP Boost
XMASBOOST—Redeem for Coin and XP Boost
MerryChristmas—Redeem for Coin and XP Boost
MerryRaces—Redeem for Coin and XP Boost
THX25KLIKES—Redeem for Coin and XP Boost
UPDATE2—Redeem for Coin and XP Boost
RandomRace1—Redeem for Random Race
RandomRace2—Redeem for Random Race
RandomRace3—Redeem for Random Race
UPDATE—Redeem for 15 minutes of All Boosts
THX20KMEMBERS—Redeem for 15 minutes of All Boosts
Thx5kLikes—Redeem for 15 minutes of All Boosts
JeffBlox—Redeem for 15 minutes of All Boosts
THXROBLOX—Redeem for 15 minutes of All Boosts
OPENBETA—Redeem for 15 minutes of All Boosts
SubCLstudio—Redeem for rewards
SubCLstudio2—Redeem for rewards
500LIKES—Redeem for rewards
How to redeem One Fruit codes
It's easy to redeem codes for free rewards in One Fruit. To do so, follow our guide.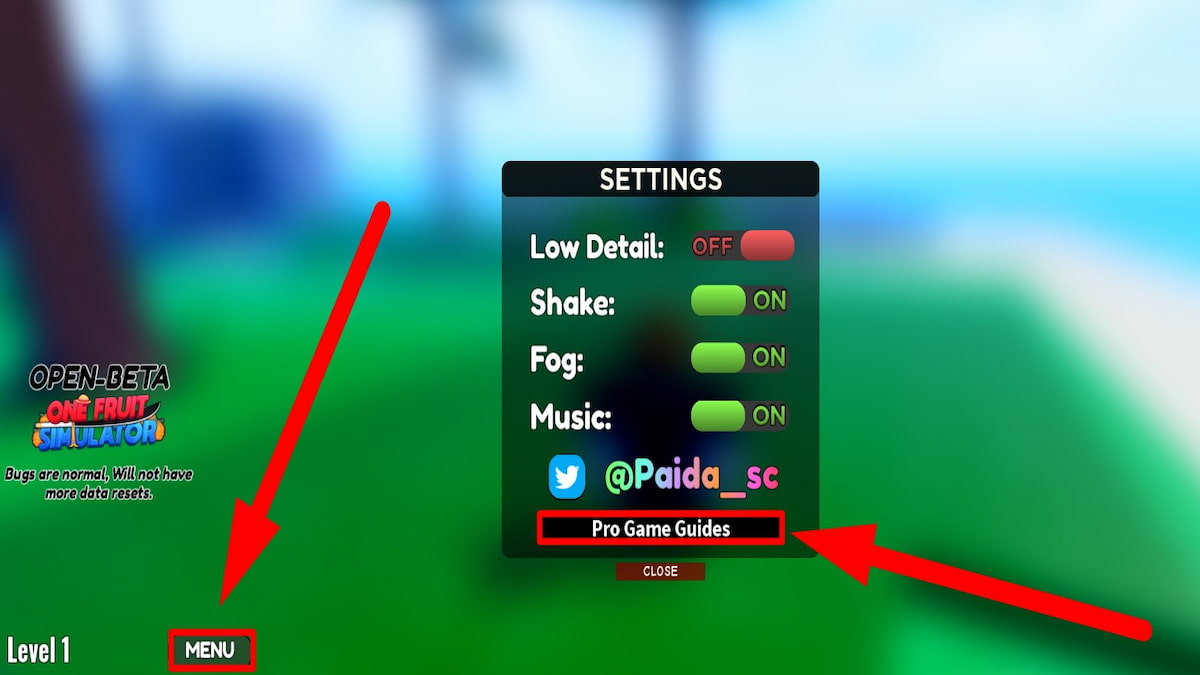 Launch One Fruit on Roblox.
Click on the Menu button on the bottom left-hand side of the screen.
Click on the Settings Cog in the Menu window.
Enter the code into Enter Code text box.
Click on Enter key to claim your rewards.
How can you get more One Fruit codes?
To get the latest One Fruit codes from the developer PaidosDev join them on the following social media platforms Twitter @Paida_sc, YouTube channel @paida_sc, and join their One Fruit Discord Server. Here at Pro Game Guides, we have all the latest codes from the developer, so be sure to bookmark this page and visit us often to get the latest code drops as they are released.
Why aren't my One Fruit codes working?
Several reasons may be why your One Fruit codes are not redeemable. The codes could be expired, and your rewards are no longer available to claim. Most developers for Roblox experiences will expire codes if they have been out for a while, claiming the codes on our working list, so you do not miss out on any free rewards. The codes may be mistyped into the text box while you are typing. Copy and paste the codes from our list to avoid making mistakes before pressing the Enter key.
How to Equip Weapons in One Fruit
Equipping weapons in One Fruit is easy. Firstly you will need to get yourself a weapon. Weapons are bought through the shop. Collect enough Berri and enter the shop through your screen's menu at the bottom left-hand side. Click on the bag icon in your menu once you have bought a weapon, and you will see the option on the right of the weapon to equip it. Equipping weapons will make it easier for you to defeat enemies.
What is a One Fruit game?
A One Fruit is an RPG click-fighting game where you will need to complete quests and defeat enemies to buy stronger gear and fruit to make your avatar stronger. This is an open world, and you can choose how you want to progress by choosing your path. If you have become strong enough, take on other payers in PVP and PVE. Can you fight your way to the top of the leaderboards?
If you're looking for codes for other games, we have a ton of them in our Roblox Game Codes post! You can also get a bunch of free stuff via our Roblox Promo Codes page.