Panik is a survival horror Roblox title that pits players against one another as a team of survivors and a deadly killer robot. Search the aisles and shelves of Wobmart for items and bring them to the three scanners throughout the store. Once you do this, escape through a trapdoor before the robot gets you.
Using codes in Panik will give you rewards like free coins. All codes have an expiration date, so be sure to keep an eye on them and use these codes once they are released. We have compiled a list of available codes so you can earn gear and more in Panik.
If you're looking for more Roblox content, check out Roblox Murder Mystery A Codes, Roblox Murder Mystery 5 Codes, Roblox Murder Mystery 7 Codes, and more on Pro Game Guides. Explore our site for more Roblox code guides and get loads of free stuff.
All Panik Codes List
Updated June 1, 2023

Checked for new codes!
Active Panik Codes List (Working)
100M—Redeem for 350 Coins (New)
75klikes—Redeem for 350 Coins
Inactive Panik Codes List (Expired)
1.0—Redeem for 350 Coins
50MPLAYS—Redeem for 300 Coins
50KLIKES—Redeem for 350 Coins
SPOOKY—Redeem for 250 Coins
7KMEMBERS—Redeem for 150 Coins
TY35KLIKES—Redeem for 350 Coins

100KLIKES—Redeem for 150 Coins
TY20KLIKES—Redeem for 350 Coins
6KMEMBERS—Redeem for 150 Coins
TY10KLIKES—Redeem for 350 Coins
TY5KLIKES—Redeem for 350 Coins
RELEASE—Redeem for 300 Coins
How to redeem codes in Panik
You can use codes in Panik to get resources and rewards quickly. Here is how to redeem codes in Panik.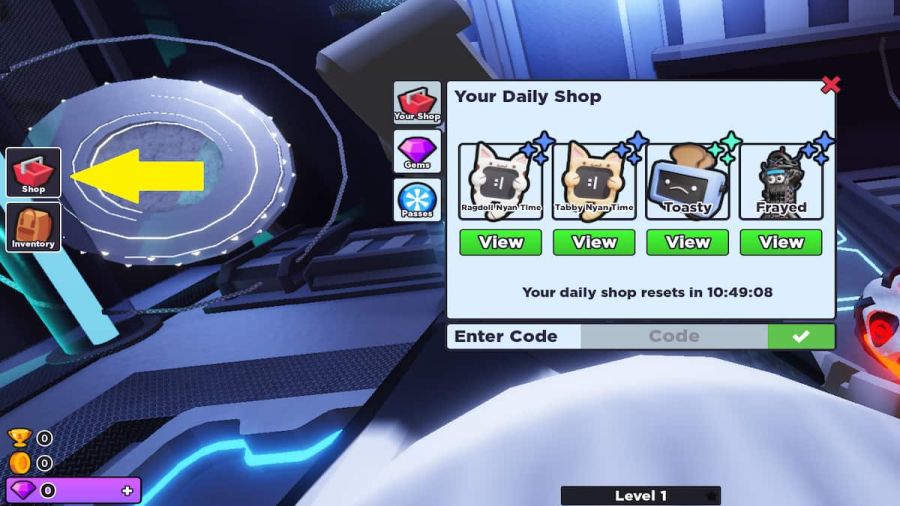 Click on the Shop button on the left of the screen.
Select the Enter Code Here box.
Input the code and hit the checkmark.
How to get more Panik Codes
Join the Panik Twitter and Discord for more codes and to interact with the community. You can also bookmark this page, as we will update this list once new codes are released. So be sure to check back often to see if there are new codes for Panik.
Why aren't my Panik Codes working?
The developer controls codes for Panik, and this is who determines how long they are active. Some codes may expire quicker than others, and some may not work with others. If a code does not work for you, double-check if there is a spelling error, the code isn't active yet, or it has already expired. To help solve that issue, bookmark this page and come back often to see if Panik has added new codes or if some are expired.
What to buy with Coins in Panik
You can use coins to purchase various items, like ragdoll effects. These customize how your character falls when you get captured by the robot killer. Of course, you want to avoid the killer, so ideally, you won't get to see your cool ragdoll effects.
What is Roblox Panik?
Experience the terror of Wobmart and its killer robot in Panik. This Roblox title tasks you with seeking out items off of Wobmart's shelves and taking them to one of the scanners scattered around. You must complete all three scanners if you hope to escape with your life.
For more information on Roblox, check out Roblox Murder Mystery 4 Codes and Roblox Murder Mystery 3 Codes on Pro Game Guides.