Pixel Piece is a popular Roblox title inspired by the One Piece anime/manga. It allows you to sail as a pirate and form crews with your friends. Normally you have to play on public servers, which can certainly be fun. However, Pixel Piece also has private servers. This may leave you with questions about private servers for Pixel Piece.
All Pixel Piece Private Server Codes
There are currently no working Pixel Piece Private Server codes.
Pixel Piece Private Server FAQ
Pixel Piece private servers are a way to play the game with players you select. Roblux players can only join if they have the code for your private server. You can share this with your friends and play without worrying about strangers. One thing to note about private servers is changes, including longer Devil Fruit spawns. Here is everything we know about Pixel Piece private servers.
Does Pixel Piece have Private Servers?
The answer is yes—there are private servers for Pixel Piece. You will need a code to join one, or you can purchase your own. This is the only way to access Pixel Piece's private servers and enjoy the game peacefully.
Can I buy a Pixel Piece Private Server?
You can purchase a private server for Pixel Piece by using Robux. It will cost 700 Robux to purchase a private server, but this has gone on sale before. Keep an eye out for a discount on Pixel Piece private servers to get one at a discounted rate.
Related: Pixel Piece Codes
How to buy a Pixel Piece Private Server
There are two ways to buy a private server for Pixel Piece. You can do so from the store, but we highly recommend buying one in-game. Some players have reported errors purchasing a Pixel Piece private server from the store. Here is how to purchase a Pixel Piece private server.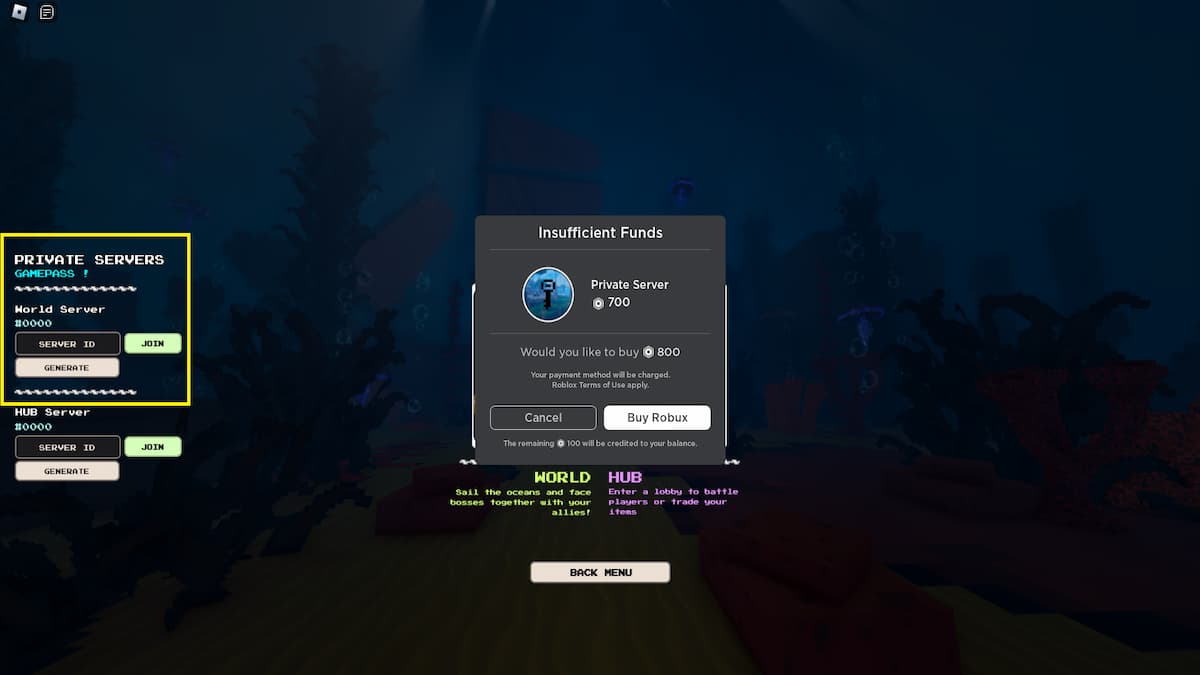 Start Pixel Piece on Roblox.
Create/select your character.
Click Play.
Click Generate under Private Servers.
Purchase the Private Server.
Can I get a free Pixel Piece Private Server?
You can get a free Pixel Piece private server if you are lucky and patient. Some Roblux YouTubers will host giveaways where they give out free private servers. Follow any big YouTuber that plays Roblox Pixel Piece and you may get lucky and win a free private server.
Be careful and keep an eye out for scams. If anyone offers you a free private server but asks for money, passwords, or other sensitive information, do not fall for this. Stick to credible YouTubers and Roblox players, or purchase your own in the store.
For more information on Pixel Piece, check out How to get the Cutlass Kaba in Pixel Piece – Roblox and How to get the Marine Hat in Pixel Piece – Roblox on Pro Game Guides.