Project Mugetsu, or Roblox PM, is a fighting game inspired by Bleach anime. You can choose several races in this game, like Soul Reapers and Hollow. There is a lot to learn about this game, and we know how to do this. The best way to improve is to visit the Project Mugetsu Trello board and Discord channel. We've found the Roblox PM Trello and Discord links to make it easier for you.
What is the Project Mugetsu Trello link?
Project Mugetsu Trello is a board that has lots of information about the PM Roblox experience. To access it, check out the Project Mugetsu Trello link and learn more about this anime fighter game. Here you can learn more about:
clans,
Karakura locations,
Roblox PM items,
controls,
character customization, and more.
How to use the Project Mugetsu Trello board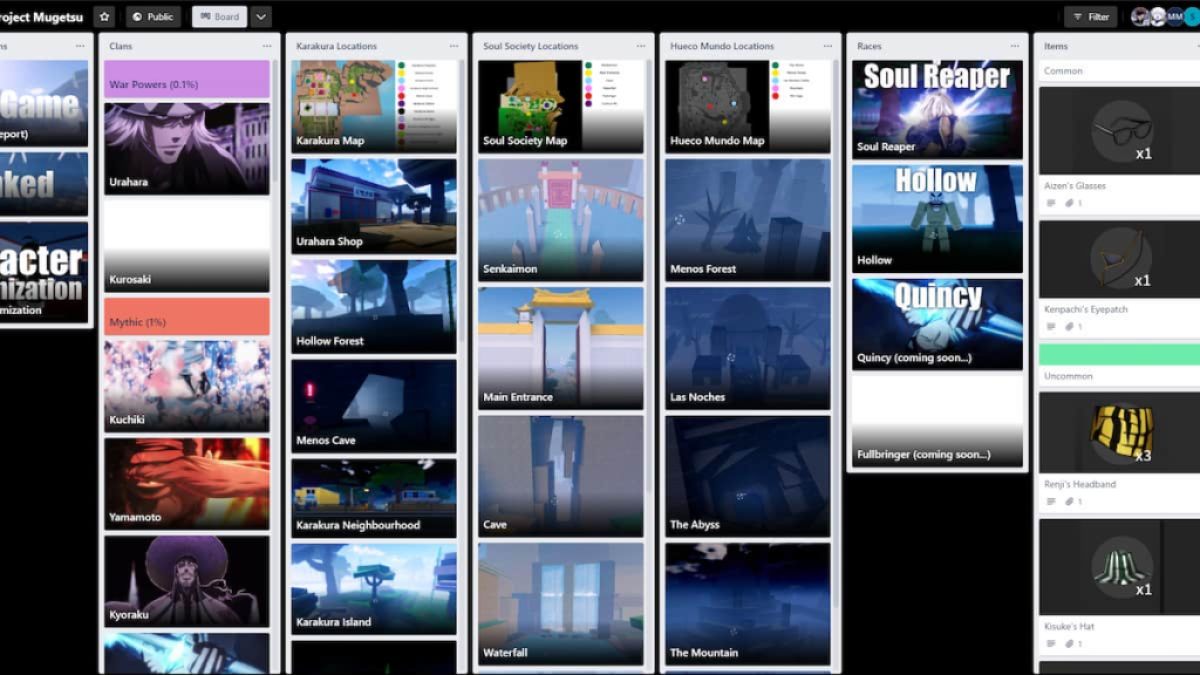 Using the Roblox PM Trello board is easy, as you don't need to create an account to access it. Subjects are divided into columns, each with several cards you can click on to learn more. All you need to do is scroll through the columns to find the information you were searching for. For example, to learn more about Rjujin Jakka Legendary Shikai, find the Shikai column and select the Rjujin Jakka Trello card.
Related: Project Mugetsu Codes
What is the Project Mugetsu Discord link?
Visit the official Roblox PM Discord channel to find players to play with and learn more about Project Mugetsu clans, gameplay advice, and more. Here you can connect with developers and learn everything about the game and win prizes via giveaways.
If you're looking for codes for other games, we have many in our Roblox Game Codes post! You can also get a bunch of free stuff via our Roblox Promo Codes page.