Last checked: September 22, 2023

Checked for new codes!
If you've ever wanted to just sit back and watch the money roll in, then +1 Money Every Click is the idle game for you! As your money mounts up, you can spend it on rebirths to open new worlds, but I prefer to spend it to collect all the cute pets you can hatch. These are great as they also increase your stats when you equip them, or you can trade them with your friends!
+1 Money Every Click codes can give you a wide array of freebies, from potions and pets to unique offers like free subscriptions you usually need to spend Robux on. The pets will give you a great head start in construction speed, while potions give a temporary boost to stats such as speed, luck, and money. If you love idle Roblox experiences, you should also take a look at +1 Block Every Second Codes.
All +1 Money Every Click Codes List
Working +1 Money Every Click Codes (Active)
kubo—Redeem for 2 Golden Potions, 3 Money Potions, and 10 Luck Potions
luckyfrog—Redeem for 5 Luck Potions and a Frog Pet
scorpio—Redeem for Scorpion Pet
freesub—Redeem to activate a 15-day Money Subscription for free
goldenegg—Redeem for Golden Egg
ihateseals—Redeem for Seal Pet
Expired +1 Money Every Click Codes
There are no expired codes for +1 Money Every Click
How to redeem codes in +1 Money Every Click
Follow the instructions below to redeem codes in +1 Money Every Click.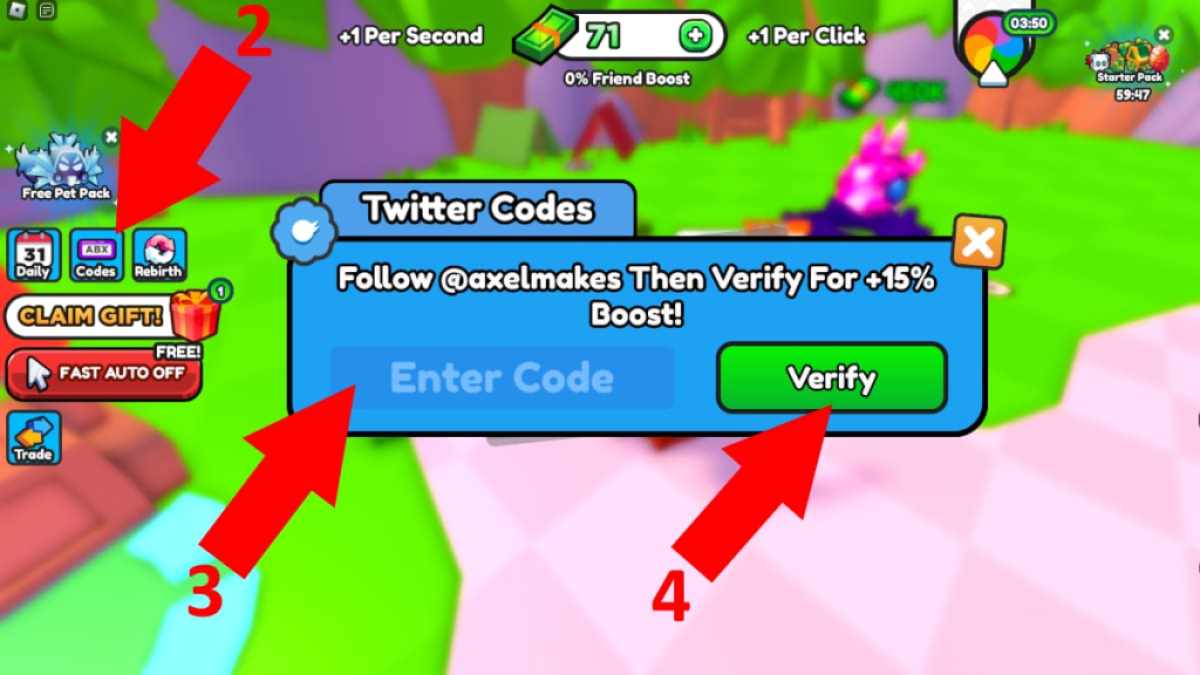 Launch +1 Money Every Click on Roblox.
Press the Codes button on the left of the screen.
In the text box saying Enter Code, do so exactly as it appears in the list above.
Press the green Verify button to claim your reward!
How can you get more +1 Money Every Click codes?
If you want to get plus one code every second for +1 Money Every Click, start by joining the axel x wzy Roblx Group. You can also follow the developer @axelmakes on Twitter for more free codes and head over to the Kubo Discord Server to check out channels on everything from update announcements to sneak peeks.
Why are my +1 Money Every Click codes not working?
+1 Money Every Click codes you'll find at Pro Game Guides are regularly checked and updated, so should work. If a code comes up as invalid, check you've got it exactly correct. The easiest way to ensure this is to copy and paste it in, as that way, you can avoid mistakes such as mistaking a letter for a number. If, instead, a code comes back as expired, let us know in the comments below, as this means it has been discontinued by the game developers. Check back soon for new codes, though!
Other ways to get free rewards in +1 Money Every Click
There are lots of ways to claim more free rewards in +1 Money Every Click. First, keep an eye on the Quests Stall next to your tower, as this gives free money and potions for completing simple tasks. Next, there's the free spinner at the top right of the screen. If there's a number on it, you have free spins available that can give you free money or pets. Finally, keep an eye on the Claim Gift parcel just below the codes button on the left of your screen. This gives 12 free gifts over the first two hours you're logged in concurrently. Then, you can relog to reset it!
What is +1 Money Every Click?
+1 Money Every Click is an idle Roblox experience in which you build a tower with increasingly impressive materials. As you earn money you can choose to spend it on upgrading your tower material, rebirths for permanent benefits, or cute pets that also increase your build speed and that can be upgraded and traded. Rebirths also allow you to unlock new areas to build in, such as a Moon Base.
If you're looking for codes for other games, we have a ton of them in our Roblox Game Codes post! You can also get a bunch of free stuff via our Roblox Promo Codes page. And in the meantime, take a look at the latest news to stay up-to-date on all things entertainment.