Updated: October 1, 2023

We checked for new codes!
Anime Warriors is one of my favorite Roblox experiences, giving me a chance to recruit my favorite characters and climb the leaderboards. This game is a gacha, so it gave me the opportunity to meet many famous heroes from my favorite anime and manga. Becoming the best of the best can be challenging, so I always like to get a bit of extra help, free items, and in-game boosts to propel my character to the top. The best way to improve fast is by using Anime Warriors codes.
These codes will help you improve your chances in this dangerous world if you're a beginner. These codes will give you different options for improvement by using Crystals and other free rewards in the game. Make sure to use codes often to maintain your deserved place at the top. These free items will prepare you to upgrade your characters and defeat the most dangerous enemies.
All Anime Warriors Codes List
Active Anime Warriors Codes (Working)
UPDATE2—Redeem for 250 Gems and Quest Beater Item (New)
Follow@oreI_orL—Redeem for Gems
Follow@Mirzoldyc—Redeem for Gems
Follow@NyxunRBX—Redeem for Gems
Follow@_DevCrow—Redeem for Gems
Follow@Robro1030—Redeem for Gems
Follow@9sNoxxy—Redeem for Gems
Follow@ZartaniaRBLX—Redeem for Gems
Follow@dev_exile—Redeem for 50 Gems
Follow@EchoZenkai—Redeem for 50 Gems
Inactive Anime Warriors Codes (Expired)
BOOM350k—Redeem for 350 Gems
CRAFTINGSHERE—Redeem for 150 Gems
ULTIMATES400KMATS—Redeem for 40 Random Materials
ULTIMATES400KGEMS—Redeem for 400 Gems
TWITTERWENTCRAZY150K—Redeem for 250 Crystals
2022RELEASE—Redeem for 150 Crystals
RELEASE—Redeem code for 150 Crystals
125KTHUMBSUP - Redeem for 200 Crystals
UPDATE1MH - Redeem for 300 Crystals
THANKS4100KLIKES - Redeem for 150 Crystals
WOAHFiftyKLikes - Redeem for 150 Crystals
Twenty5kLikes - Redeem for 150 Crystals

5kL1kes - Redeem for 30 minutes x2 Yen boost
RELEASE - Redeem for 150 Crystals
Incredible10k - Redeem for a free boost
SeventyFiveK - Redeem for 100 Crystals
Anime Warriors FAQ, Answered
Here's everything you need to know regarding Anime Warriors codes.
How to Redeem Anime Warriors Codes
Redeeming codes for free rewards in Anime Warriors is an easy process. To do so, follow the steps below.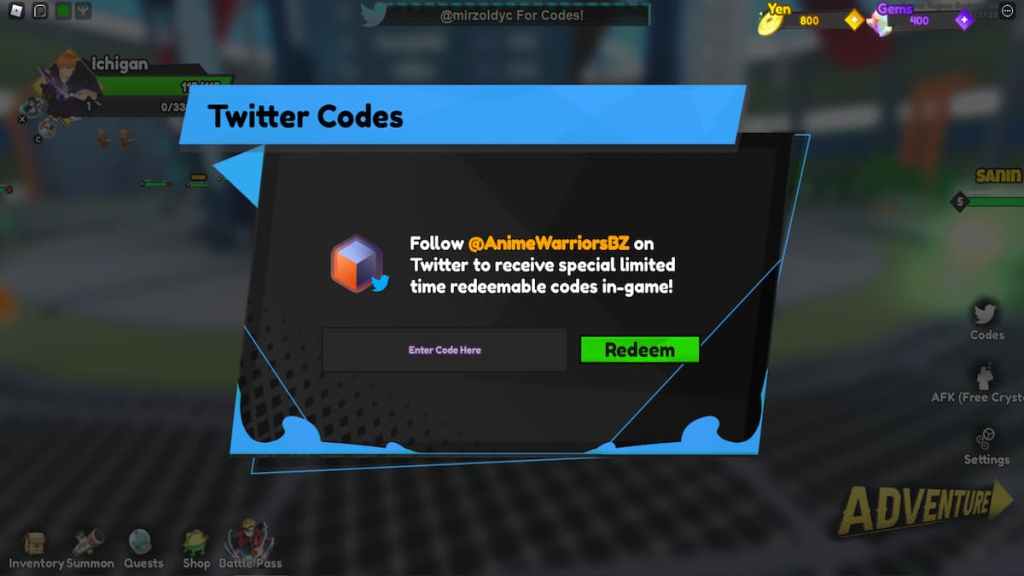 In the game, press the Codes button on the right side of the screen.
Enter your Twitter account in the format @your_handle to be able to type in code.
Enter the code exactly as it appears in the list above.
Press the Redeem button to claim your reward
How can you get more Anime Warriors Codes?
Bookmark this page and visit it often for more information on Anime Warriors codes. We'll keep you updated with additional codes once they are released. It's also good to check developers' YouTube, Discord, and Twitter pages for the latest news regarding codes and game updates.
Why aren't my Anime Warriors Codes working?
You should ensure to redeem these as soon as possible because you'll never know when they could expire! All of these codes have been tested on the date that this post was released. If you find one expired, please let us know the exact code in the comments below so we can remove it.
If you still can't redeem codes, check if you've entered the code exactly as it is listed. To avoid mistakes, copy and paste codes from the working codes list above into the redeem text box. That way, you'll be confident that there are no grammar mistakes.
What are the controls for Anime Warriors?
To become the ultimate anime warrior, you need to master the controls. Here's the list of commands you need to know to experience the game to the fullest:
CTRL—Camera Lock
E—Evade
F—Block
M2—Heavy Attack
Q—Dash
What is Anime Warriors?
Anime Warriors is a Roblox action game inspired by some of the most popular anime franchises in the world. Experience great battles, solve quests in this great adventure, or test your skills against other players. You can team up with your friend on a mission to defeat dangerous enemies. To be successful, you'll need to summon and upgrade characters, as you'll need their skills to become the best.
If you're a fan of anime titles, check out guides like Fruit Piece Codes, Martial Realm Codes, Anime Fighters Simulator Codes, Anime Mania Codes, and Anime Adventures Codes on Pro Game Guides. If you need more Roblox codes and guides, browse the site and improve your odds in any game you play.
If you're looking for codes for other games, we have many of them in our Roblox Game Codes post! You can also get a bunch of free stuff via our Roblox Promo Codes page.