Your worst nightmare has come to life in Roblox Banana Eats. A banana has come to life and is eating all the players in the game. You will need your wits and speed to escape this killer banana and top the leaderboard. Don't let your ego get bruised when the banana catches you. We have the codes to save you and help you escape the inevitable fate of being peeled apart.
To escape the serial peeler, you will need the in-game currency, Coins. Coins will help you unlock Traps and Perks in the game so that you can evade the banana longer so that you don't get munched. You're going to want as many Coins as you can get in Banana Eats.
We have guides to help you in Roblox Banana Eats so that you can take on that scary fruit, including How To Get Sparks Kilowatt's Secret Package in Banana Eats and Roblox's Banana Eats just got new traps and levels!. If you are looking for healthier options in your Roblox games, we have some of the best guides about games with fruit here at Pro Game Guides. These codes will help you at the start of these games: Roblox Fruit Clicker Codes, Roblox Fruit Fighter Simulator Codes, Roblox Fruit Collecting Simulator Codes.
All Roblox Banana Eats Codes List
Updated March 20, 2023

Moved codes to expired.
Roblox Banana Eats Codes (Working)
There are currently no working codes for Banana Eats
Roblox Banana Eats Codes (Expired)
HEARTS—Redeem for Peel of Hearts
FRIDAY—Redeem for 200 Coins
HALFBILLION—Redeem for a Banana's Aurora Skin
HAPPYHOLIDAYS—Redeem for Social Candy Cane
GLITTERPUMPKIN—Redeem for the Sparkle Orange Pumpkin
SPAREDOUBLOONS—Redeem for 300 Coins
BOO—Redeem for a Beacon
FREECOINS—Redeem for 200 Coins
HAPPYBIRTHDAY—Redeem for Rotten Banana Skin
SUMMER—Redeem for 250 Coins
400MILLION—Redeem for a Sinister Gold Skin
NEWMAP—Redeem for a free beacon
PINK—Redeem for a free beacon
HAPPYHOLIDAYS—Redeem for Banana Skin
THANKFUL—Redeem for 250 Coins
HAPPYBIRTHDAY—Redeem for Birthday Banana Skin
300MILLION—Redeem to go into a game for a Banana skin
QUARTERBILLION—Redeem for Beacon Skin
200MILLION—Redeem for Banana Skin!
LUCKYPEEL—Redeem code for Lucky Peel Skin!
LUCKYBEACON—Redeem code for Beacon Skin!
CHOCOLATE—Redeem code for White Chocolate Skin!
BANANALOVES—Redeem code for Chocolates Skin!
FREEBEANS—Redeem code for a free Banana Skin!
FREELOOT—Redeem code for 200 coins!
BANANASPLIT150—Redeem for a free Peel Beacon!
NEWMAP—Redeem code for 100 coins!
BIGUPDATES2021—Redeem for a free Snow Peel Skin!
SNOWDAYS—Redeem for a free Snowman Banana skin!
BUGOFF—Redeem code for free coins!
100MILLION—Redeem code for a free Beacon!
SPARECHANGE—Redeem code for 50 coins!
BOONANAEATS—Redeem code for a Peel-O-Lantern trap!
15KFOLLOWERS—Redeem code for a Blue Moldy Banana!
MORECOINS—Redeem code for free coins!
FANCYPANCAKE—Redeem code for a Waffle Beacon!
FREECOINS—Redeem code for 100 Coins!
THATEGGPLANTCOLOR—Redeem code for a Code Purple Beacon!
GLITTEREVERYWHERE—Redeem code for a Sparkle Teal Beacon!
THEGOLDENPEELS—Redeem code for a free Golden skin!
DIPPINGINTOINSANITY—Redeem code for a free Dipped Banana Beacon!
BANANAISHERE—Redeem code for a free Party Peely Skin!
NEWMAPSOON—Redeem code for a free Canned Peanuts Beacon Skin!
Roblox Banana Eats FAQ, Answered
Here is everything you need to know regarding Roblox Banana Eats codes.
How to redeem Banana Eats codes
To redeem codes for Roblox Banana Eats, follow our easy guide below.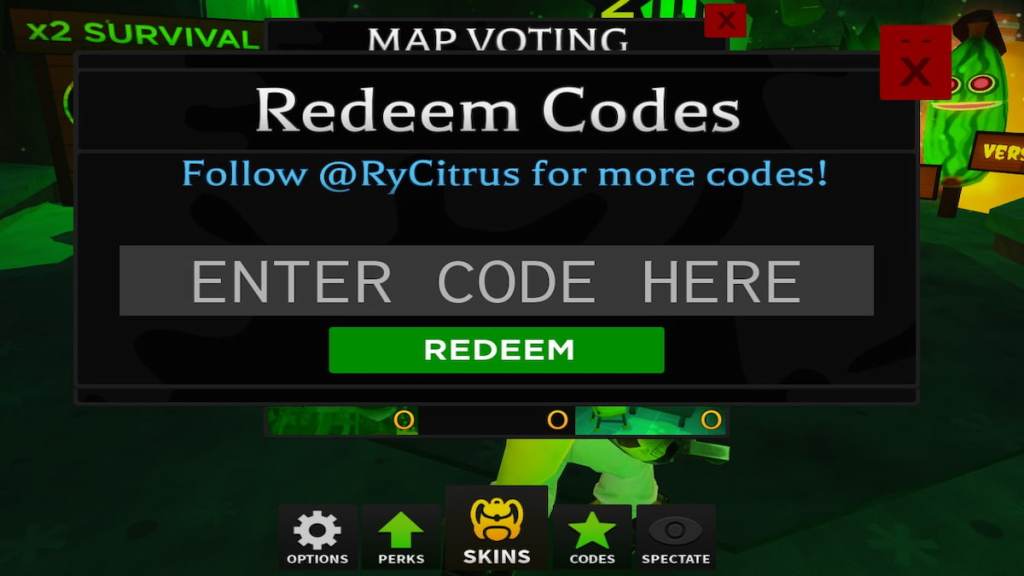 Launch the game.
Click the Codes button at the bottom of the screen.
Copy one of the codes from our list, and paste it into the text box.
Click the Redeem button to receive your reward.
How to get more Roblox Banana Eats Codes
To stay in the know with all new codes released, follow the developer, @RyCitrus, on Twitter (@RyCitrus) and YouTube (RyCitrus). We here at Pro Game Guides always have the latest codes for you, so save this page and visit us often so we can keep you updated on working and expired codes.
Why aren't my Roblox Banana Eats codes working?
There are several reasons why your Roblox Banana Eats codes may not be working. Make sure that when you try and redeem these codes, you are in the game's Lobby. Make sure you claim the codes we add to our list when you see them released. Codes can last for several hours before they are expired. When you claim the codes, make sure that the spelling and the punctuation are correct when typing the code in. Copy and paste the code from our list so that you never spell or make that mistake. If you notice a code no longer works on our page, leave a comment below. We'll verify and update the page accordingly.
What is a Roblox Banana Eats game?
There is a killer banana loose in Roblox Banana Eats, and it wants to eat you. Make sure you don't get caught. Run around the map until the time runs out and you are safe. The longer you don't get caught by the banana, the higher your score will be on the leaderboard.
You can also get more free codes to help you in all your Roblox adventures by going to the Roblox Promo Codes page. We have you covered when it comes to all things Roblox and Roblox Anime!